CoinList 2021: Year in Review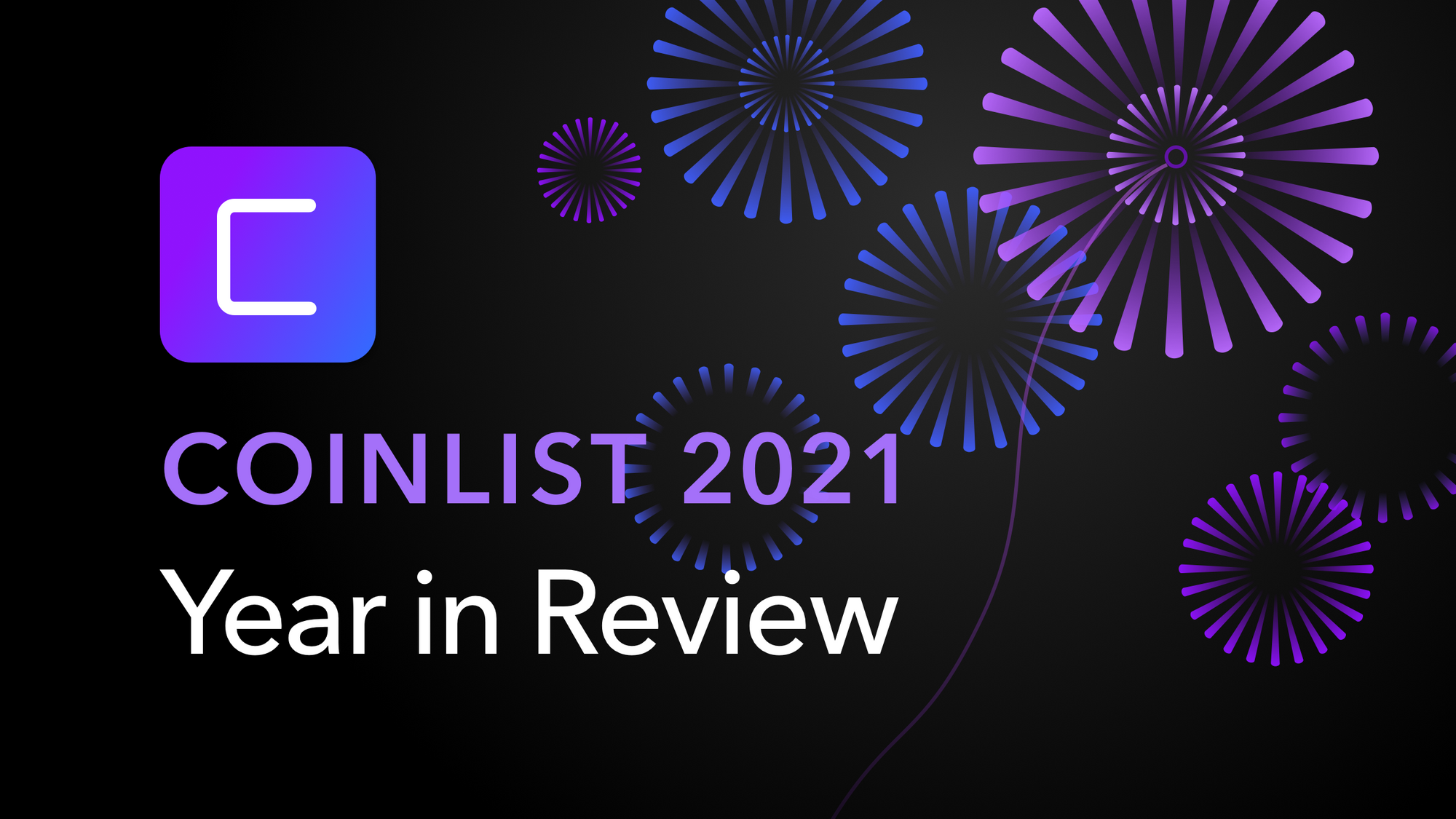 2021 has been crypto's biggest year ever. Bitcoin and Ethereum hit new all-time highs, NFTs have taken off, and we've seen more innovation, competition, capital infusion, and institutional buy-in from major companies than ever before.
For CoinList, 2021 has been nothing short of a breakthrough year. We helped dozens of the world's best crypto projects get more high-value users; increased our user base by 42x globally; successfully expanded into trading, staking, and lending; tripled the size of our team; and raised $100M that sets us up for further success. Most importantly, we accelerated the pace at which we find the best new projects in crypto and help them and their communities succeed.
Just as it's important to look ahead and set ambitious, measurable goals each year, it's important to look back and reflect on all that we've accomplished over the course of that time to help drive crypto forward.
Here's a look back at some of what we accomplished in 2021:
1. We grew our community by 42x
Crypto adoption is taking off all around the world, and our community of early adopters truly reflects that. We've increased our KYC-approved user base 42x globally, with users in more than 170 countries. On a more country-specific level, we saw 73x growth in India, 67x growth in Russia, 52x growth in Turkey, 49x growth in Japan, 38x growth in Brazil, and 32x in Germany. Our users include validators, miners, founders, CEOs, crypto funds, bitcoin OGs, as well as a broad array of crypto enthusiasts that are passionate about moving crypto forward.
2. We advanced the best projects in crypto
Token Sales: We've seen a dramatic increase in the quality and quantity of new protocols, applications, and networks in 2021. CoinList token sales have added more than 500,000 new token holders and community members to top crypto projects like Mina, Casper, Immutable X, and Agoric this year alone.
CoinList Karma: As a way to further accelerate the growth of token projects, we launched CoinList Karma. Karma is a point system that recognizes a user's contribution to token networks on CoinList through value-add activities. The greater a user's contribution to token networks on CoinList, the more Karma they earn. Karma drives some of our best users into token communities through our Priority Queue for token sales.
Governance: In the same vein of growing token networks and their communities, we launched our Governance product to encourage users to vote and contribute to network decisions. Our first pilot for governance saw a 60%+ voter participation rate, compared to the industry average of ~1%.
Solana: One of the most rewarding moments of 2021 was when we listed Solana on our exchange after running their auction in 2020. While Solana has experienced many successes recently, Solana Labs CEO Anatoly acknowledged our long term commitment to them — the same commitment we have to all projects we work with:

3. We launched new value-added services for our users
We expanded our platform to support the full crypto lifecycle, from token sales through token distribution, trading, staking, governance, and lending. This has made CoinList a one-stop shop for anyone excited about accessing new tokens upstream of the mainstream crypto platforms. While these are relatively immature services for us, they have grown rapidly in 2021:
Staking: Assets staked on CoinList surpassed $3 billion in 2021. Users of CoinList's staking services have received over $130 million in staking rewards and eligible users can now stake new assets like FLOW, CSPR, NU, and MINA.
Lending: We originated over $400 million in loans across multiple assets for ecosystem partners in our first year of running this business.
Trading: Monthly trading volume has increased to $1 billion in 2021, the number of average monthly traders increased 8x, and we went from offering 4 trading pairs to 70 on CoinList Pro. We've also launched the most active liquidity pools for Wrapped Bitcoin (WBTC), Wrapped Filecoin (EFIL), and Wrapped Centrifuge (WCFG).
4. We incubated early stage crypto startups
We introduced CoinList Seed in 2020 as a platform for early-stage crypto entrepreneurs to connect with the global investment community. In 2021, we hosted over 50 startups in the program, including companies like Injective Protocol, Acala, Clover Finance, and Rabbithole.
Participating startups have gone on to raise from top investment funds including Electric Capital, Pantera Capital, Multicoin, and Placeholder Ventures. See our latest batch of Seed companies here.
5. We raised our Series A
We raised $100M from a set of world-class investors and active users in the regions where we are growing fastest - Asia, Europe, and the Middle East. The Series A funding adds fuel to the last 12 months of global user and revenue growth, and will be used to scale our services and operations, better support our global community of early adopters, and launch new products that boost protocol participation.
6. We continued our commitment to regulatory reform
One moment we're particularly proud of was supporting U.S. Representative Patrick McHenry's office on the Clarity of Digital Tokens Act which takes up the work of SEC Commissioner Peirce in proposing the creation of a "token safe harbor". The safe harbor would give new token issuers a three-year window in which to run their token sale and demonstrate the decentralized nature of their network. The bill is a great balance: it gives issuers the opportunity to innovate while also creating a disclosure framework to help protect investors. While the vast majority of our business activity is from outside the U.S., we're obviously excited at the prospect of what this bill can do for crypto projects and for job creation in the U.S.
---
Unlike other crypto platforms, we're not here to build a bank or a brokerage. We're building the platform for people who are passionate about moving crypto forward. We're on the right path, and doing the right work to drive the advancement of blockchain technology. We wish everyone a fantastic holiday season and look forward to doing it all again in 2022.
If our mission excites you, check out our open roles here »
---
Legal notice
This blog post is being distributed by Amalgamated Token Services Inc., dba "CoinList," or one of its subsidiaries. This blog post and use of the CoinList website is subject to certain disclosures, restrictions and risks, available here.