Introducing CoinList Karma: Earn Rewards For Advancing Crypto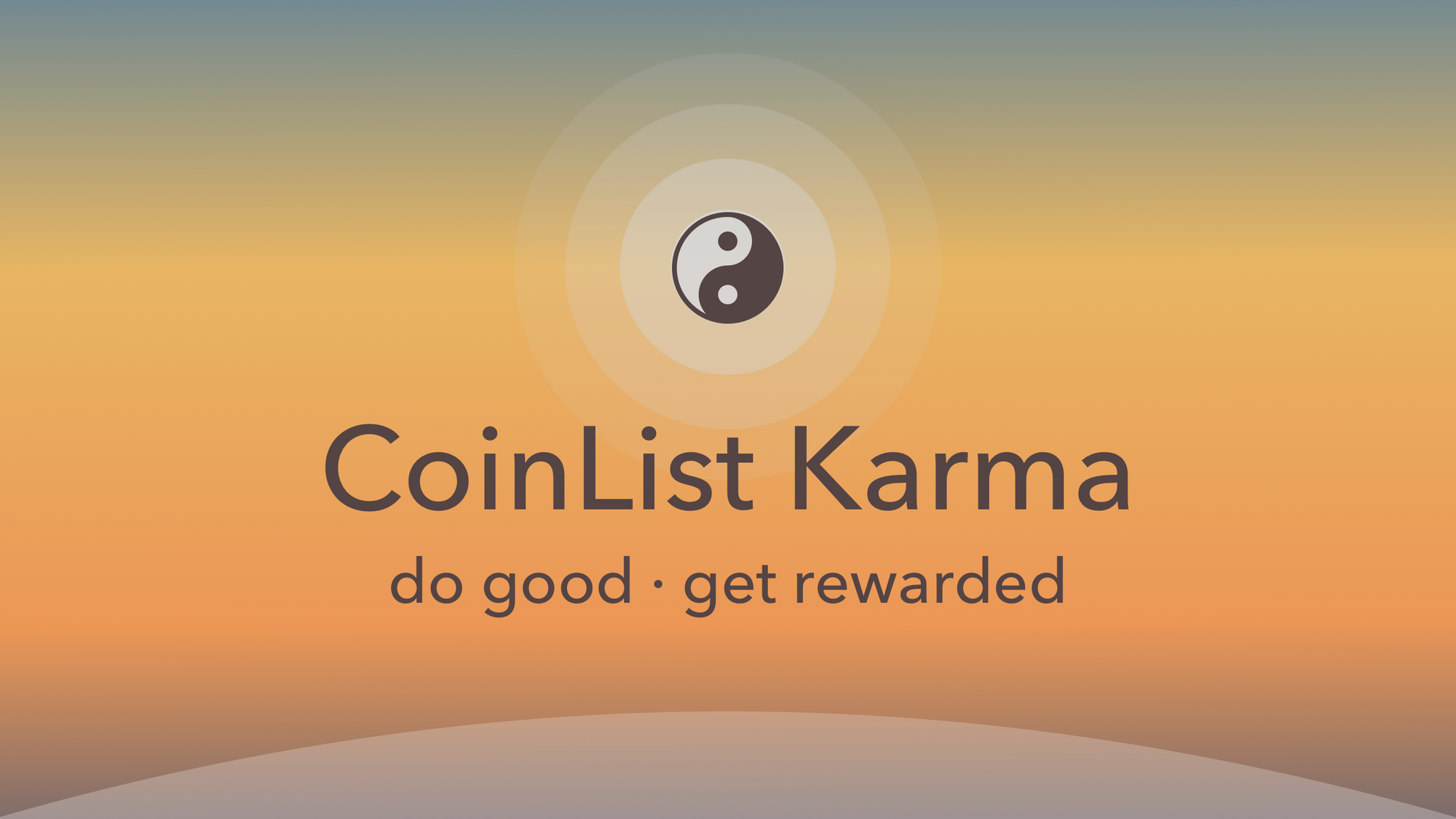 At CoinList, our mission is to accelerate the global advancement and adoption of crypto. We do this by helping the world's most impactful crypto projects grow from inception to post-mainnet and by connecting early adopters with access to unique crypto assets before mainstream exchanges.
CoinList was started with a small, dedicated base of true crypto believers that supported projects like Filecoin, Blockstack, Solana, and more. This community of early adopters has incubated and grown these projects to where they are today. As a way to further accelerate the growth of token projects while rewarding our growing community of early adopters, developers, and evangelists, we're excited to announce the launch of CoinList Karma.
In eastern religions, karma refers to the belief that whatever you put out into the world you'll get back. A cycle of cause and effect. That's sort of how CoinList Karma works too.
What is CoinList Karma?
Your CoinList Karma is a reflection of your contribution to token networks on CoinList. The greater your contribution through value-add activities, the higher your Karma. Logged-in CoinList users can find their score – and learn how to increase it – on the Karma page, linked from your dashboard.
What can I do with my Karma?
We believe in rewarding those that give back to the community, so the more Karma you accumulate, the more you will be rewarded on CoinList. We plan to introduce a variety of rewards soon, but for now users earn badges for value-added activities, and eligible users with a high level of Karma can earn access to the Priority Queue on CoinList.
The Priority Queue is an invite-only queue for token sales that is significantly shorter than the main token sale queue (in the low thousands compared to hundreds of thousands based on recent sales) and runs in parallel to the main queue. While Priority Queue invitees have a higher chance of securing an allocation, an allocation is not guaranteed. In the last 3 sales, registrants with Karma of approximately 1,000 or greater were invited to the Priority Queue.
How do I earn CoinList Karma?
CoinList Karma is based on a points system that recognizes and rewards users for value-add activities, including:
Staking on CoinList
Trading on CoinList.co, CoinList Pro, CoinList Mobile app, and via OTC Services
Minting WBTC, TBTC, and EFIL on CoinList
Consistently participating in CoinList token sales
Participating in experimental issuer offerings like the NuCypher WorkLock, the Oasis ROSE Garden, or EGL Genesis
Lending or borrowing on CoinList
Participating in a validator or miner program on CoinList
Successfully submitting projects to CoinList hackathons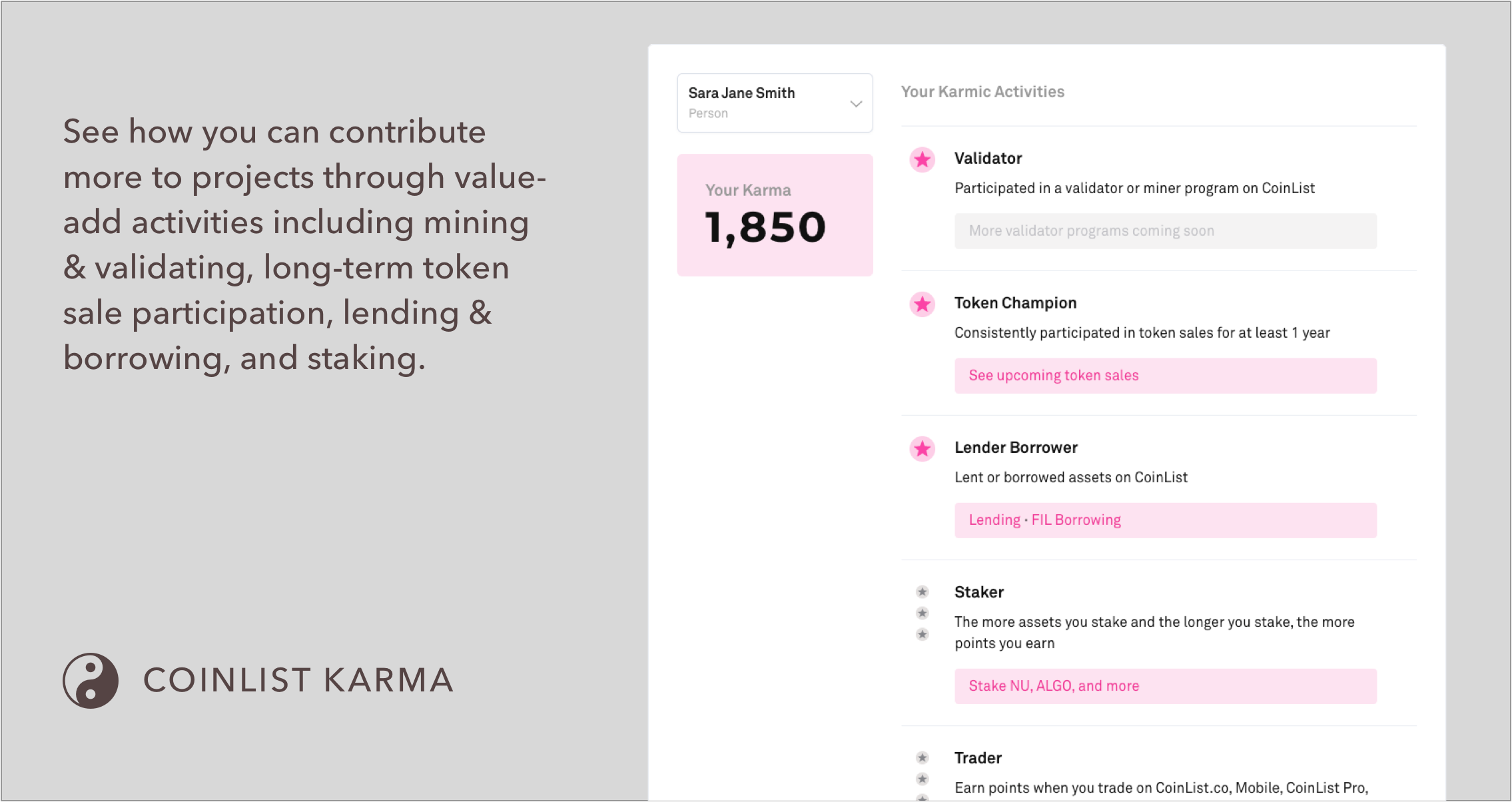 Karma is not static. The more you contribute to the ecosystem, the more Karma you accumulate, and the more you are rewarded. Some activities, like staking and trading, are scored on a sliding scale.
We're just getting started with CoinList Karma. We will be adding more Karmic rewards and more activities to earn Karma in the coming months as we learn more about what works best for the token networks and their communities.
---
Legal notice
CoinList token sales are not available to residents of the United States, China, Canada residents, and certain other jurisdictions.
CoinList determines and implements criteria in its sole discretion to evaluate contributions and assign Karma to users. CoinList does not undertake any obligation to disclose any deliberation or determination concerning any particular user.
This blog post is being distributed by Amalgamated Token Services Inc., dba "CoinList," or one of its subsidiaries. This blog post and use of the CoinList website is subject to certain disclosures, restrictions and risks, available here.