Introducing the CoinList Seed Fall 2021 Batch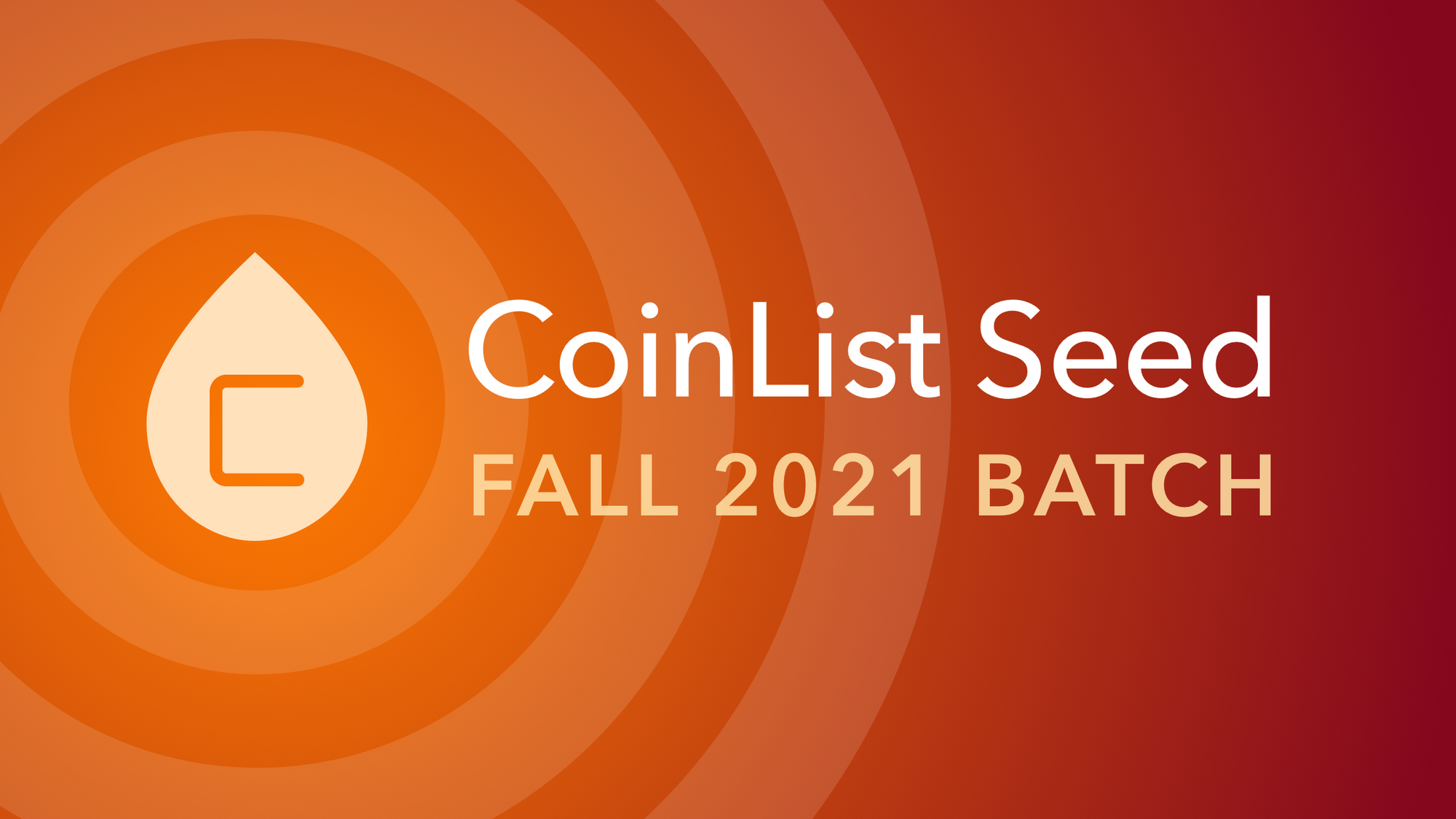 Despite volatility in the crypto markets, appetite for early stage crypto startups is skyrocketing in 2021.
According to a report by analytics firm CB Insights, funding for blockchain startups topped $4 billion for the first time in Q2 2021, up more than 50% from the previous quarter and a nearly 9X increase from the same period a year earlier. At the current rate, blockchain funding is anticipated to reach over $14.6B by year end — far surpassing the previous record ($4.5B) set in 2018.
On that note, we are incredibly excited to introduce the Fall 2021 batch of CoinList Seed projects.
DeFi and NFTs continue to be the dominant category in this batch, with 5 of the 8 projects represented from within these categories. Beyond these, social tokens and data infrastructure continue to have a presence in CoinList Seed, while one of the more interesting trends is the emergence of startups moving beyond Ethereum and building on newer chains like Solana, Terra, and Polygon, driving the case for a multi-chain future.
Without further ado, the Fall 2021 batch of CoinList Seed projects:
1. Talent Protocol - Talent Protocol is the professional network where talent can launch a branded personal token, and where sponsors can make angel investments in careers they believe in.
2. Swash - Swash enables internet users, developers, and businesses to cultivate new realities of data ownership and value creation through innovative incentivization streams.
3. Creaticles - Creaticles is the world's first bespoke NFT platform that seeks to safely and easily match buyers looking to acquire specific art to talented and curated artists.
4. Pawnfi - Pawnfi is the first DeFi product which introduces the pawn concept, a brand-new lending and leasing market to provide fair appraisal, liquidity, and other use case for Non-Standard Assets (NSA).
5. Burnt Finance - Burnt allows users to take auctions into their own hands, enabling the minting and trading of any asset in an entirely permissionless ecosystem.
6. tiiik - tiiik is a digital wallet that strives to make DeFi safe and accessible for the next billion users with a regulated one-click gateway to a new financial system.
7. CID gravity - CID gravity is building a 2nd layer of trust between Filecoin stakeholders, that de-risks their data and increases miner's profitability.
8. Masa - Masa is a decentralized credit protocol enabling the mass adoption of DeFi by bridging CeFi data to DeFi. Masa's credit infrastructure serves prime borrowers plus 3 billion credit invisible people.
If you're an entrepreneur or developer working on a distributed web project, we want to hear from you.
---
Legal Notice
This blog post is being distributed by Amalgamated Token Services Inc., dba "CoinList," or one of its subsidiaries. This blog post and use of the CoinList website is subject to certain disclosures, restrictions and risks, available here. Nothing in this blog shall constitute or be construed as an offering of securities or as investment advice, tax advice or investment recommendations (i.e., recommendations as to whether to enter or not to enter into any transaction involving any specific interest or interests) by CoinList, or any of its affiliates or a recommendation as to an investment or other strategy.