Introducing CoinList Governance: Blockchain Voting, Simplified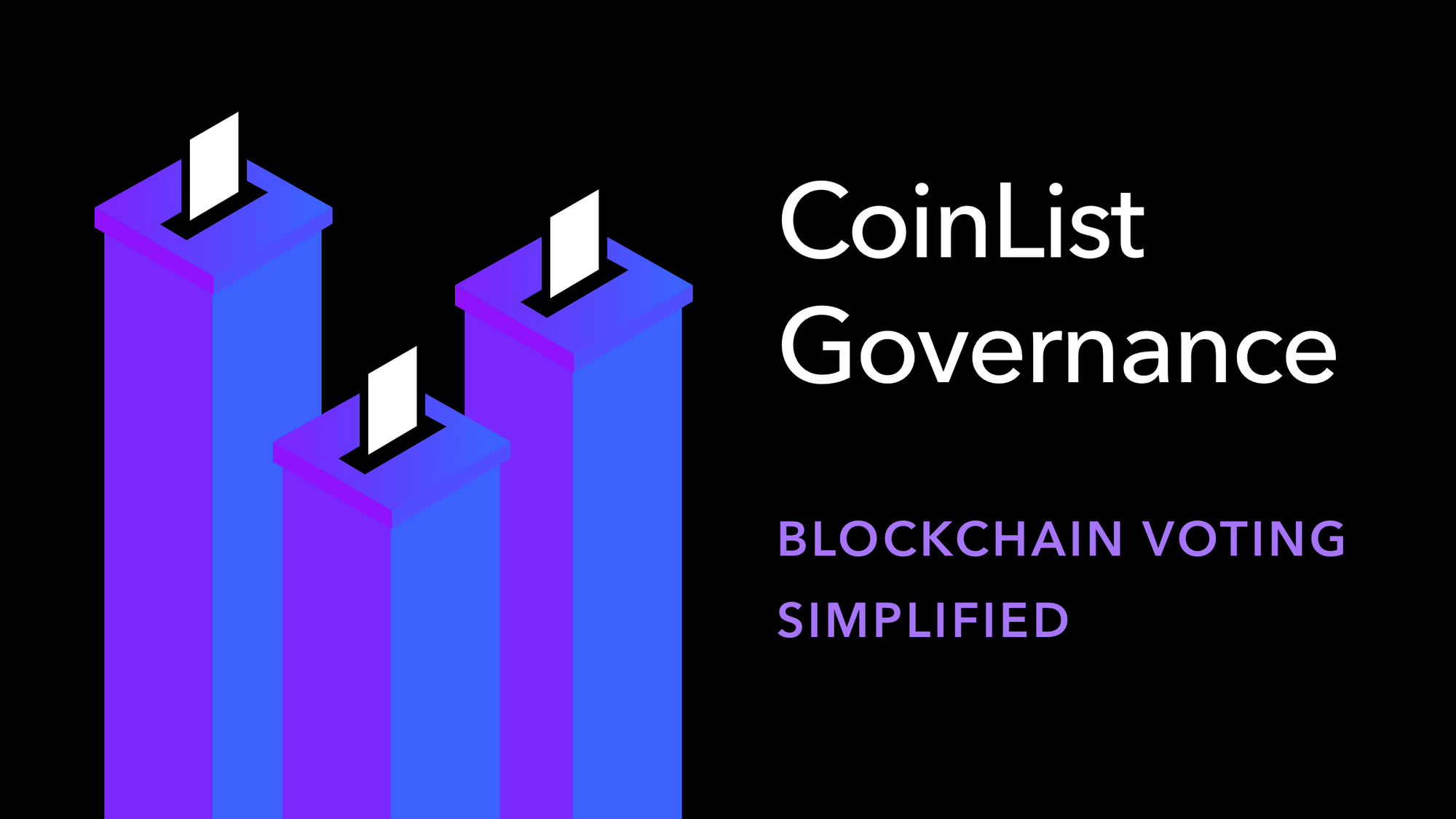 Governance is critical for crypto projects, as protocol growth and decentralization are driven by community members. Decentralized governance has facilitated billions of dollars worth of treasury management, protocol mergers, major protocol upgrades, liquid token sales from DAO treasuries, payment for contributions, and all sorts of initiatives that have driven the industry forward. Governance embodies the ethos of crypto: networks built and governed by their communities.
However, voter apathy has plagued governance. Voter participation rates are under 1% for most governance proposals, and large token holders often have unfair sway over projects. The lack of participation exposes networks to malicious governance attacks, as exhibited by Build Finance DAO's recent hostile governance takeover. Without proper governance, not only can protocols stagnate — they can also be harmed.
Governance Support For Snapshot-Based Protocols
To streamline the voting experience for network participants and address the problems described above, we're excited to announce the launch of CoinList Governance and support for Snapshot-based protocols, starting with Braintrust (BTRST). Snapshot is a voting framework where projects can create proposals for people to vote on using cryptocurrency. BTRST holders will now be informed about new governance proposals and be able to vote directly via CoinList.
For each proposal, CoinList tallies up all CoinList voters' decisions and submits everything in one single vote. CoinList's supported Snapshot-based protocols use Snapshot's weighted voting strategy to ensure CoinList's single vote accurately reflects its users preferences. For example: if 40% of CoinList users submit yes, 25% of CoinList users submit no, and 35% of CoinList users abstain, then CoinList will submit a single weighted vote that reflects 40% yes, 25% no, and 35% abstain.
Benefits of voting via CoinList include:
Never miss a vote - Get email notifications about new protocol governance proposals
Fee-less voting - No more paying gas fees for voting on frameworks that require voting transactions
Keep your tokens in one place - No need to move your funds on and off chain to participate in governance
Simple participation - No more signing countless on-chain transactions in order to vote
Proposal aggregator - Find all past proposals and their results in one place
A Successful Pilot With Ethereum Gas Limit (EGL) Genesis
CoinList began piloting its CoinList Governance product with the Ethereum Gas Limit token. Over the past few months, users were able to vote on their desired gas limit via the CoinList UI. Consistently, we've seen voter participation rates over 22%, drastically higher than the average rate of 1% for most on-chain proposals. Additionally, CoinList's voting UI includes a quiz to ensure that voters are well informed about the subject at hand, driving both voter education and protocol engagement.  

CoinList's mission is to accelerate the advancement of blockchain technology, and we hope that CoinList Governance product will be able to contribute to just that. Over the next few months, we will continue to add governance support for more protocols that use the Snapshot governance framework and will explore integration with other frameworks.
To learn more, visit the Governance FAQ page. To participate in BTRST governance, click here, select a proposal, and vote during the voting period.
---
Legal notice
This post is being distributed by Amalgamated Token Services Inc., dba "CoinList," or one of its subsidiaries. Use of the CoinList website is subject to certain disclosures, restrictions and risks available here.
Nothing in this post shall constitute or be construed as an offering of securities or as investment advice, tax advice or investment recommendations (i.e., recommendations as to whether to enter or not to enter into any transaction involving any specific interest or interests) by CoinList or any of its affiliates.