Ethereum Eagle (EGL) Genesis on CoinList: Stake ETH, Earn EGL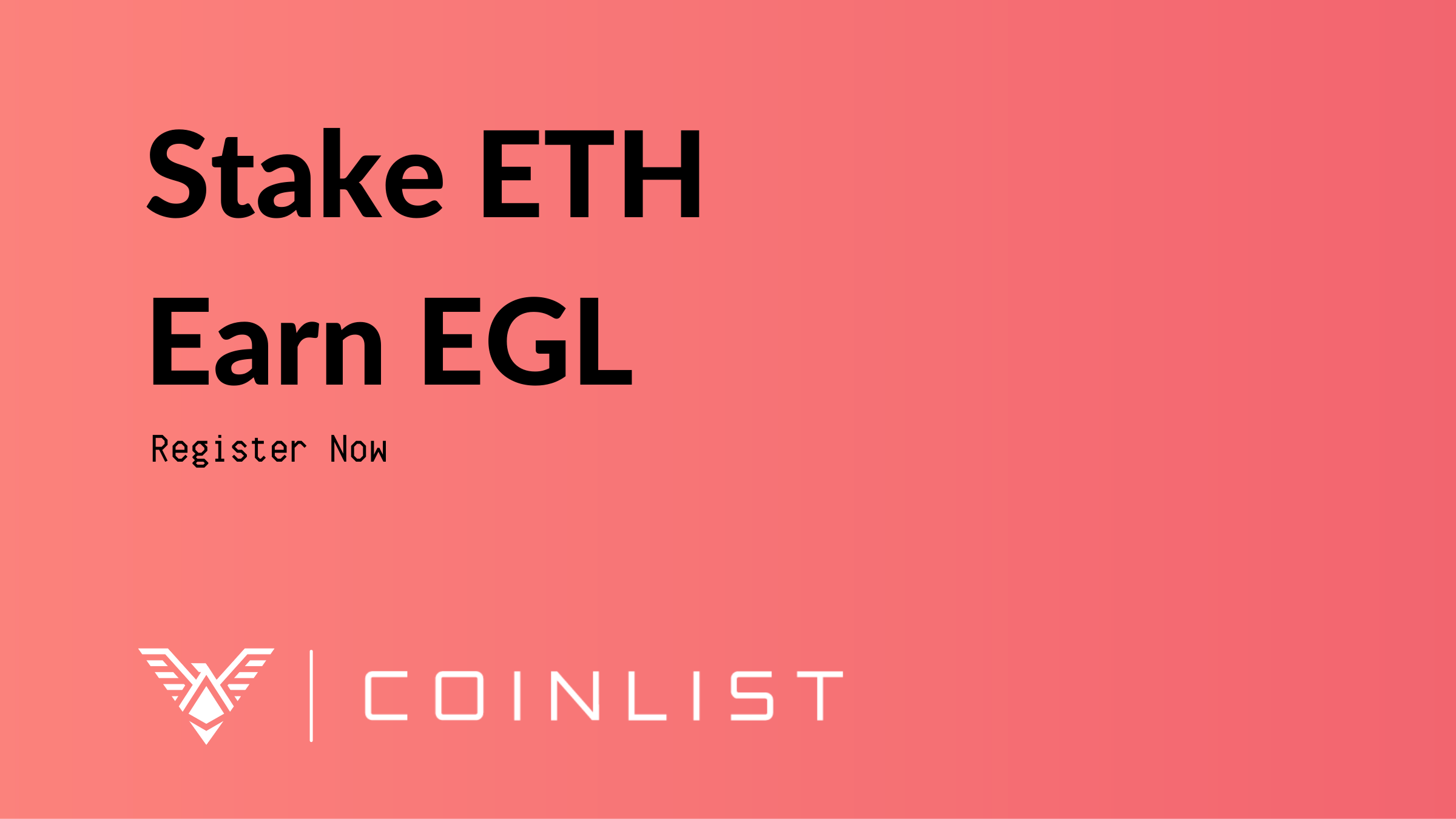 Starting today, eligible CoinList users can register for the Ethereum Eagle (EGL) Genesis event directly through CoinList. EGL is a coordination token that holders use to vote on Ethereum's gas limit (block size) and incentivizes mining pools to follow their collaborative decision. Participants can stake their ETH through CoinList in the Genesis to earn EGL, vote on the Gas Limit, and earn additional voting EGL rewards.
Asset: EGL
Initial Supply: 750M EGL
Contributions Open: July 27, 2021, 22:00 UTC
Contributions Close: August 11, 2021, 17:00 UTC
Lockup: 7 months for first distribution, 12 months for second distribution
Min/Max: 0.05 ETH / 100 ETH
Funding Methods: BTC, ETH, USDC, USDT
Eligible Participants: Users in all CoinList supported jurisdictions, excluding the United States, Canada, and China.  
---
What is EGL
The Ethereum Eagle project (EGL) is a community led effort focused on solving the misalignment of incentives and lack of transparency between the Ethereum community and miners in a way that maximizes value for all stakeholders.
At present, miners solely decide gas limits and block sizes for the protocol, while Ethereum users, who are impacted by these decisions, have no voice. EGL introduces an on-chain coordination token EGL that allows the entire ETH ecosystem to vote on Ethereum's gas limit and incentivizes Ethereum miners to follow the consensus gas limit, as decided by the community.
How EGL works
To bootstrap the network, users lock ETH in the EGL Genesis contract. At the Genesis event, ETH contributions are matched with EGLs and deployed to an ETH-EGL pool on the Balancer protocol.
Post genesis, EGL holders can vote on their desired gas limits to earn additional EGLs based on their initial gas limit vote during registration. Resulting Balancer pool tokens and EGLs will release between 10 to 52 weeks after Genesis based on time of participation (earlier participants release first, see the model for more details) and earn bonus EGLs for voting (later participants earn more bonus voting EGLs, see the model for more details). Bonus voting EGLs are locked until all Genesis tokens are released.


Benefits of participating in EGL Genesis through CoinList
Users may participate in the Genesis event through CoinList or independently. CoinList will be participating in the first and last few transactions in the Genesis event. By doing so, CoinList participants will receive both the earliest unlocked EGL and the most bonus tokens.
The earliest contribution to Genesis will be unlocked first, while the last contribution to Genesis will receive the highest percentage of bonus EGL. CoinList will allocate users' ETH contributions across the start and end of Genesis, and users will receive pro-rata shares of the first contribution within six months and the remaining amount after a year. Benefits of staking with CoinList include:
Users can receive compounding token rewards as CoinList will continually re-vote to maximize rewards.
CoinList will interact with the smart contract, abstracting away complexity from the end-user.
Users will not individually pay for ETH transaction fees to participate in Genesis or to vote their bonus EGL.
Users will be able to vote for their desired gas limit prior to participation. Users should note that, by registering through CoinList, they will be unable to change their gas limit vote throughout the lock-up period. The inability to change voting preference during the lock-up period may negatively impact the amount of bonus EGL earned.
Participants can seamlessly stake ETH and receive EGL tokens.
---
Legal Disclaimer
Not available for residents and citizens of the United States, China, and Canada, as well as certain jurisdictions listed in the EGL FAQ and CoinList's unsupported jurisdictions.
This post is being distributed by Amalgamated Token Services Inc., dba "CoinList," or one of its subsidiaries. Use of the CoinList website is subject to certain disclosures, restrictions and risks available here.
Nothing in this post shall constitute or be construed as an offering of securities or as investment advice, tax advice or investment recommendations (i.e., recommendations as to whether to enter or not to enter into any transaction involving any specific interest or interests) by CoinList or any of its affiliates.