Introducing the CoinList Seed Winter 2021 Batch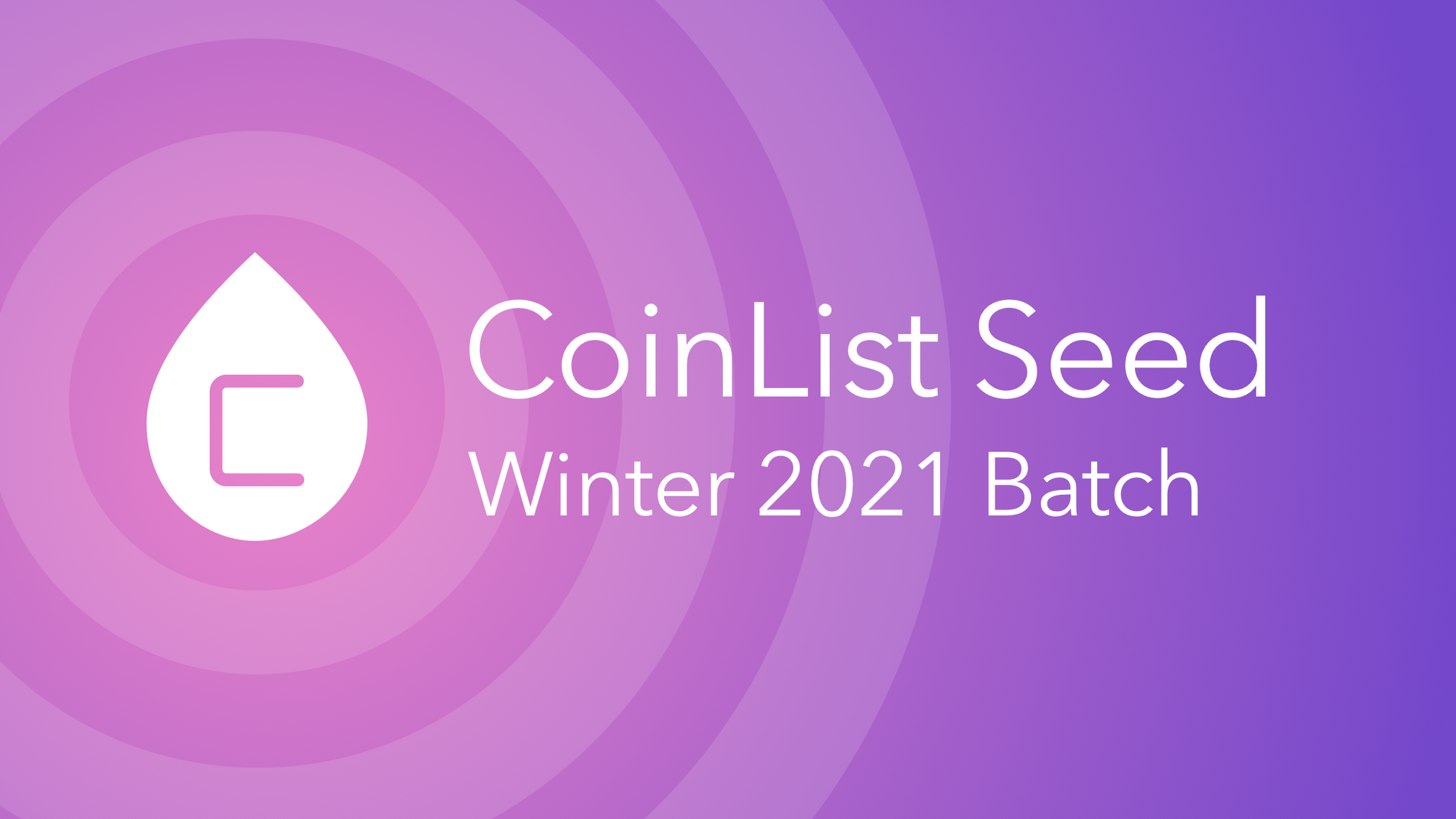 The private markets for crypto investing continue to heat up as token prices maintain their steady upward trajectory. The crypto savvy community, currently flush with cash after several large token launches and a bullish crypto market over the past few months, are looking to drive capital back into the market at earlier stages in hopes of generating even greater returns.  
Last summer we launched CoinList Seed with a focus on introducing the CoinList community to high quality early stage projects. Risks and rewards are much greater at the seed stage, but so is the potential upside, and smart investors understand this. Many of the projects participating in CoinList Seed have shown massive upside for those lucky and bold enough to be an early participant.  Below are a few of the highlights for projects launched in the first two batches of CoinList Seed:
PARSIQ (11,900%): Described as a reverse oracle or the blockchain-to-anything platform, PARSIQ has taken investors on a journey from $0.01 to over $1.00, forming key partnerships with AAVE, Binance Smart Chain, and Ocean Protocol along the way. PARSIQ has established itself as a middleware layer linking blockchains with the off-chain world.
Injective Protocol (8,000%): Following a successful launch on Binance's launchpad, Injective Protocol has rewarded early investors with the INJ token appreciating from less than $1.00 to nearly $12.00 at time of writing. Injective's unique layer-two structure enables gas-free derivatives trading, giving the high fee weary crypto community a glimpse of a low fee future.
SnowSwap (4,600%): The ability to swap yield-bearing LP tokens was attracting the attention of the DeFi community to niche AMM Snowswap. However, it wasn't until the team introduced the ability to participate in ETH2 staking that SNOW really went vertical with the SNOW token climbing 1,700% over the past 30 days.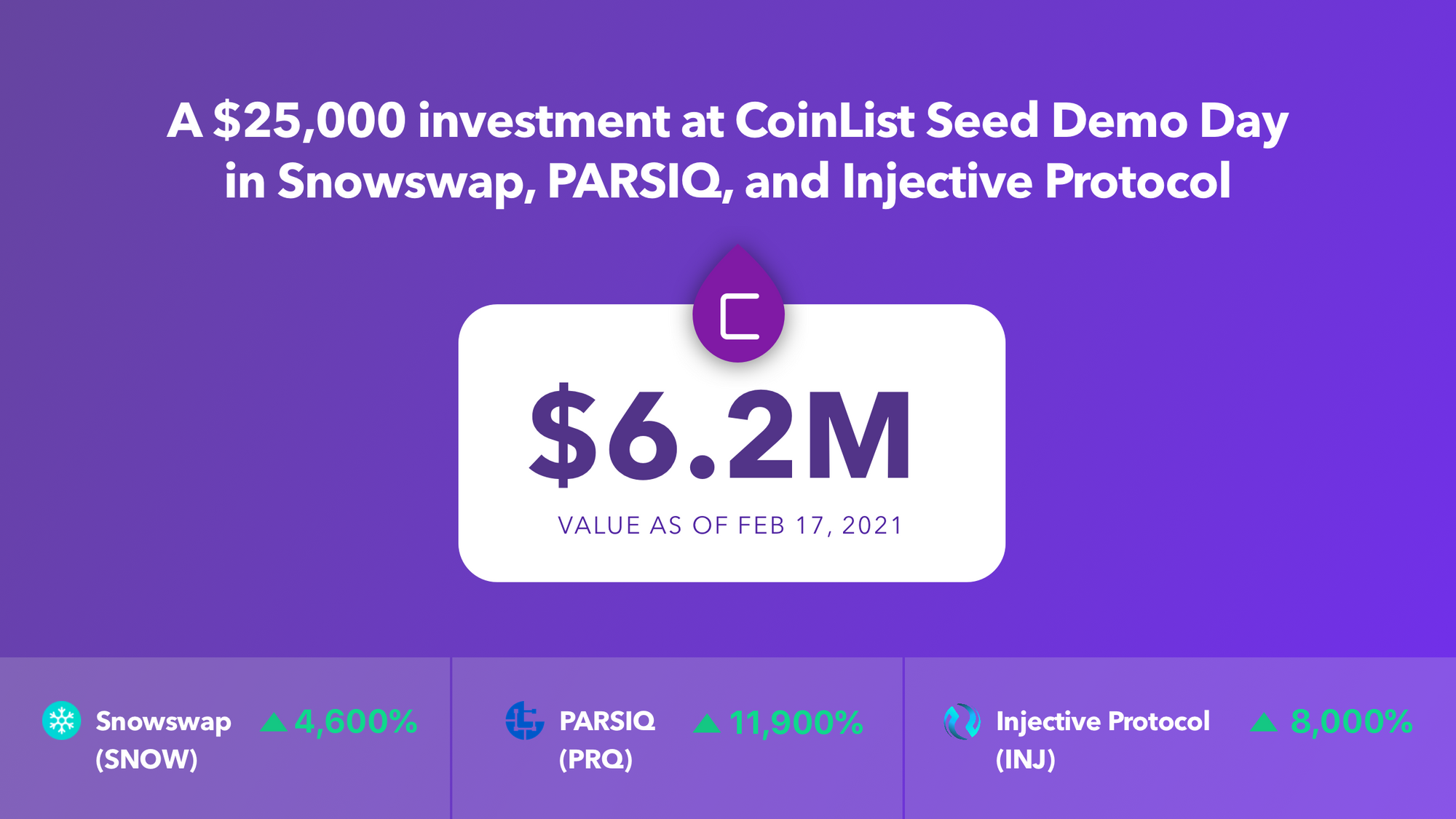 We've been thrilled to see the performance of the first two batches of CoinList Seed companies and are excited to announce the Winter 2021 batch:
1. Babylon Finance
Babylon Finance is an Ethereum-based protocol that provides yield to investors via community led funds. Babylon offers an autonomous protocol where investors can find the fund(s) that match their risk, time, and liquidity preferences. Within the fund(s), investors get access to the best investment ideas submitted by other participants.
2. Boson Protocol
Boson Protocol is a foundational primitive which solves the digital to physical redemption problem to enable decentralized autonomous commerce and a tokenized economy of things, powered by DeFi.
3. Clover
Clover is a Polkadot parachain, committed to providing easy-to-use blockchain infrastructure and creating a one-stop EVM compatible framework for Substrate-based applications.
4. Depay
Depay is building a decentralized payments layer on top of DeFi. A sophisticated product lineup to manage your crypto payments. Simple to integrate, simple to use.
5. Showcase
Showcase is an NFT mobile application designed to empower micro influencers and fans. Influencers use the in app creator tool for friction-free minting of NFTs.
6. Titan
Titan is delivering North America's first and best institutional-class Bitcoin mining pool. Their architecture is designed for high availability, low redundancy, and maximum scalability.
7. Virtue Poker
Virtue Poker is the first licensed blockchain P2P based poker platform in the world, going live on Ethereum Mainnet in Nov 2020 generating over 10k downloads, $1.5m in wagers, and $600k in deposits.
If you're an entrepreneur or developer working on a distributed web project, we want to hear from you. For more information or to apply, visit www.coinlist.co/seed.
---
Legal Notice
This blog post is being distributed by Amalgamated Token Services Inc., dba "CoinList," or one of its subsidiaries. This blog post and use of the CoinList website is subject to certain disclosures, restrictions and risks, available here. Nothing in this blog shall constitute or be construed as an offering of securities or as investment advice, tax advice or investment recommendations (i.e., recommendations as to whether to enter or not to enter into any transaction involving any specific interest or interests) by CoinList, or any of its affiliates or a recommendation as to an investment or other strategy.