Introducing the CoinList Seed Fall 2020 Batch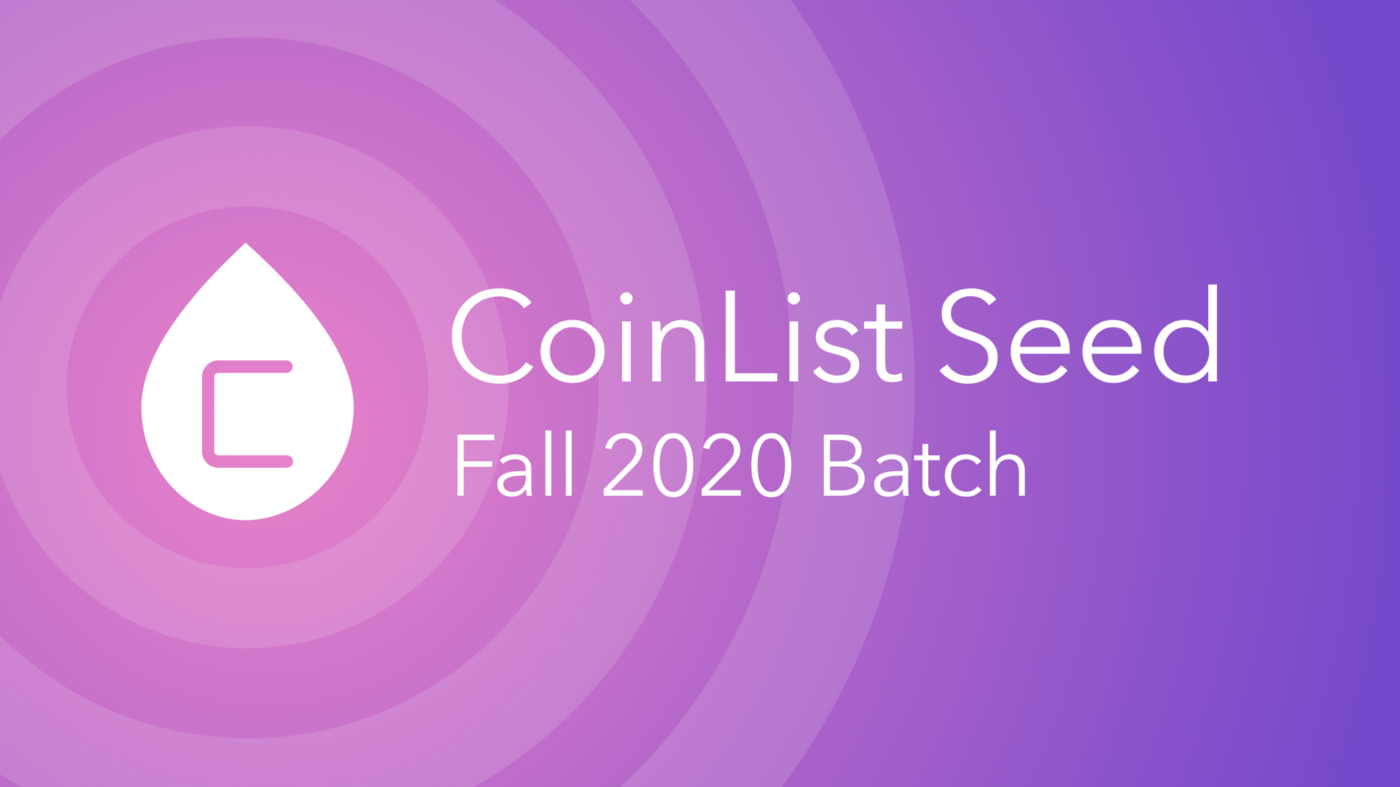 While the advent of the "Fair Launch" attracted much of the mindshare this past summer in crypto as a way of launching new projects (most notably with the introduction of DeFi darling's YFI), traditional early stage crypto investing is indeed alive and well.
Deals are up nearly 80% over the first three quarters of the year compared to 2019 according to Crunchbase, which comes as no surprise given the stratospheric returns some early token purchasers are rewarded for backing an unproven team with nothing but a dream and a pitch-deck. However, It wasn't so long ago that investors had all but given up on tokens and were demanding equity in early-stage deals.
That sentiment rapidly shifted with the June launch of COMP, the governance token of the Compound Protocol, when investors rushed back to tokens causing teams to modify their fundraising rounds from SAFEs to SAFTs in a matter of weeks. The appetite for tokens was further cemented when on-lookers saw early investors in two of this year's most anticipated launches—Solana and Filecoin—had the value of their tokens appreciate up to 5,300% and 4,000%, respectively.  
The renewed appetite for tokens is not all that has changed over the past year as we've witnessed the rise of sector-focused crypto funds as compared to the more generalist funds of the past several years. Robert Leshner & Tarun Chitra's DeFi focused RobotVentures and Jesse Walden's fund Variant focused on the ownership economy are further signs of change in the crypto investment landscape.
We believe crypto investors will continue to seek outsized return opportunities, and the seed and pre-seed stage remains fertile ground, which is one of the key reasons we introduced CoinList Seed this past summer.  
With CoinList Seed, we aim to connect our community with a curated group of startups at the earliest stages of their fundraising journey. This summer we introduced nine projects in the first batch of CoinList Seed and several of them have already accomplished a lot:
We've been blown away by the rapid pace of accomplishments from this summer's CoinList Seed batch, and with that same level of excitement are pleased to announce the companies in the fall batch of CoinList Seed:
1. Ethereum Push Notification Service (EPNS)

EPNS is a decentralized DeFi Notifications protocol that enables services (dApps & smart contracts) to send notifications to users(wallets). Notifications are platform agnostic, and users can earn from them.
2. Finoa

Finoa is the leading custodian and interface for institutional investors to interact with decentralised financial services in a secure and regulated way.
3. Fluence

Fluence is an open-application platform that leverages blockchain to enable new software business models. Applications share data/users, and developers are rewarded as their software is used.
4. StormX

Shop and earn crypto cash back from your favorite stores like Nike, eBay, and 700+ others. Earn up to 87.5% cash back in your favorite cryptocurrency while you shop!
5. RabbitHole

RabbitHole is a crypto-native platform that allows retail users to earn new native tokens by using the latest crypto networks.
6. Nayms

Nayms is a new insurance market that connects underwriters to clients via smart insurance contracts.
7. Reality Cards

Reality Cards is an NFT based prediction market. It features a unique mechanism where outcomes are not bet on, they are owned.
8. Snowball Money

The first mobile platform for extremely simple and efficient yield farming. Gain access to high-yield stablecoin vaults and generate interest in real-time via Decentralized Finance.
9. Pods

Pods is a decentralized non-custodial options protocol where users can participate as sellers or buyers of either puts or calls.
If you're an entrepreneur or developer working on a crypto project, we want to hear from you. If you're an investor or other member of the community and interested in being a part of the first CoinList Seed day, we also want to hear from you.
For more information or to apply, visit www.coinlist.co/seed.
---
Legal Notice
This blog post is being distributed by Amalgamated Token Services Inc., dba "CoinList," or one of its subsidiaries. This blog post and use of the CoinList website is subject to certain disclosures, restrictions and risks, available here.