Introducing the CoinList OTC Desk: Simplified Trading for Institutions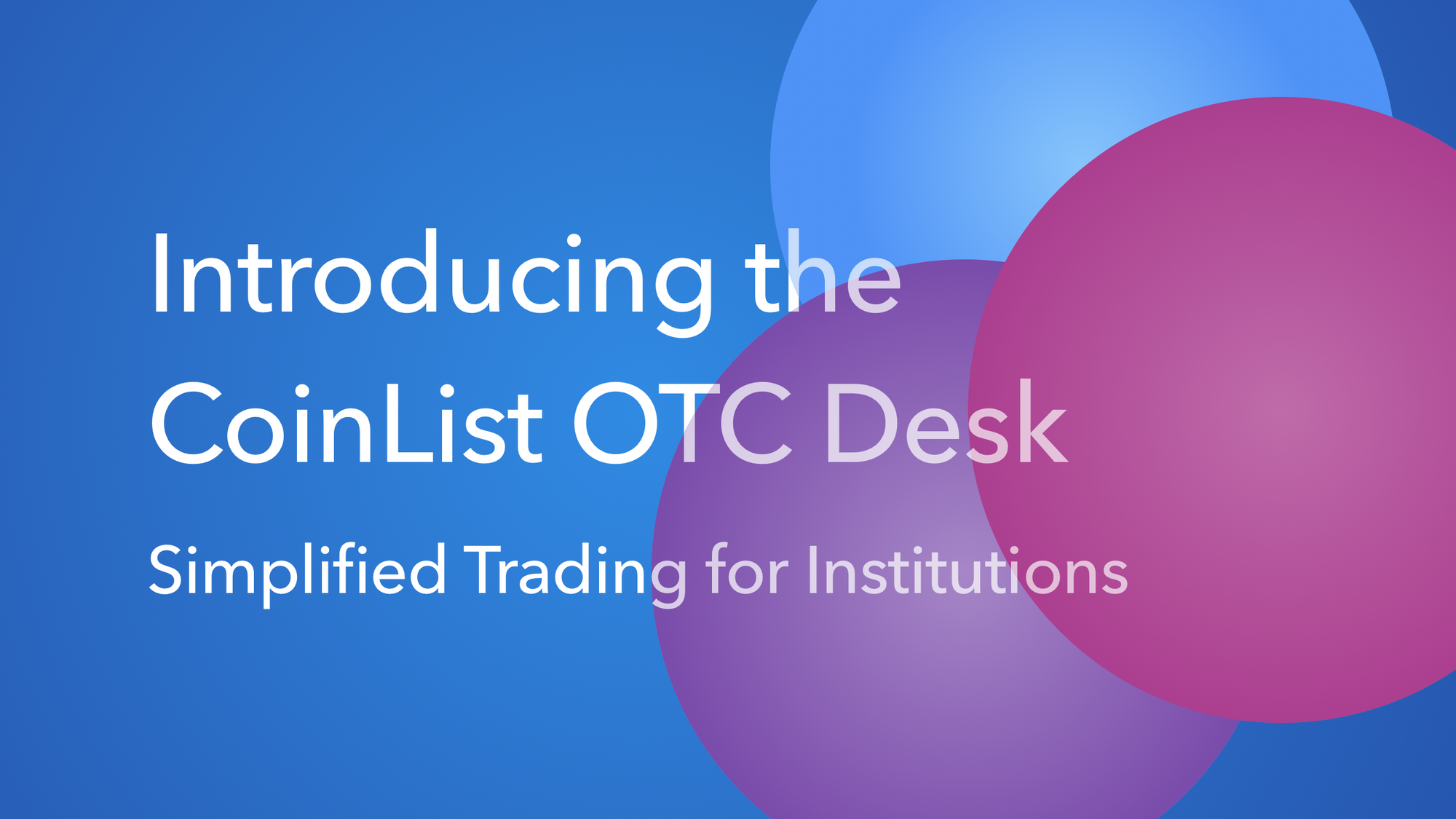 Over the counter (OTC) crypto trading has grown tremendously in the past 12 months, as more institutions and high-net-worth individuals seek deeper liquidity and a more personalized service for their trading needs. In response to the growing interest from CoinList users in OTC services, we are pleased to introduce the CoinList OTC Desk.
The CoinList OTC Desk is ideal for CoinList clients who wish to conduct large orders. By using the OTC desk, users can directly interact with CoinList's traders who facilitate the transaction.
Features:
Price Competition and Efficiency - The best desks compete to get you the best possible price. Onboard once with CoinList and have immediate access to global markets.
Simple Execution and Settlement - CoinList manages the execution of trades and settlement of assets with counterparties so you avoid operational errors and conserve time.
Anonymity - CoinList protects your anonymity when trading on your behalf. Avoid the risk of an OTC desk piggy-backing your trade or trading against you.
White-glove service - We provide high-touch service at every step, from the initial expert consultation all the way through to trade execution, answering all your questions and building a long-lasting relationship.
Secure - Your funds are available via your CoinList Wallet. Powered by world-class custodians including Bitgo, Coinbase Custody, Gemini Custody, Anchorage, and Finoa.
How it works:
Sign up for a CoinList Wallet and go through KYC onboarding. This usually takes around 5 minutes.
Deposit USD or crypto into your CoinList Wallet. You can deposit any supported asset into CoinList to fund your account.
Get in touch with our trade desk about your preferred trade via email (otc@coinlist.co) or this order form.
Once we receive your trade request, a trader from our desk will respond to you via email with details on the price, fees, and next steps to execute the proposed trade.
Eligibility & fees:
The minimum order size for an OTC trade request is $100,000 USD.
Eligibility for OTC trading is subject to AML/KYC.
There is a 0.50% flat fee per trade. Exceptions may apply.
Submit a trade request today »
---
Legal notice
This blog post is being distributed by Amalgamated Token Services Inc., dba "CoinList," or one of its subsidiaries. This blog post and use of the CoinList website is subject to certain disclosures, restrictions and risks, available here.