Applications Open for CoinList Seed Summer 2021 Batch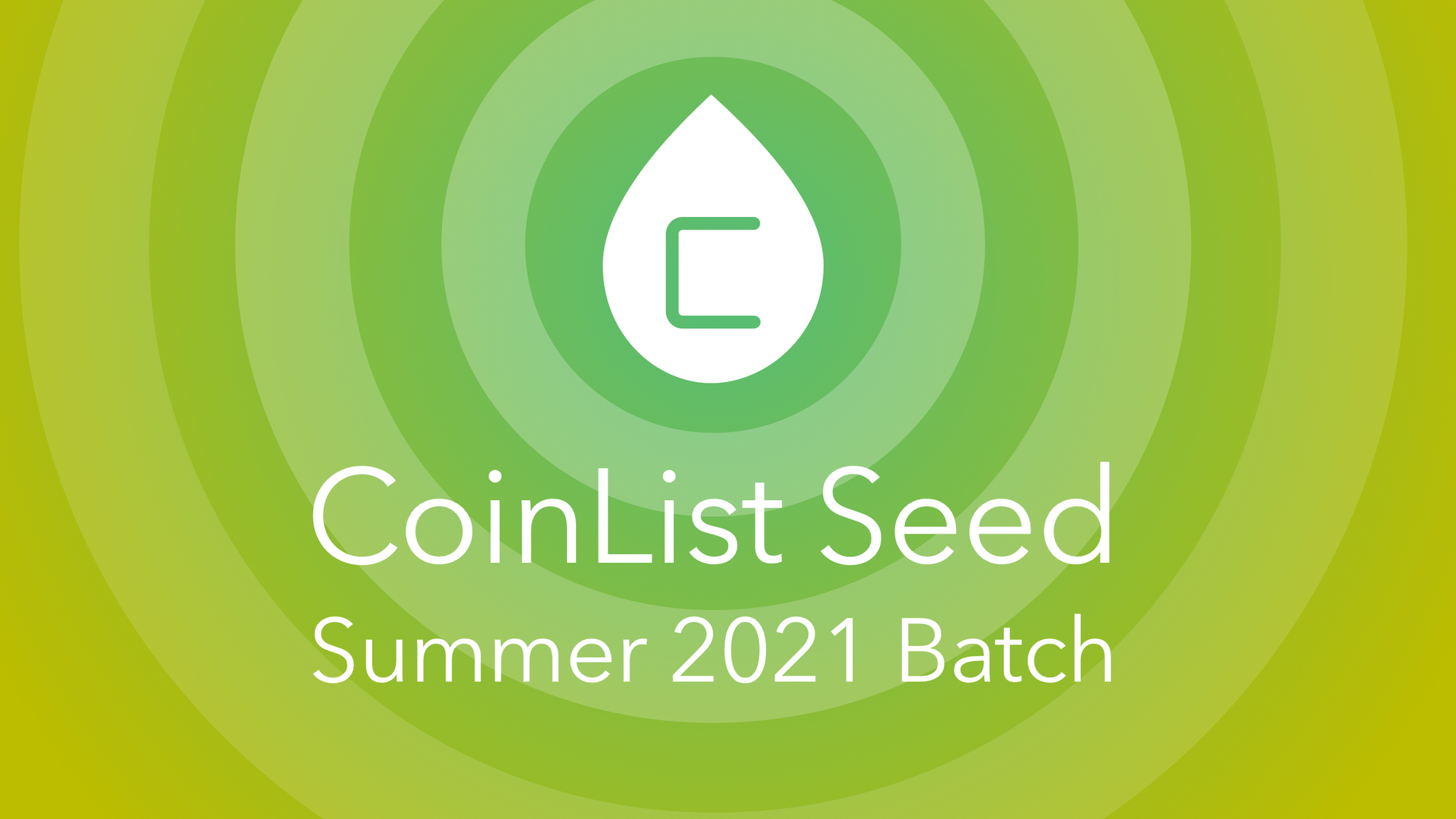 Are you or someone you know working on a new crypto startup?
CoinList is accepting applications from developers and entrepreneurs that are interested in participating in the fifth edition of CoinList Seed program. The deadline to apply for the Summer 2021 batch is August 16th, 11:59pm PT.
A virtual demo day for early-stage crypto startups
We introduced CoinList Seed in 2020 as a platform for early-stage crypto entrepreneurs to connect with the global investment community. Since launching CoinList Seed, we've hosted over 40 startups in the program, including companies like Injective Protocol, Acala, Clover Finance, Rabbithole, and more! Many startups presenting at CoinList Seed have gone on to raise from top tier investment funds including Electric Capital, Pantera Capital, Multicoin, Placeholder, and more. Participants also benefit from broad exposure to the CoinList community of 4M+ users and lots of love from broader crypto media.
Increased appetite for early stage investing
Despite recent volatility in the crypto markets, appetite for early-stage crypto and blockchain startups is not slowing down in 2021. The crypto savvy, flush with cash after several large token launches and a (mostly) bullish crypto market over the past 9 months, are driving capital back into the market at earlier stages in hopes of generating even greater returns over the long term. With crypto private equity outperforming traditional private equity across one, three and five-year horizons, the appetite for early stage investing in crypto is as hot as ever.
If you're an entrepreneur or developer working on a distributed web project, we want to hear from you.
---
Legal Notice
This blog post is being distributed by Amalgamated Token Services Inc., dba "CoinList," or one of its subsidiaries. This blog post and use of the CoinList website is subject to certain disclosures, restrictions and risks, available here. Nothing in this blog shall constitute or be construed as an offering of securities or as investment advice, tax advice or investment recommendations (i.e., recommendations as to whether to enter or not to enter into any transaction involving any specific interest or interests) by CoinList, or any of its affiliates or a recommendation as to an investment or other strategy.