The State of Flow: A Year in Review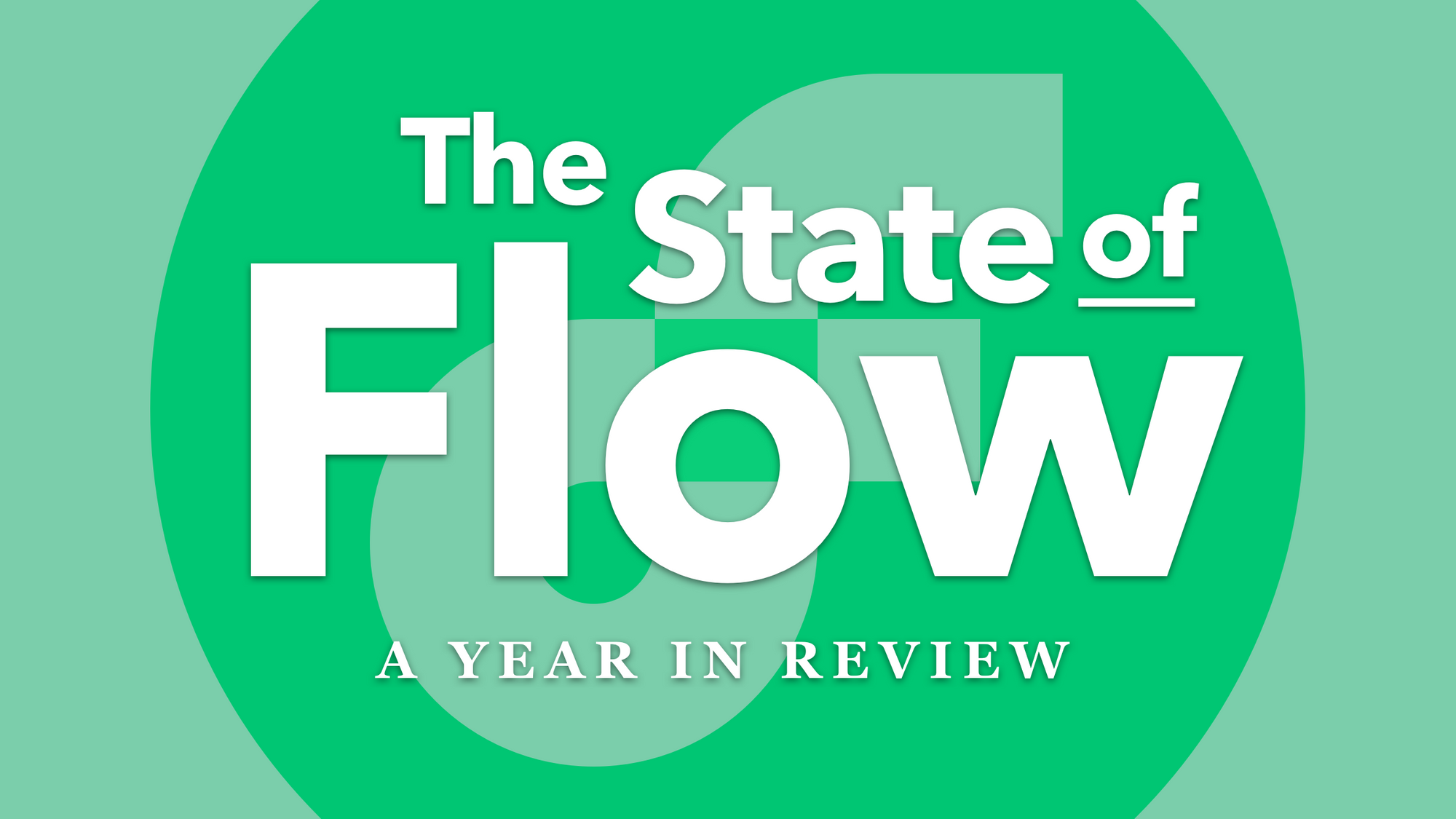 One year ago today, the Flow token sale on CoinList added more than 13,000 token holders to the Flow community, with more than $18M purchased across both the community sale and dutch auction.
Since that time, Flow has been on an absolute growth tear, attracting some of the best apps, users, and developers in the space. As we enter the home stretch ahead of Flow's token distribution on CoinList, we take a look at the latest progress and developments in the Flow ecosystem in 2021.
Let's dive in:
1. Record number of NFT secondary sales
The rise of NBA Top Shot, the record-breaking product that turned Flow into one of the fastest growing blockchains in the world, marked the beginning of a huge surge of mainstream interest in NFTs and across crypto. With over one million registered users now and nearly one billion USD in sales, NBA Top Shot proved that mainstream consumers are eager to engage with user-friendly blockchain applications. Flow's ecosystem partners have captured that momentum in a bottle. Organizations such as the NFL, La Liga, and the UFC have partnered with Flow to list their digital collectibles on the Flow network. In addition, Flow NFTs will soon be live and tradeable on OpenSea, the largest NFT marketplace in crypto. Flow leads the industry in number of NFT secondary sales, with over 10 million NFT trades and 50M blockchain transactions to date. By comparison, Axie Infinity has settled about 6M and Ethereum has settled about 3M NFT trades.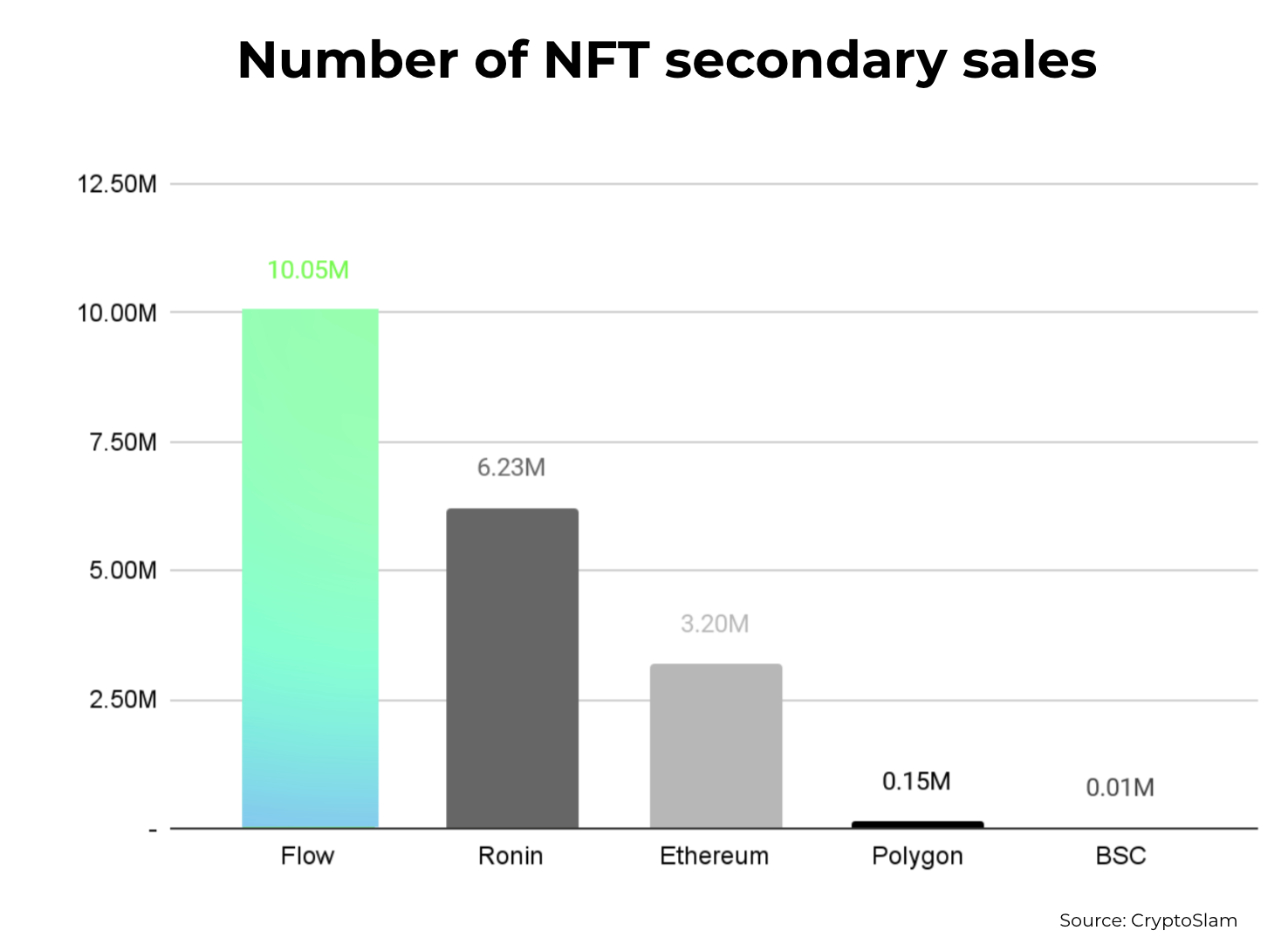 2. $700M+ raised by companies building on Flow in 2021
The Flow blockchain has become home to countless communities across Art, Music, Gaming, Tech, Sports and more. In December of 2020, there were 50 companies building on the Flow network. Today, that number has increased to more than 650, equaling an approximately 25% month-over-month growth and spanning an ever-increasing number of sectors across gaming and entertainment. Top projects like Chainmonsters, Eternal, RCRDSHP, TheFabricant, Koening, and Giglabs powered platforms are gaining traction from not only users, but investors also. Projects building on Flow raised over $700M in 2021 (both equity + token investments) from outside investors, while Dapper Labs, the creators of the Flow blockchain, raised an additional $500M from venture capital investors.


3. Rapid growth in number of wallets
Flow boasts more than 2.4M wallets 9 months after the beta launch of its first dApp, NBA Top Shot. By way of comparison, 9 months into DeFi summer of 2020, there were only 1.5M wallets that had ever interacted with any DeFi protocol. Third-party Flow wallets like Blocto, for example, are becoming a hub for users' assets from a variety of Flow partners. Blocto in particular gained more than 200,000 users on Flow in less than one year, with their users staking more than 19M in FLOW tokens through the app.

4. Unique token economics
The FLOW token is the native currency for the Flow network and provides the necessary fuel and security for the Flow ecosystem. The FLOW token can be used for a number of things, such as paying for transaction fees, staking, governance, collateral for DeFi on Flow, payments and much more. Transaction fees are used to pay for staking rewards, as the protocol mints the difference between the target staking reward and the transaction fees. If transaction fees exceed target staking rewards, the protocol locks the excess fees in an escrow wallet, effectively turning FLOW into a fixed supply asset. As the network grows in adoption and more users are onboarded, this effect becomes stronger as more and more transactions occur on the network.

Next week, we will take a closer look at the entire map of the Flow ecosystem and spotlight some of the most exciting projects building on the Flow. Stay tuned!
---
Legal Notice
This blog post is being distributed by Amalgamated Token Services Inc., dba "CoinList," or one of its subsidiaries. This blog post and use of the CoinList website is subject to certain disclosures, restrictions and risks, available here.