A Deep Dive Into Efinity: Next-Generation Blockchain for NFTs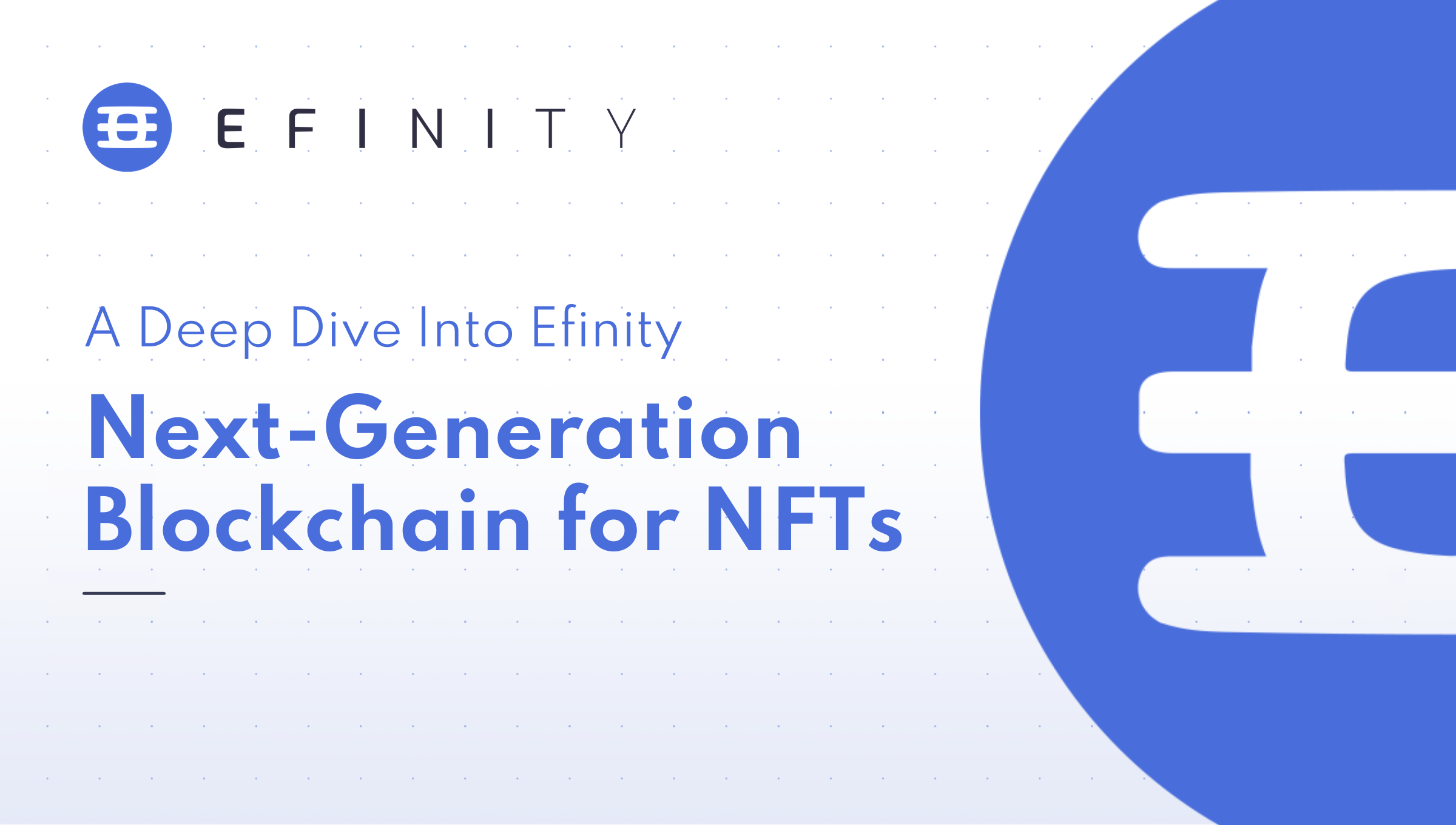 On June 2, we announced the Efinity Token Sale on CoinList, starting June 24 at 17:00 UTC. Efinity is a cross-chain blockchain for non-fungible tokens (NFTs), designed to enable a future where NFTs are as widespread and easy to use as smartphones today.
Enjin, the team behind Efinity, pioneered the NFT industry in 2017, authoring the advanced ERC-1155 token standard and launching the first NFT creation platform. This week, we sat down with the Enjin team to discuss what they are building with Efinity, its use cases, recent traction among target users, and their thoughts on the NFT ecosystem more broadly.
Let's dive in:
1. To begin, what is Efinity and what problem does it solve?
Efinity is a next-generation blockchain for digital assets, built on Polkadot.
Businesses and developers need a platform that can deliver a modern, mainstream, and developer-friendly NFT experience. Since the release of Ethereum, there have been attempts to build infrastructure and tokenization around this general-purpose computing blockchain, but there's an ever-growing thirst for a better solution.
Creators are forced to work with crippling fees, inflexible smart contracts, and disjointed interoperability. Adoption of today's NFTs is still largely limited to die-hard crypto enthusiasts. The blockchains that NFTs live on give actual users no incentives, because miners are given the full share of generated tokens.
Prices rise, infrastructure companies create silos and paywalls, and it becomes difficult to make real progress in this industry—unless we can unify the community and think a bit differently.
Efinity is built to solve these problems.
2. What is your target audience and existing user base? What interactions do you expect your users will have with your NFT network?
Since their emergence, NFTs have seen explosive growth, recently gaining popularity among companies, artists, celebrities, and influencers as a way to monetize their brands and intellectual property. The first quarter of this year alone saw over $2 billion in NFT sales, a 2,100% increase from the previous quarter.
Efinity will be a hub for all fungible and non-fungible tokens, meant to serve and benefit all participants in the digital asset space—collectors, creators, artists, decentralized app (dApp) developers, enterprises, sports teams, and more.
The Enjin ecosystem is robust, with a wide range of projects and developers using our products to create, distribute, and integrate NFTs with their projects. Over 1.14 billion digital assets have already been created with Enjin. All of these tokens can benefit from the cost efficiency, speed, and next-generation features of Efinity—and that's only the existing Enjin ecosystem.
We believe Efinity will do for the wider NFT ecosystem what ERC-1155 did for Ethereum: make NFTs even more accessible to everyone. We expect end-users to create NFTs with the same ease and as intuitively as they take a picture with a smartphone today; trade NFTs faster than they can purchase something from Amazon; and most importantly, use those tokens in a myriad of futuristic ways.
It's up to companies and developers across the world to give that next-gen utility to NFTs, and truly unlock their power to the masses.

3. Why did you decide to build on top of both Polkadot and Ethereum? What benefits and drawbacks stem from such a cross chain approach?
Polkadot is not built to replace Ethereum, but to improve and complement it; in the same way, Efinity is designed to supercharge not only Ethereum NFTs, but NFTs from any blockchain.
Efinity will be a core part of our multi-chain NFT ecosystem, which also includes JumpNet, a solution designed to enable forever-free Ethereum transactions.
ERC-1155 is our humble contribution to the Ethereum ecosystem, and its power was harnessed to create the NFT explosion of 2021.
Ethereum is a battle-hardened network that has stood the test of time since it was born in 2015—today, it's the most active blockchain network by activity and the sheer, colossal number of involved individuals, companies and organizations.
It's that "true-and-tested" nature of Ethereum that's possibly one of the core reasons to continue building on Ethereum—while Polkadot opens new ways to complement existing NFT features and capabilities, and create new ones.
Put simply, our cross-chain approach allows for experimenting with technology and enabling users, businesses, and developers to get the best of both networks.
We will continue to develop our Ethereum-based platform and JumpNet blockchain, with cross-chain bridges connecting all networks and enabling full compatibility with the Ethereum ecosystem.
4. Your Co-founder/CTO authored the ERC-1155 token standard for NFT creation. How did this invention inform your development of Efinity?
Our goal has always been to help accelerate the advent of a global, advanced virtual economy. ERC-1155 was the start of this, born from the growing need for a more efficient standard to govern the evolved token types and economies of blockchain games and dApps.
ERC-1155 enables developers to deploy both fungible and non-fungible tokens in a single smart contract—and cuts gas fees by up to 90% when minting new tokens.
We're now developing a token standard for Polkadot called Paratokens. The standard will be compatible with parachains, parathreads, and smart contracts, so it's interoperable with the entire Polkadot and Kusama ecosystem.
The Paratoken standard will accept tokens from any other chain, including the popular ERC-721, ERC-1155, and ERC-20 standards.
EFI will be the first ever paratoken.
5. What is the inherent value and use case for Efinity's native token, EFI?
As the main utility Paratoken deployed on the network, EFI is designed for transaction fees, liquidity, rewards, and community governance.
Fees: EFI will serve as the currency for transactions on the network. NFT creators will be able to subsidize transaction costs for their users by depositing EFI into a Fuel Tank they control.
Liquidity: The "Efinity Swap" automated conversion function allows frictionless conversion of Paratokens into other Paratokens. It also rewards those who provide liquidity for NFTs in EFI.
Rewards: Unlike networks that reward miners, Efinity compensates network participants: collator nodes; users who govern the network; buyers and sellers who facilitate price discovery; developers (via grants from the Community Pool); early adopters and creators.
Governance: Through decentralized governance, EFI holders will be able to submit and vote on proposals and referendums, helping steer the future of the network.
EFI also serves a purpose on Enjin's JumpNet blockchain: by holding EFI on JumpNet ("JEFI"), users will be able to increase their transaction limits and continue enjoying instant, free NFT and ERC-20 token transfers on-chain.
6. The NFT ecosystem has exploded in the last 6 months and is seeing increased media attention. What do people get wrong about NFTs? What do people get right?
NFTs are changing the way we interact with, experience, and own things in the physical and digital spaces. They have potential to transform nearly any industry.
With that in mind, one of the biggest misconceptions is related to what NFTs are, and what they can be used for. NFTs are not just JPEGs, and can represent so much more than art.
NFTs can be used for gaming items, exclusive access, fractionalized ownership of physical items like real estate, music tracks and albums, records, sports memorabilia, event tickets, e-books, poems, consumer rewards programs, memberships, fashion, social media posts, entire virtual worlds, achievements—and so much more.
NFTs have also faced criticism regarding their environmental impact, and we are actively working on solutions via our multi-chain ecosystem. Efinity and JumpNet will enable carbon-neutral NFTs, together consuming 85-99% less electricity than Ethereum, of the Ethereum blockchain.
7. What do you see as the #1 barrier for increased adoption of NFTs today? Is it access, costs, or something else?
Utilizing NFTs has historically been difficult due to cost, user experience, and technical limitations. But one of the most critical problems is perhaps less obvious: there are no blockchains purpose-built for NFT users, and legacy networks fall short of expectations.
The NFT market is undoubtedly vibrant. But as it grows, it becomes increasingly fragmented, with projects and networks competing for users and liquidity.
While ERC-1155 allows for increased NFT collaboration and integration, true interoperability for users has yet to be achieved. Users who own an item in a dApp on one chain can't take it over to another.
By supporting fungible and non-fungible tokens from any chain, Efinity will enable innovators to reach users across the growing list of decentralized networks, existing and future. Any NFT from any chain can be moved to Efinity, supercharging it with the next-gen features enabled by the network.
Ultimately, the network that solves the challenge of facilitating the pricing and exchange of NFTs will naturally gain traction, because it will create network effects by attracting increasing volumes of transactions
On Efinity, NFTs don't need to be listed for sale or even exist on the network to receive a bid. In fact, users can be compensated for initiating bid/ask orders and stimulating network usage by initiating transactions which may be completed by other users. This mechanism will naturally attract buyers and sellers to join the network and create network effects by incentivizing users to initiate transactions.

8. Enjin/Efinity already has quite a few strategic partners integrating with its infrastructure. Can you share any notable examples?
Our NFT infrastructure supports a wide range of businesses, creators, and developers.
We've been working with Microsoft since 2019 on "Azure Heroes," an NFT rewards program that recognizes the contributions of the Azure developer community. The program uses verifiably scarce NFTs to honor achievements in areas like green development, mentorship, and open-source software. Since launching as a regional pilot program, Azure Heroes has expanded globally, used for various Microsoft events and initiatives, such as the Azure Space Mystery, Azure Global, and Hacktoberfest.
Health Hero recently launched "Go! By Health Hero," an NFT-powered wellness program. Go! offers users unique NFTs that dynamically evolve based on activity and progress—so when you get your steps in or complete a workout, your "Well-Being NFT" (W-NFT) becomes increasingly unique and rare.
A variety of game and app developers are using Enjin-powered NFTs in innovative ways, for example:
Age of Rust uses NFTs to unlock special abilities, secret areas, and quests for BTC treasure.
The Six Dragons enables players to craft NFTs using blockchain recipes created by other players, who are paid with cryptocurrency in return for their service.
AlterVerse features customizable NFT spaceships which function as game servers that players can own and monetize.
MyMetaverse has integrated NFTs in Minecraft, enabling cross-brand collaborations with projects like Binance, CoinMarketCap, SwissBorg, Microsoft, and more.
Lost Relics features an item economy that evolves with the player base.

9. What NFT trends and use cases are you most excited about?
At present, we've only scratched the surface of what NFTs are capable of.
Utility is at the core of our ecosystem. We see a ton of potential and opportunity with programmable NFTs that evolve based on actual events/data and unlock access/benefits in the real world. For example, projects like Uniqly will use Efinity to bridge digital NFTs with physical goods, enabling seamless materialization of NFTs into real-world items like shirts.
Imagine a future where you can tell your AI (e.g. Alexa, Siri) to mint an NFT on demand when your kid completes their homework via their computer—and that NFT unlocks a set amount of playtime in their favorite video game as a reward.
NFTs are the future of assets, both digital and real—applications range from a simple tokenized photo to your passport on the blockchain.
We're beyond excited about the inevitable symbiosis of NFTs with emerging technologies, like augmented and virtual reality (AR/VR), artificial intelligence, and even early stage (at least when it comes to mainstream adoption) technologies like neural laces, bio augmentations, and quantum computers.
These technologies, combined with NFTs and blockchain, will enable the emergence of a true decentralized Metaverse, creating what is essentially a layer of reality where magic is possible. The Metaverse will provide incredible opportunities for socialization, creativity, economic activity, social mobility, and will replace the Internet as the main arena of the 21st century societal, cultural, political, and economic activity.  
---
Legal Disclaimer
Not available for residents and citizens of the United States, China, Canada, and certain jurisdictions.
This post is being distributed by Amalgamated Token Services Inc., dba "CoinList," or one of its subsidiaries. Use of the CoinList website is subject to certain disclosures, restrictions and risks available here.
Nothing in this post shall constitute or be construed as an offering of securities or as investment advice, tax advice or investment recommendations (i.e., recommendations as to whether to enter or not to enter into any transaction involving any specific interest or interests) by CoinList or any of its affiliates.