Trade Wrapped Centrifuge (wCFG) on CoinList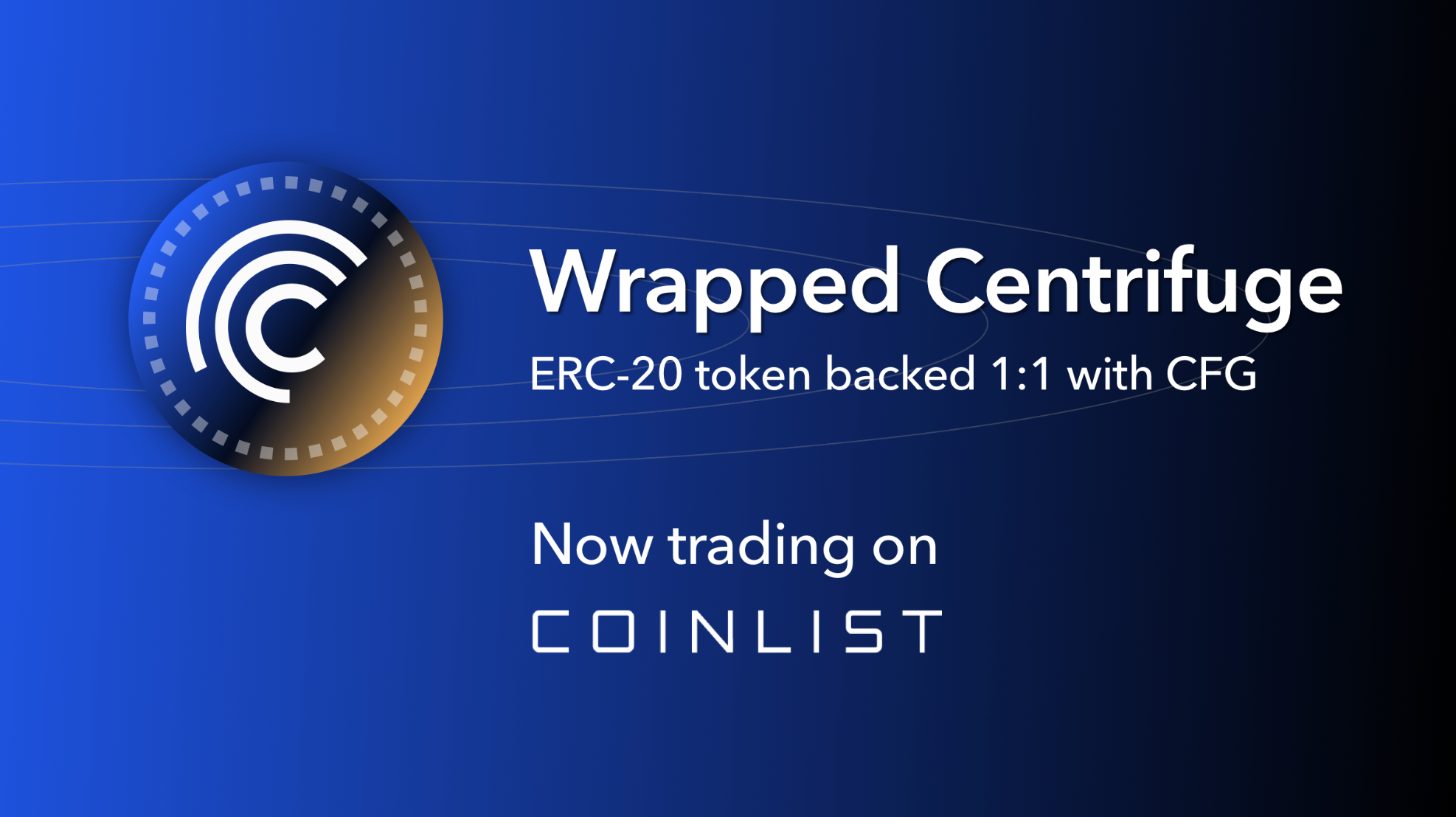 Two months ago, the Centrifuge Token Sale added more than 32,000 new token holders to the Centrifuge community, with more than $18.5M in Centrifuge (CFG) tokens purchased.
While the CFG token lives natively on the Centrifuge Chain, it can also be bridged to Ethereum and used as an ERC20 token backed 1:1 with CFG.
Starting today, eligible CoinList can trade Wrapped Centrifuge (wCFG) on CoinList Pro, CoinList.co, and CoinList mobile.
What is Centrifuge?
Centrifuge is one of the first protocols to connect DeFi to the real-world by bringing multi-trillion markets of real-world assets (RWA) like invoices, real estate, and royalties to DeFi. Asset originators can access bankless liquidity, and investors can earn attractive yields from an open marketplace of asset pools. By connecting people to borrow and lend money transparently and cost-effectively, Centrifuge unlocks economic opportunity for all. Learn more here.
How are CFG & wCFG different?
Each wCFG is backed by one CFG locked up in the bridge account on Centrifuge Chain when moved over to Ethereum. Token holders can move between Ethereum and Centrifuge at any time without restrictions.
Using CFG on the Centrifuge Chain allows you to:
Stake and earn staking rewards
Participate in governance
Pay for fees on Centrifuge Chain
Using wCFG on Ethereum allows you:
To interact with DeFi apps that support ERC20 tokens
Use it within Ethereum and hold it in your Ethereum wallet
Building the bridge
CoinList is building support for the CFG Ethereum bridge which will allow users to convert native CFG for wCFG on Ethereum, and vice-versa, directly through their CoinList wallets in the coming weeks. Stay tuned for more details.
We are excited to help build the Centrifuge ecosystem and help make wCFG available to the broader crypto ecosystem.
---
Legal Notice
*Not available to residents of the US & Canada.
This blog post is being distributed by Amalgamated Token Services Inc., dba "CoinList," or one of its subsidiaries. This blog post and use of the CoinList website is subject to certain disclosures, restrictions and risks, available here.
Nothing in this post shall constitute or be construed as an offering of securities or as investment advice, tax advice or investment recommendations (i.e., recommendations as to whether to enter or not to enter into any transaction involving any specific interest or interests) by CoinList or any of its affiliates.