Efinity (EFI) and Swarm (BZZ) Trading Soon on CoinList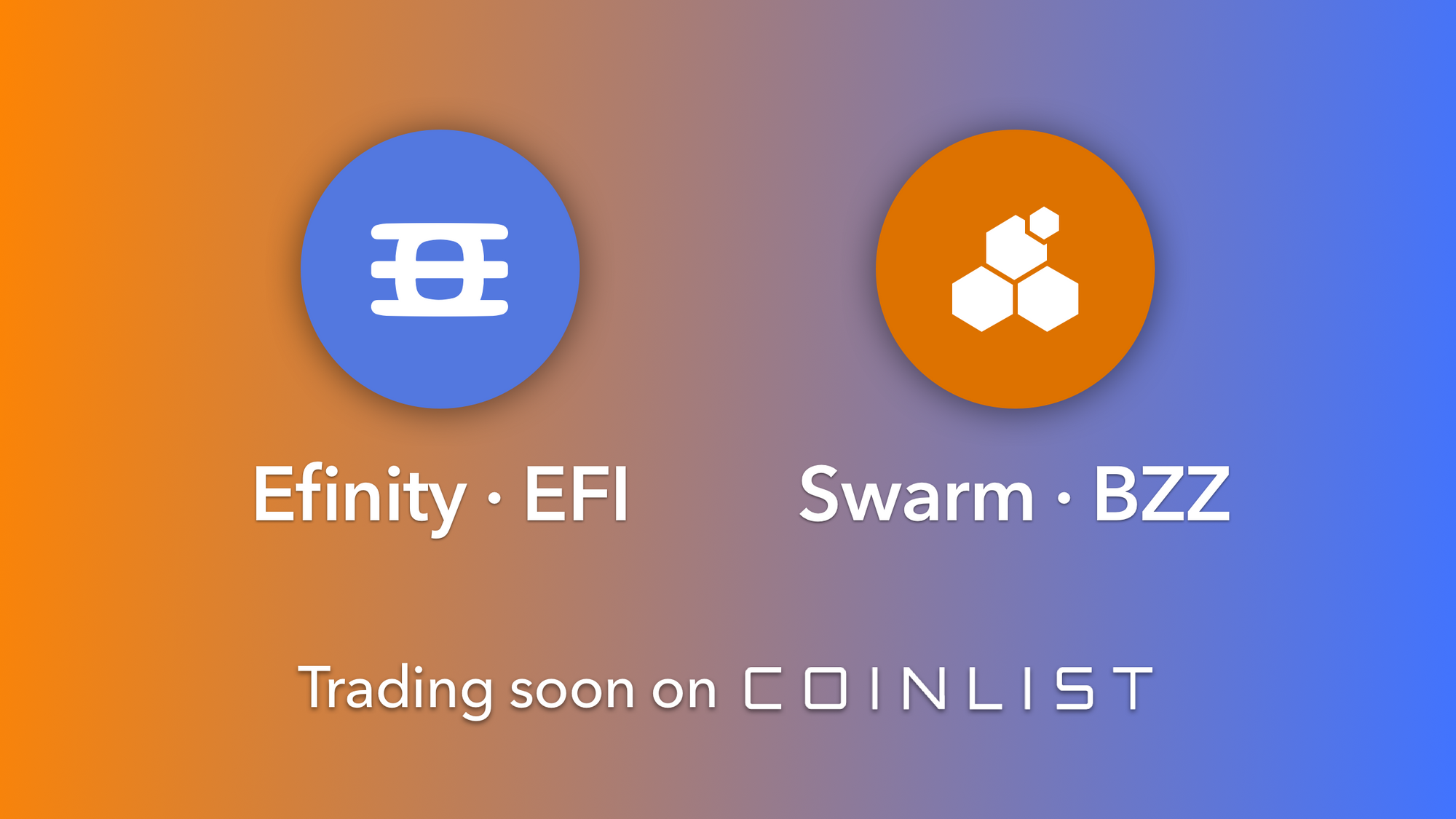 CoinList's mission is to help the world's most impactful crypto projects grow and succeed. We've worked with top projects to power their token sales, connect them to developers and validators, and provide them with a trustworthy market for trading.
After facilitating token sales for Efinity (EFI) and Swarm (BZZ) last month, we're excited to announce that EFI and BZZ will be available for trading on CoinList Pro, CoinList.co and the CoinList mobile app starting next week.
Efinity (EFI)
The Efinity blockchain is a cross-chain NFT network powered by the Efinity Token (EFI) and built on Polkadot. Efinity is environmentally friendly, scalable, and built to enable a future where NFTs are as widespread and easy to use as smartphones today. Efinity will allow any NFT from any chain to be moved to the network, supercharging it with next-gen features, low fees, and fast transaction times. As the main utility token deployed on the network, EFI is designed for transaction fees, liquidity, rewards, and community governance. Learn more »
Swarm (BZZ)
Swarm is a system of peer-to-peer networked nodes that create a decentralized storage and communication service. The system is economically self-sustaining due to a built-in incentive system that is enforced through smart contracts on the Ethereum blockchain and powered by the BZZ token. Users pay for storage and communication on their own terms, rather than having their data sold to cover costs. On the other hand, node operators are motivated by BZZ tokens to run and maintain network nodes. Learn more »
We will announce the official trading time shortly on our official social media channels. In the meantime, please set up your CoinList Wallet in preparation for trading.
---
Legal Notice
This blog post is being distributed by Amalgamated Token Services Inc., dba "CoinList," or one of its subsidiaries. CoinList operates CoinList Markets LLC, a licensed money services business (NMLS #1785267), among other subsidiaries. CoinList does not provide—and this post shall not be construed as—investment, legal or tax advice. This blog post and use of the CoinList website is subject to certain disclosures, restrictions and risks, available here.