Dogecoin (DOGE), Polygon (MATIC), SushiSwap (SUSHI) now trading on CoinList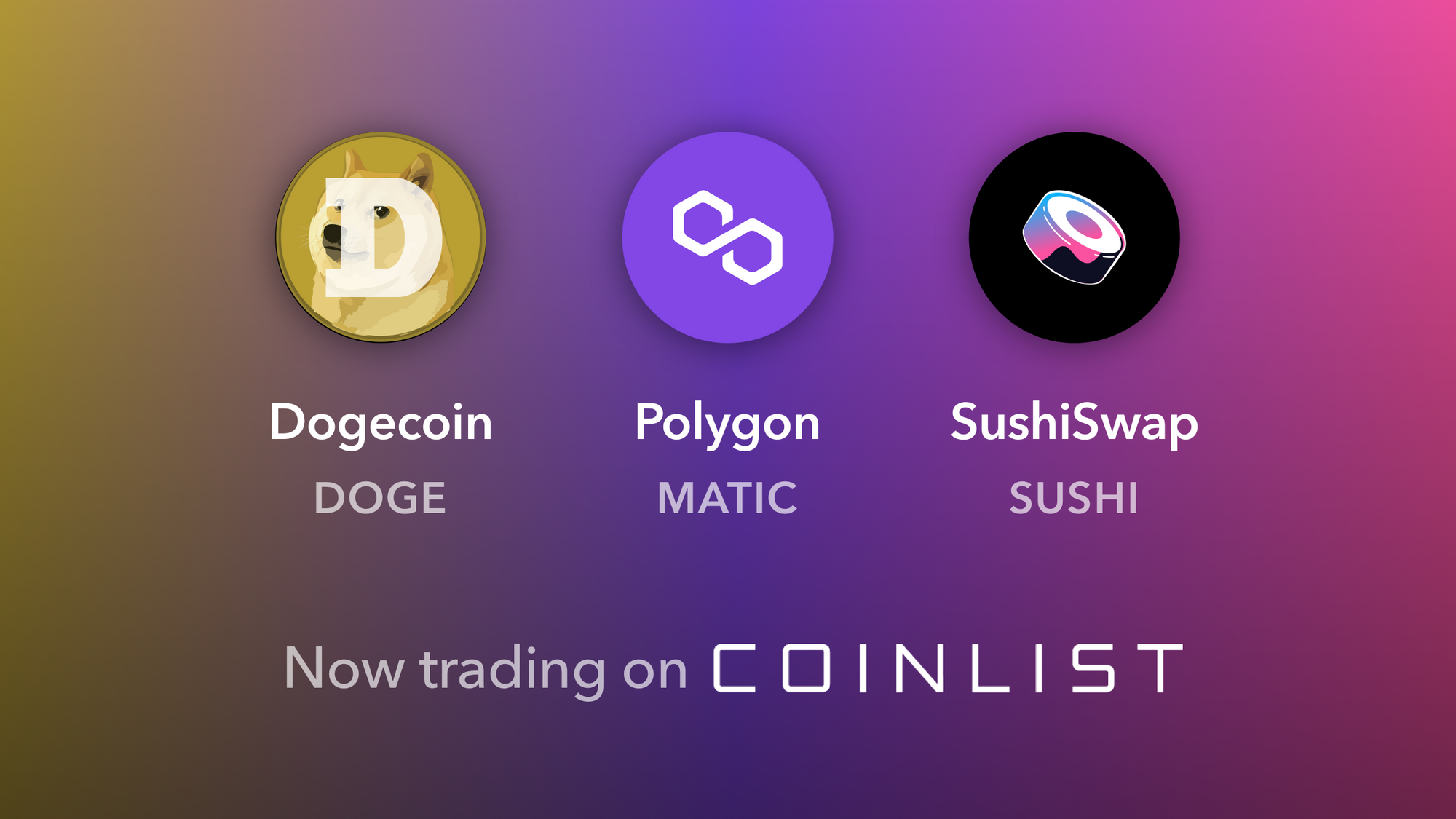 CoinList's mission is to accelerate the advancement and adoption of crypto. We've worked with top projects to power their token sales, connect them to developers and validators, and provide them with a trustworthy market for trading.
One of the most common requests we receive from our community is to provide trading and wallet support for more high quality assets. Today, we are excited to announce the next four assets available for trading on CoinList.co, CoinList Pro, and CoinList mobile app: Dogecoin (DOGE), Polygon (MATIC), SushiSwap (SUSHI).
Dogecoin (DOGE)
Dogecoin (DOGE) is based on the popular "doge" Internet meme and features a Shiba Inu on its logo. The open-source digital currency was created by Billy Markus from Portland, Oregon and Jackson Palmer from Sydney, Australia, and was forked from Litecoin in December 2013. Dogecoin's creators envisaged it as a fun, light-hearted cryptocurrency that would have greater appeal beyond the core Bitcoin audience, since it was based on a dog meme.
Trade on Pro » | Trade on CoinList.co »
Polygon (MATIC)
Polygon (previously Matic Network) is the first well-structured, easy-to-use platform for Ethereum scaling and infrastructure development. Its core component is Polygon SDK, a modular, flexible framework that supports building multiple types of applications. MATIC, the native tokens of Polygon, is an ERC-20 token running on the Ethereum blockchain. The tokens are used for payment services on Polygon and as a settlement currency between users who operate within the Polygon ecosystem.
Trade on Pro » | Trade on CoinList.co »
SushiSwap (SUSHI)
SushiSwap launched in September 2020 as a fork of Uniswap, the AMM (automated market maker) that gained prominence with the decentralized finance (DeFi) movement and associated trading boom in DeFi tokens. An increasingly popular tool among crypto traders, AMMs are decentralized exchanges which use smart contracts to create markets for any given pair of tokens. SushiSwap aims to diversify the AMM market and also add additional features not previously present on Uniswap, such as increased rewards for network participants via its in-house token, SUSHI.
Trade on Pro » | Trade on CoinList.co »
As the token economies of these industry leading projects continue to grow, CoinList users now have a full-featured and trustworthy trading solution to participate in these networks.
---
Legal Notice
This blog post is being distributed by Amalgamated Token Services Inc., dba "CoinList," or one of its subsidiaries. CoinList operates CoinList Markets LLC, a licensed money services business (NMLS #1785267), among other subsidiaries. CoinList does not provide—and this post shall not be construed as—investment, legal or tax advice. This blog post and use of the CoinList website is subject to certain disclosures, restrictions and risks, available here.