Threshold (T) Trading And Conversions Now Live On CoinList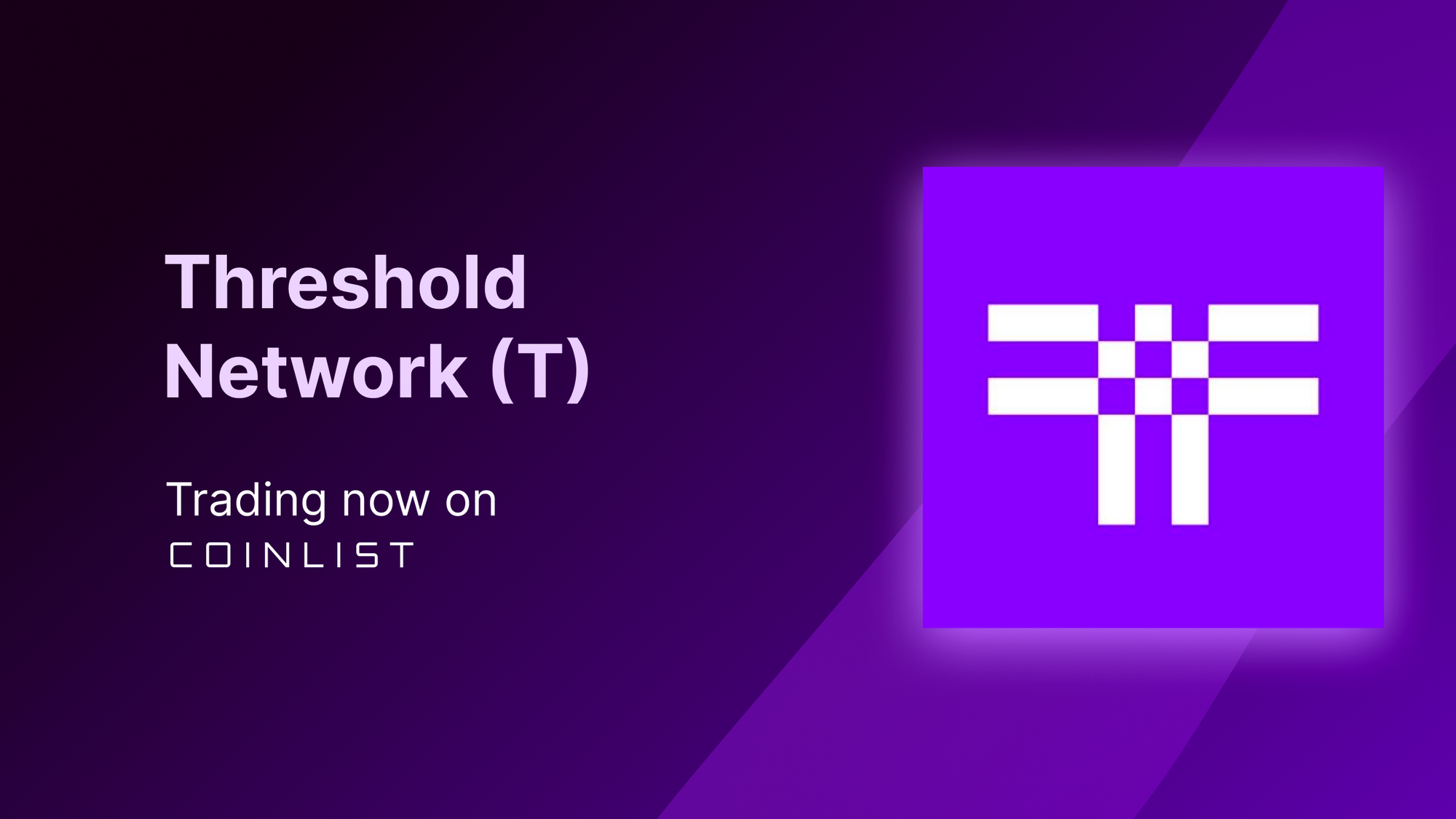 Our relationship with the Threshold (formerly NuCypher) ecosystem goes back to the NuCypher WorkLock program, which saw CoinList users lock more than $54M in ETH to assist in validating the nascent network. Since then, we launched NU trading and staking on CoinList.
Now that the NuCypher and Keep Network merge is complete to produce Threshold, we're thrilled to announce that T trading and NU <> T conversions are now live on CoinList, CoinList Pro, and CoinList Mobile.
Trade NU » | Convert NU to T »
What is the Threshold Network (T)?
The Threshold network provides and maintains a suite of cryptographic primitives for several dApps. The network is the product of the protocol merger between the Keep Network and NuCypher, which was finalized on January 1, 2022 with the launch of the T token. Nucypher's network allows dApps and developers to secure their data via a decentralized proxy re-encryption service, while Keep's network functions as a bridge between public blockchains and private chain data, most recognized for the tBTC bridge. Together, Nucypher and Keep joined forces to form Threshold, allowing both protocols to pool their expertise and continue their mission of decentralized data encryption.
The T token is both a utility token for the Threshold Network and a governance token for the Threshold DAO. The token is primarily used by node operators to participate in the network, and also allows token holders to stake their tokens with node operators, in an effort to further secure the network. Node operators receive fees from various applications that rely on the Threshold network's cryptographic primitives. The token is also a governance token and users can lock the token in certain coverage pools to earn T in exchange for underwriting collateral risk in the network.
Introducing NU <> T Conversions
CoinList users can now convert their NU tokens to T tokens free of charge. How it works:
To convert your NU tokens to T, log in to your CoinList account, head to the Conversions page, select "NU → T", click review and convert
CoinList will not charge a fee for this service
Only conversions from NU to T will be supported
The minimum conversion amount is 1 NU
The conversion rate is 1 NU to ~3.26 T
---
Legal Notice
This blog post is being distributed by Amalgamated Token Services Inc., dba "CoinList," or one of its subsidiaries. CoinList operates CoinList Markets LLC, a licensed money services business (NMLS #1785267), among other subsidiaries. CoinList does not provide—and this post shall not be construed as—investment, legal or tax advice. This blog post and use of the CoinList website is subject to certain disclosures, restrictions and risks, available here.