Announcing Our First Token Sale of 2021: Casper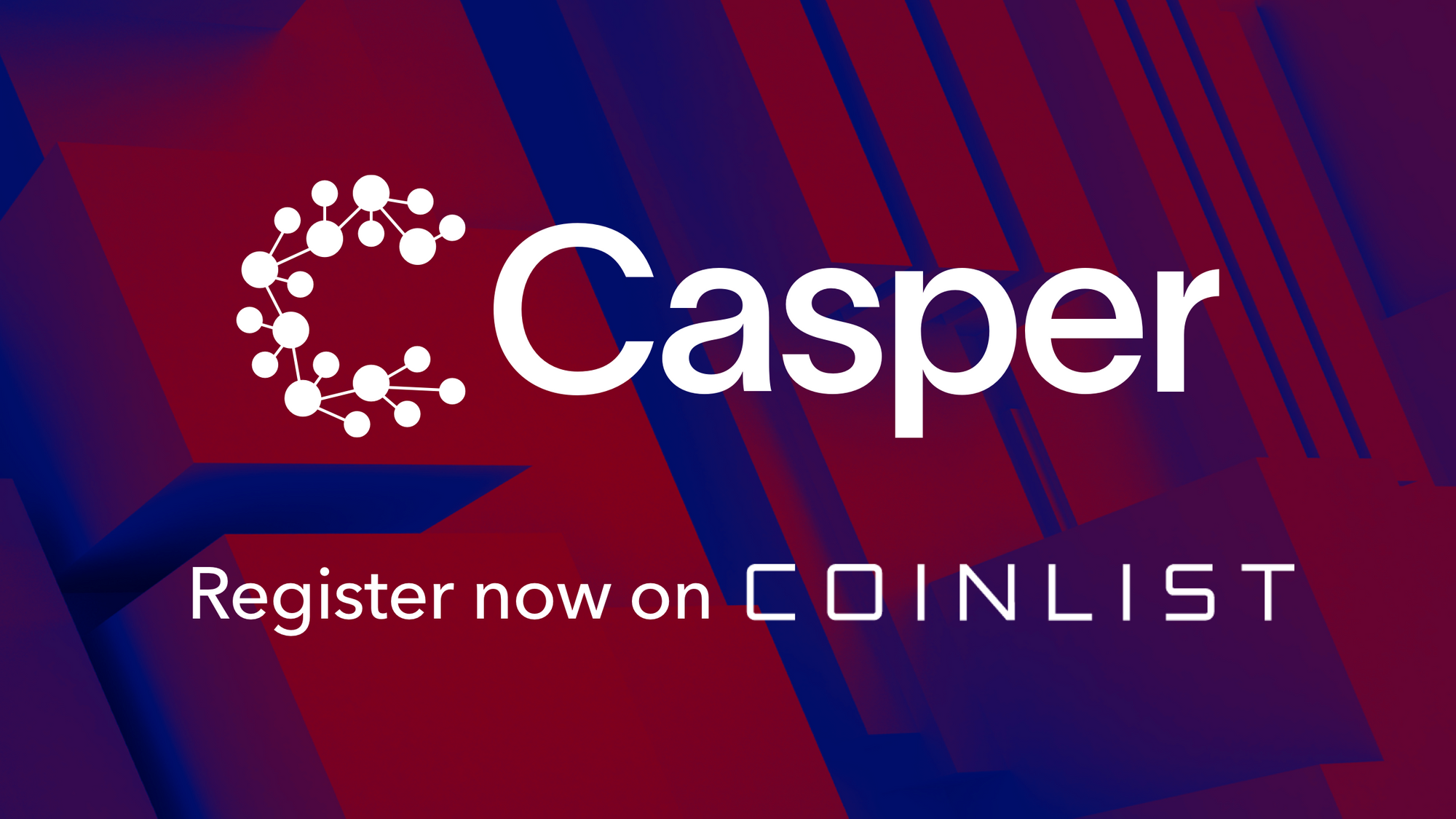 We're proud to announce that starting on March 23rd, eligible CoinList users will be able to participate in the Casper token sale on CoinList.
Casper, a future-proof blockchain built for enterprise adoption, is the first announced CoinList token sale in 2021. The Casper sale has three options with different terms.
Option 1 will run March 23 00:00 UTC to March 31 23:59 UTC
Option 2 will run March 25 00:00 UTC to March 28 23:59 UTC
Option 3 will run March 26 00:00 UTC to March 28 23:59 UTC
Please note that supplies, sale caps, and sale times for all three options were updated as of March 10, 2021 per https://blog.coinlist.co/casper-token-sale-update/
Register for the Casper sale here »
The Future-Proof Blockchain Protocol Built for Enterprise Adoption
Casper is a proof of stake (PoS) blockchain designed for enterprises and developers. The network is the first live blockchain implementation of the Correct-by-Construction (CBC) Casper specification which was designed by early Ethereum developers. Activity on Casper is governed by CSPR, the network's native token.
A few reasons that we're excited about Casper:
Finality & Flexibility — CBC Casper brings finality and flexibility to blockchain-based consensus protocols: 1. Increasing security as it guarantees past decisions are irreversible and makes decisions deterministic rather than probabilistic; 2. Accommodating for different network conditions through mechanisms like block time adjustments.

Enterprise Grade — Casper's focus on flexible privacy permissions, low latency, and security has attracted multiple enterprises and Web3 teams to develop partnerships with the protocol. Casper allows enterprises to change their confidentiality preferences without sacrificing security or performance.

Future Proof — Upgradeable contracts, stable/predictable gas fees, WebAssembly support, and on-chain governance mechanisms are among the many Casper features that allow it to withstand changing business and developer preferences.
Register for the Casper sale here »
---
Legal Disclaimer
This post is being distributed by Amalgamated Token Services Inc., dba "CoinList," or one of its subsidiaries. Use of the CoinList website is subject to certain disclosures, restrictions and risks available here. Nothing in this post shall constitute or be construed as an offering of securities or as investment advice, tax advice or investment recommendations (i.e., recommendations as to whether to enter or not to enter into any transaction involving any specific interest or interests) by CoinList or any of its affiliates.