Stake Casper (CSPR) on CoinList and Earn Rewards up to 14% APY in Rewards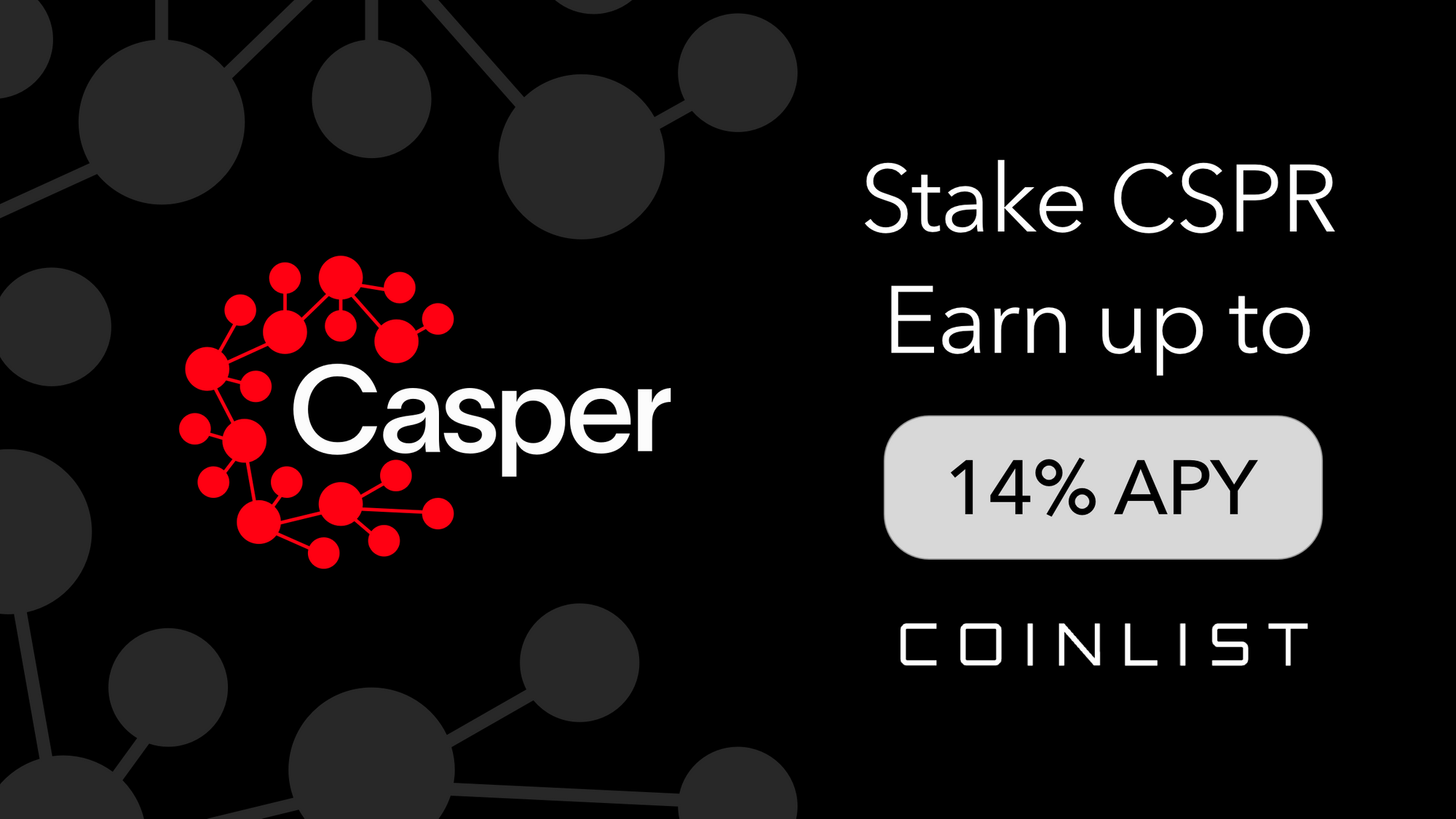 This April, more than 34,000 CoinList users purchased $33M in Casper (CSPR) tokens during the Casper Token Sale on CoinList. We were humbled by the size and commitment of support from the Casper community, and are excited to help make CSPR available to an ever broader crypto ecosystem.
Starting today, eligible* CoinList users can stake Casper (CSPR) directly on CoinList and earn up to 14% APY in rewards.
---
1. What is Casper (CSPR) staking?
Casper is a layer-one blockchain built for application development and scalability. It aims to support enterprise applications without compromising cost, decentralization, or security. Casper uses a Proof-of-Stake (PoS) consensus protocol called Highway to secure the network and verify transactions. Casper rewards network participants for helping secure the blockchain through staking. CoinList will facilitate staking for users, for which CoinList takes a 15% fee from staking rewards. Please note this fee is assessed only on the rewards earned and not your principal tokens. CoinList users that stake their CSPR receive rewards for their contributions.
2. How much are CSPR staking rewards?
The expected rate of return at the time of writing is 13-14% APY. You will see your earned staking rewards in your CoinList wallet on a monthly cadence. Please note that this estimated APY is not guaranteed, is subject to change based on the amount staked on the network, and does not take into account the 15% CoinList commission.
3. How do I earn CSPR staking rewards on CoinList?
To earn staking rewards, you must first deposit (or purchase) CSPR into your CoinList wallet. Subsequently you must lock CSPR tokens for staking. Locking can be done at any time and you will begin to earn rewards at the start of the next staking period. The staking period lasts 1 month. If you do not unlock your tokens by the end of the staking period,  your CSPR, your initial CSPR deposit and CSPR rewards will be re-staked automatically for the next rewards period.
4. When will I receive my CSPR staking rewards?
Your funds and rewards will remain locked in your CSPR staking account until you withdraw them.
5. Will my staking rewards be re-staked automatically? Do CSPR rewards compound?
Yes, CSPR staking rewards are re-staked automatically and will continue to earn rewards until you unlock them. CSPR rewards compound daily, but are only distributed monthly. You are only able to trade or withdraw unlocked CSPR.
6. Do I have to buy my CSPR on CoinList to earn staking rewards?
No. You may deposit CSPR into your CoinList Wallet and lock your CSPR to earn staking rewards.
7. When will I be able to withdraw my CSPR staking rewards?
You can only withdraw or trade unlocked CSPR. Any CSPR that is being staked cannot be withdrawn or traded. You must initiate an unlock prior to the end of the staking rewards period. At the end of the reward period, unlocked CSPR will then be distributed to your CSPR wallet where you can trade or withdraw.
8. Who is eligible to earn CSPR staking rewards on CoinList?
With the exception of US and Canadian residents, anyone who is able to open a wallet on CoinList and deposit CSPR into their account is eligible for CSPR staking rewards on CoinList. CoinList Wallets are not available in all jurisdictions, please visit this page to see our list of approved jurisdictions.
9. What are CSPR staking rewards paid out in?
CSPR staking rewards on CoinList are paid out in CSPR. You will not earn any additional rewards in ETH or any other currency.
On CoinList, it's never been easier to put your crypto to work. Stake your CSPR tokens today and earn up to 14% APY in rewards.
---
Legal Disclaimer
*Not available for residents of the United States, China, Canada and certain other jurisdictions.
This post is being distributed by Amalgamated Token Services Inc., dba "CoinList," or one of its subsidiaries. Use of the CoinList website is subject to certain disclosures, restrictions and risks available here.
Nothing in this post shall constitute or be construed as an offering of securities or as investment advice, tax advice or investment recommendations (i.e., recommendations as to whether to enter or not to enter into any transaction involving any specific interest or interests) by CoinList or any of its affiliates.