Introducing Wrapped Filecoin (EFIL) Minting on CoinList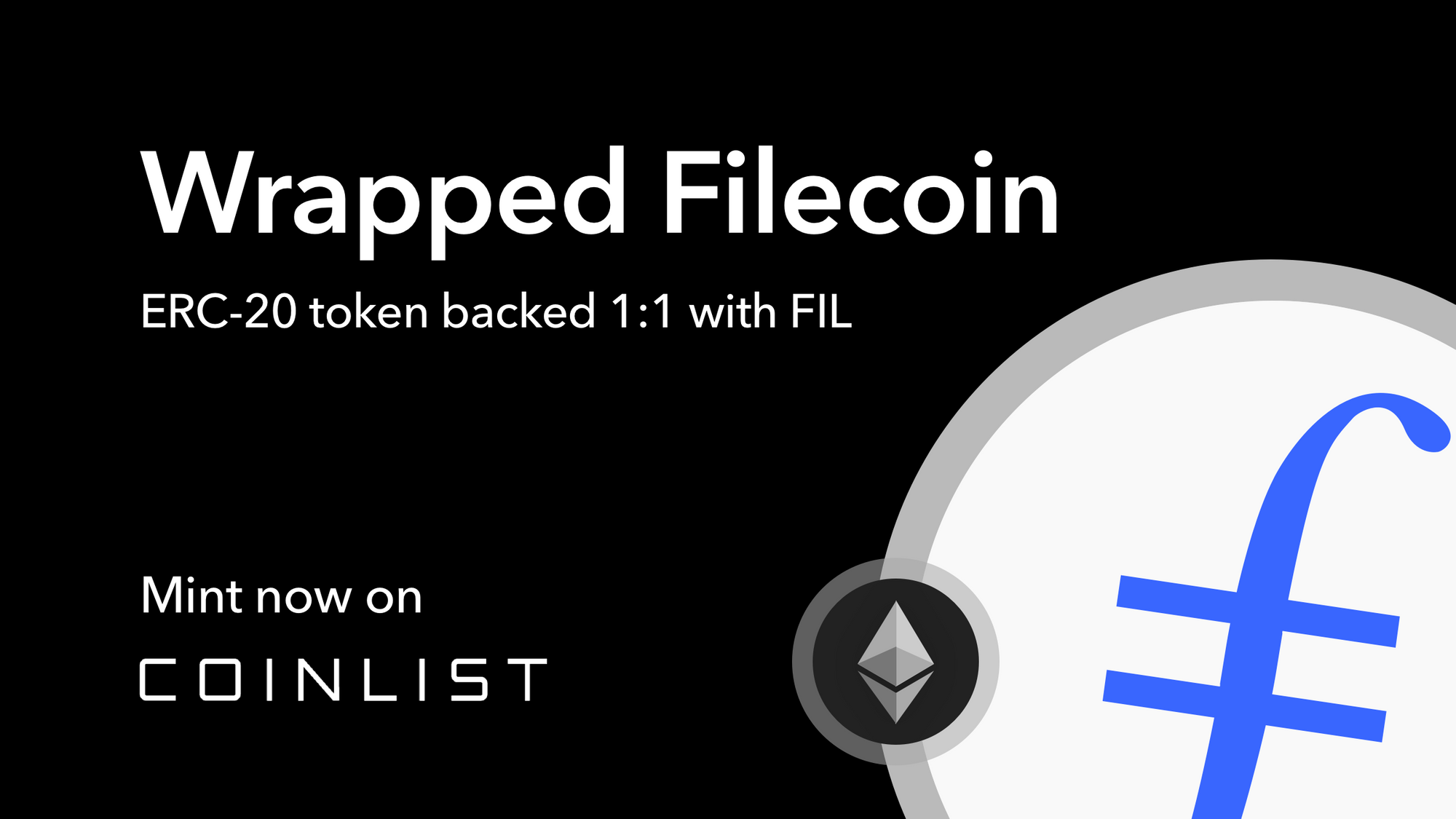 We're excited to announce that starting today, CoinList users can mint Wrapped Filecoin (EFIL) directly from their FIL wallets.
Wrapped Filecoin (EFIL) is an ERC-20 token backed 1:1 with Filecoin (FIL) that will provide CoinList users with additional access to the DeFi ecosystem.
Once you have EFIL in your CoinList wallet, you can withdraw it to any Ethereum address and participate in DeFi.
CoinList + Protocol Labs + Gemini
In 2017, CoinList partnered with Protocol Labs to run a compliant offering of Filecoin SAFTs. Through that SAFT offering, early backers contributed $205M to the development of Filecoin. Read more on why Filecoin is the future of data storage »
In October 2020, CoinList collaborated with Gemini Custody to provide FIL wallets to the entire Filecoin community - traders, storage miners, retrieval miners, and developers. We distributed Filecoin tokens to CoinList wallets and launched FIL trading on CoinList Pro, CoinList.co, and the CoinList mobile app.
Today, we're proud to continue our collaboration with both Protocol Labs and Gemini to introduce Wrapped Filecoin (EFIL). All minted EFIL will be backed 1:1 by FIL held in Gemini Custody™, an institutional grade storage system. Gemini employs top-of-the-line security, compliance, and operational protocols across their custody product, ensuring your assets remain safe.
EFIL allows Filecoin miners, storage users, and other members of the FIL ecosystem more ways to put their assets to work.
Wrap Filecoin Straight From Your CoinList Wallet
CoinList users can instantly convert FIL for EFIL, and vice versa, directly via your wallet. Here's how it works:
Log into your CoinList account
Deposit or buy FIL - You can deposit and store FIL on CoinList for free. If you don't own any FIL, deposit U.S. dollars or cryptocurrencies like USDT, USDC, ETH, BTC, LINK, UNI, and more, then trade for FIL.
Mint EFIL straight from your FIL wallet - Once FIL is in your CoinList wallet, you can instantly mint it to create EFIL. Just press the "Wrap" button in your FIL wallet.
Instantly wrap your Filecoin via your CoinList Wallet today.
---
Legal Notice
This blog post is being distributed by Amalgamated Token Services Inc., dba "CoinList," or one of its affiliates. This blog post and use of the CoinList website is subject to certain disclosures, restrictions and risks, available here.
Nothing in this post shall constitute or be construed as an offering of securities or as investment advice, tax advice or investment recommendations (i.e., recommendations as to whether to enter or not to enter into any transaction involving any specific interest or interests) by CoinList or any of its affiliates.