Introducing the CoinList Seed Summer 2022 Batch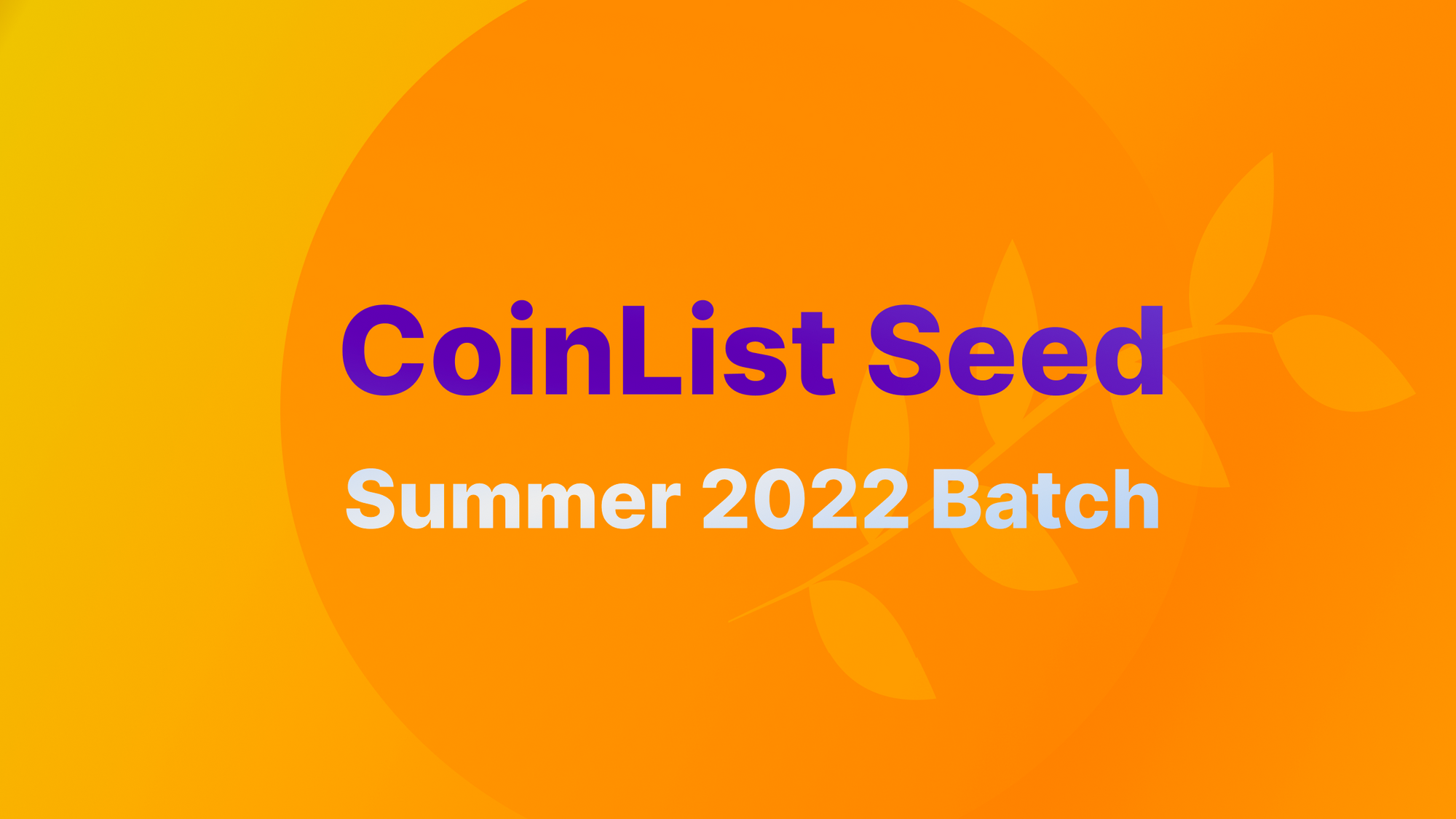 Investors still love crypto startups, despite declining crypto prices and volatility in the market.
While VC activity in crypto does appear to be slowing down in 2022 — $9.7B in Q1 vs $5.3B in Q2 so far according to Pitchbook— early stage crypto investors are excited about there being less noise, more signal, and more quality opportunities with more reasonable valuations.
Many remain convinced that the crypto winter is a natural part of the industry's broader volatility, and these price declines are bumps rather than roadblocks:
Andreessen Horowitz broke records recently when it raised a $4.5 billion fund dedicated to crypto.
Startups Babel Finance, StarkWare, and Magic Eden scored multibillion-dollar valuations in their latest fundraises.
Lightspark, a startup focused on Bitcoin payments, came out of stealth with $175 million in funding last month.
A Virtual Demo Day For Crypto Startups
We introduced CoinList Seed in Spring 2020 as a platform for early-stage crypto entrepreneurs to connect with the global CoinList community. Since launching CoinList Seed, we've hosted over 55 top crypto startups in the program, including Acala, Biconomy, Injective, Parsiq, and Rabbithole.
Participating teams have benefited from broad exposure to the CoinList community of over 10 million users, collaborations with other CoinList Seed companies, access to the CoinList partner ecosystem (custodians, market makers, exchanges, etc), mentorship opportunities, and lots of love from crypto media.
Many of these companies presenting at CoinList Seed have gone on to raise from top tier investment funds and have launched their tokens, protocols, or dApps across the crypto ecosystem with widespread adoption.
CoinList Seed Summer 2022 Batch
Without further ado, we're proud to introduce the Summer 2022 cohort of CoinList Seed projects:
1. Arrow Markets
Arrow Markets is a Web3 options trading platform built on Avalanche. Its technology democratizes the returns from market making, clearing, and settlement by distributing these returns to users.
2. Candy Shop by LIQNFT
Candy Shop is a decentralized, open-source, and escrow-less on-chain protocol built on Solana. It empowers DAOs, NFT projects, and anyone to create their own full-featured NFT marketplace within minutes.
3. Decent
Decent enables fans and collectors to build their own record labels by purchasing royalty-backed NFTs. Artists can get the same upfront capital that they would from labels on better, more favorable terms, while fans can be a part of their favorite artists' journey on a level beyond just patronage.
4. Loop Crypto
Loop Crypto makes it simple to automate recurring transactions in Web3. Their suite of products includes on-chain smart contracts and off-chain tooling designed specifically for companies, DAOs, and investors engaging in Web3.
5. Mystiko.Network
Mystiko.Network is the base layer of Web3 that provides both connectivity and confidentiality to all blockchain data, transactions, and applications. Mystiko is building the ultimate universal Web3 privacy infrastructure through PaaS (Privacy as an SDK), by leveraging industry-leading "zk of zk" technology.
6. TeleportDAO
TeleportDAO provides a highly-secure infrastructure that lets users move tokens, NFTs, or data from one blockchain to another. Using TeleportDAO, users can instantly transfer or exchange their assets between chains. TeleportDAO does this in a trustless manner and works between programmable and non-programmable blockchains.
Final Thoughts
Despite volatility in the crypto markets in 2022, appetite for early stage crypto startups is very much alive. If you're an entrepreneur or developer working on a crypto project, we want to hear from you.
---
Legal Notice
This blog post is being distributed by Amalgamated Token Services Inc., dba "CoinList," or one of its subsidiaries. This blog post and use of the CoinList website is subject to certain disclosures, restrictions and risks, available here. CoinList and its employees, officers, directors, and affiliates may have interests in companies featured on the Seed Dashboard.
Nothing in this blog shall constitute or be construed as an offering of securities or as investment advice, tax advice or investment recommendations (i.e., recommendations as to whether to enter or not to enter into any transaction involving any specific interest or interests) by CoinList, or any of its affiliates or a recommendation as to an investment or other strategy.  Statements made in this post regarding past and current projects are for illustrative purposes only and may not be relied upon in any form.