Introducing tBTC Minting on CoinList: A Trustless Approach to Bitcoin Bridges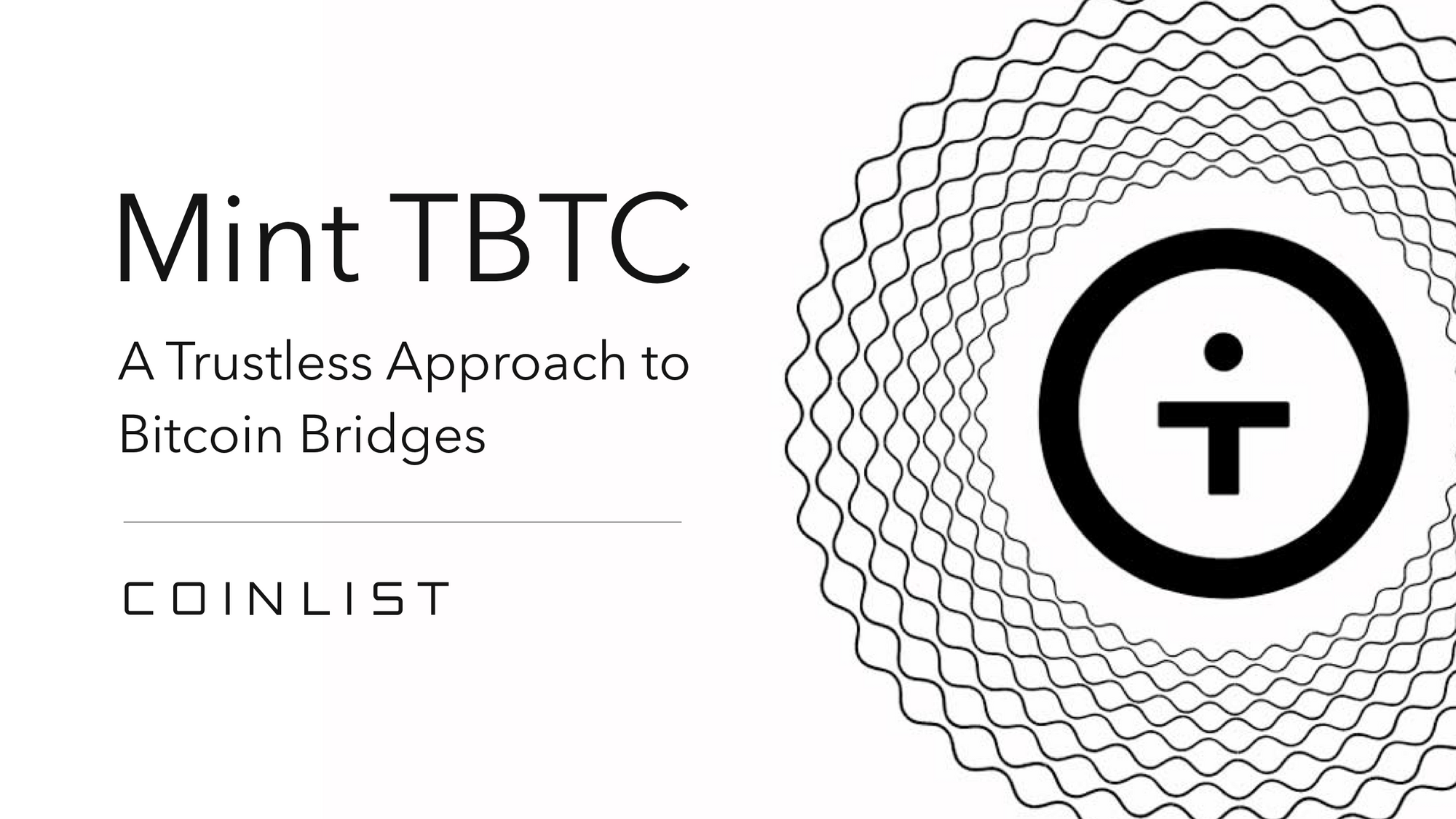 Starting today, CoinList users can mint tBTC directly from their BTC wallets.
tBTC, an open-source project from Keep, Summa, and the Cross-Chain Group, bridges between Bitcoin and Ethereum in a trustless fashion. By allowing users to exchange BTC for TBTC, a fully bitcoin-backed ERC-20 token pegged to the price of bitcoin, tBTC enables bitcoin's deep liquidity and large volumes to be injected into DeFi applications.
Since announcing our initial support for Wrapped Bitcoin (wBTC) minting in April, we have seen explosive growth in bitcoin locked in DeFi. As of December 13, a total of 154K BTC has been locked in DeFi, or $14.64 billion dollars, 15% of which ($2.2B) are locked in wBTC.
A Trustless Approach to Bitcoin Bridges
Like wBTC, tBTC allows users to mint (or exchange) bitcoin for a "wrapped" token, pegged to the value of the original coin. The resulting ERC-20 token can be used on DeFi platforms to unlock lending on Compound and MakerDAO or yield farm with high-yield meme tokens. What distinguishes tBTC from its competitors, however, is the lack of third-party custodians, as part of its decentralized design.
Each tBTC token is fully backed and matched by 1 BTC held in reserve. Users can convert tBTC to BTC, and vice-versa, with no intermediary needed to sign off. Unlike wBTC, tBTC is trustless, using a random beacon to select "signers" who custody bitcoin and put down collateral to ensure they won't misbehave.
Powered by Keep Network's privacy layer, tBTC uses "keeps" – or off-chain containers for private data – to provide deep interactivity with private data. The Keep Network is powered by KEEP token holders – all of who are responsible for handling custodianship for tBTC in a trustless fashion.
Launched in September 2020, tBTC has undergone three audits, by ConsenSys, Trail of Bits, and Sergei Delgado. The project also leverages user funds protection through Nexus Mutual to ensure that funds are protected from Solidity issues on Ethereum.
Mint Straight From Your CoinList Wallet
At CoinList, users can instantly convert BTC for TBTC, and vice versa, directly via your wallet. Here's how it works:
Log into your CoinList account
Deposit or buy bitcoin - You can deposit and store bitcoin on CoinList for free. Or deposit U.S. dollars or cryptocurrencies like USDT, USDC, ETH, LINK, FIL, UNI, MKR, and more, then trade for bitcoin.
Mint TBTC straight from your BTC wallet - Once bitcoin is in your CoinList wallet, you can instantly mint it to create TBTC. Just press the orange "Wrap" button in your BTC wallet.
The crypto industry has long been desperate to bring more functionality to Bitcoin without sacrificing its core properties of censorship resistance and trustlessness. It looks like tBTC has done just that, unlocking a whole new pool of well capitalized users for DeFi.
Instantly mint TBTC and unlock decentralized finance from your CoinList Wallet — https://coinlist.co/asset/tbtc
---
Legal Notice
This blog post is being distributed by Amalgamated Token Services Inc., dba "CoinList," or one of its subsidiaries. This blog post and use of the CoinList website is subject to certain disclosures, restrictions and risks, available here.