Introducing Staking for Celo Gold (cGold)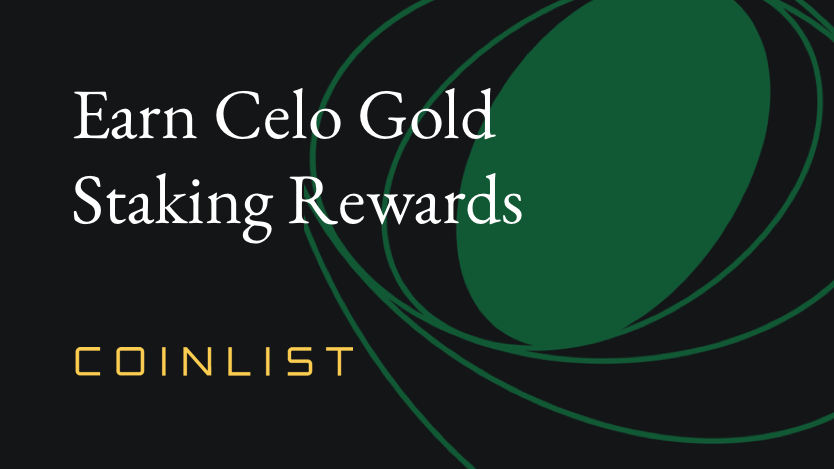 At CoinList we have a mission to help the world's high-potential crypto projects grow and succeed. Today, with that mission squarely in focus, we are thrilled to introduce staking for Celo Gold (cGLD). With CoinList, participants in today's Celo auction will be able to easily and securely participate in the Celo network and immediately begin earning rewards.      
"With CoinList staking, auction participants will be able to earn rewards immediately. We're excited that CoinList is launching this new service with Celo Gold, providing immediate value to the growing Celo community." — Rene Reinsberg, Co-Founder of Celo and Partner at cLabs
Staking is the participation function in the Proof of Stake (PoS) consensus mechanism. It is increasingly being used in many new blockchains, including previous CoinList clients Algorand and Solana. With Celo, token holders stake cGLD to vote for validator groups that contain an ordered set of professional validators. We previously introduced Celo's staking mechanism in part three of our series on the Celo network, and we suggest you check that out to learn more about staking and governance on Celo.
With CoinList Staking you will earn rewards on your cGLD with an estimated annual return of nearly 6%.* The cGLD rewards will show up in your CoinList wallet every 30 days after purchase or deposit. Your cGLD will be held securely in your CoinList wallet and you can opt-out at any time by contacting our team.
The Celo network will calibrate the underlying return rate depending on whether the protocol needs the amount of locked cGLD to be higher. CoinList's stated return rate is a projection based on forecasts by the cLabs team. CoinList will distribute the cGLD rewards to holders while keeping a portion as commission.
Participants in the Celo auction will be eligible for staking along with cGLD purchasers that deposit cLGD into their CoinList wallet in the future.
---
Legal Disclaimer
* The annual return indicated above is merely an estimate, and CoinList provides no guarantee of any returns on digital assets staked through CoinList. Related fees subject to change at any time without notice.
This post is being distributed by Amalgamated Token Services Inc., dba CoinList. CoinList operates CoinList Services LLC ("CLS"), a technology company that offers compliance and technology infrastructure solutions for token issuers, and CoinList Markets LLC ("CLM"), a licensed money services business (NMLS #1785867). None of CoinList, CLS nor CLM provides legal, banking or tax services. Nothing in this post shall constitute or be construed as an offering of securities or as investment advice, tax advice or investment recommendations (i.e., recommendations as to whether to enter or not to enter into any transaction involving any specific interest or interests) by CoinList, CLM, CLS or any of their affiliates.
All information provided in this post is impersonal and not tailored to the needs of any person, entity, or group of persons and is not sufficient upon which to base a decision on whether or not to make a purchase. The services offered by CoinList Services LLC are provided for the benefit of token issuers, their supporters, developers, users and community, and the listing of tokens and token-based securities on the CoinList website does not suggest the future or expected value of any token or explicitly or implicitly recommend or suggest an investment strategy of any kind. These types of purchases involve a high degree of risk (including risk of total loss), and potential purchasers should consult with their own advisors.
Virtual currency is not legal tender, is not backed by the government, and accounts and value balances are not subject to Federal Deposit Insurance Corporation or Securities Investor Protection Corporation protections.
Use of the CoinList website is subject to certain risks, including but not limited to those listed here. Certain services may be limited to residents of certain jurisdictions, and certain disclosures are required in certain jurisdictions, available here. The information contained in this post is subject to change without notice, and this post is subject to the terms available here.
CoinList does not receive compensation for publishing, giving publicity to, or circulating notices or communications that describe securities.