Introducing Project Galaxy (GAL) Governance on CoinList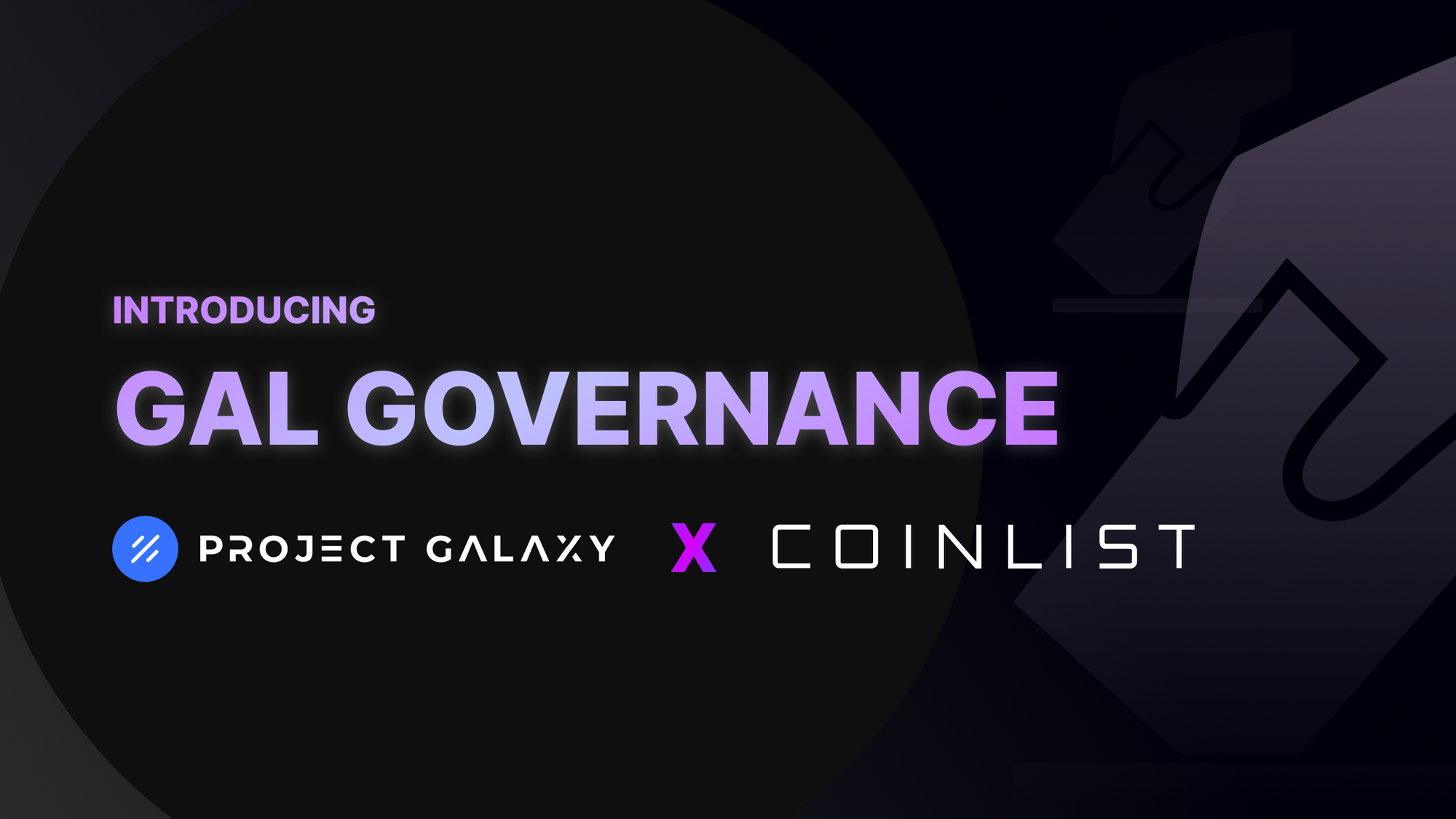 Earlier this year, we facilitated the Project Galaxy token sale — which added more than 30,000 new token holders to the Project Galaxy community and network — and its subsequent listing on CoinList. Today, we're excited to announce that CoinList is now supporting Project Galaxy governance, alongside the protocol's first governance vote!
We believe that governance is critical for crypto projects, as protocol growth and decentralization are driven by community members. Given that the GAL token functions as the network governance token, incentivizing user governance and participation is critical to the continued growth and security of the Galaxy network. Starting today, GAL token holders on CoinList will be informed about new governance proposals and be able to vote directly via CoinList.
Benefits of voting via CoinList include:
Never miss a vote - Get email notifications about new protocol governance proposals
Fee-less voting - No more paying gas fees for voting on frameworks that require voting transactions
Keep your tokens in one place - No need to move your funds on and off chain to participate in governance
Simple participation - No more signing countless on-chain transactions in order to vote
Proposal aggregator - Find all past proposals and their results in one place
Over the past few months, we've seen voter participation rates on CoinList over 22%, drastically higher than the average rate of 1% for most on-chain proposals. For Braintrust Governance specifically, CoinList brought in an average of 3700 voters per proposal, representing a 120x increase in the number of participants. We look forward to driving strong results for Project Galaxy as well.
---
Legal notice
This post is being distributed by Amalgamated Token Services Inc., dba "CoinList," or one of its subsidiaries. Use of the CoinList website is subject to certain disclosures, restrictions and risks available here.
Nothing in this post shall constitute or be construed as an offering of securities or as investment advice, tax advice or investment recommendations (i.e., recommendations as to whether to enter or not to enter into any transaction involving any specific interest or interests) by CoinList or any of its affiliates.