Announcing Maker (MKR) and Dai trading on CoinList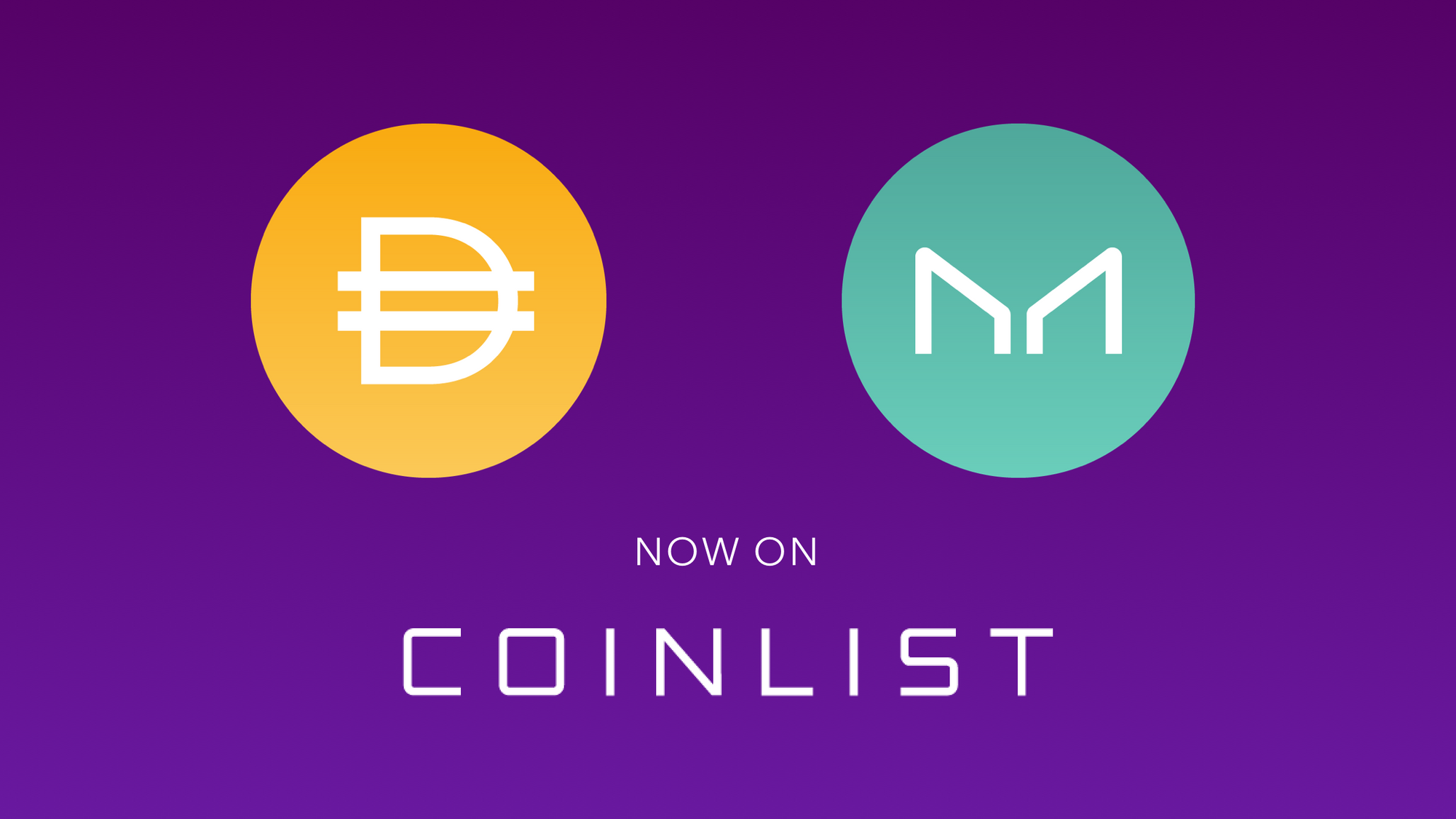 CoinList's mission is to help the world's most impactful crypto projects grow and succeed. We've worked with top projects to power their token sales and auctions, and to connect developers to their ecosystems. As a natural next step, we've launched an easy-to-use trading platform with support for BTC, ETH, ALGO, and OXT.
We are proud to announce the next assets available for trading on CoinList: MKR and Multi-Collateral DAI.
MakerDAO is a leader in the DeFi movement and the protocol behind the two tokens, MKR and DAI. The DAI is a stablecoin that maintains a roughly 1:1 peg to the USD. While many competing stablecoins on the market are backed by "fiat" reserves of government-issued currencies, the DAI stablecoin is backed by other cryptocurrencies, Ethereum (ETH), Basic Attention Token (BAT), Wrapped Bitcoin (wBTC) and others. DAI's primary purpose is to provide users with a stable value crypto to use on the Ethereum network without relying on traditional financial infrastructure.
The MKR token, on the other hand, enables governance for the Dai Credit System. Holders of MKR make key decisions on the operation and future of the system. By creating a crypto-backed stablecoin controlled by a unique DAO governance structure, the team at MakerDAO is enabling a broad "tokenized" economy that can exist solely on the blockchain.
CoinList has long been a believer in Maker, and we are proud to support trading for MKR and DAI. As decentralized finance continues to grow, there must be a robust, compliant, and trustworthy market for these assets. CoinList is committed to supporting that growth.
We will announce the official trading date shortly. In the meantime, CoinList users can now deposit MKR and DAI directly into their CoinList wallets in preparation for trading.
---
Legal Disclaimers
This post is being distributed by Amalgamated Token Services Inc., dba "CoinList." CoinList operates CoinList Services LLC, a technology company that offers compliance and technology infrastructure solutions for token issuers ("CLS"). Neither CoinList nor CLS conducts investment diligence on token issuers or any tokens or token-based securities listed on coinlist.co or any affiliated website (together, the "Site"). Nothing herein shall constitute or be construed as an offering of securities or as investment advice, tax advice or investment recommendations by CoinList, CLS, or any of their affiliates or a recommendation as to an investment or other strategy (i.e., recommendations as to whether to enter or not to enter into any transaction involving any specific interest or interests).
The services offered by CLS are provided for the benefit of token issuers, their investors, developers, users and community, and the listing of tokens and token-based securities on the Site does not suggest the future or expected value of any token or explicitly or implicitly recommend or suggest an investment strategy of any kind. Purchases of such assets involve a high degree of risk (including risk of total loss), and potential investors should consult with their own advisors.
While CoinList uses reasonable efforts to obtain information from token issuers which it believes to be reliable, CoinList makes no representation that the information contained on the Site is accurate, reliable or complete. The information contained on herein and the Site is subject to change without notice, and all activities on the Site are governed by our Terms of Service. As such, CoinList makes no representations or endorsements whatsoever regarding any third-party content/sites that may be accessible directly or indirectly from this post or the Site.
Certain services on the Site may be limited to residents of certain jurisdictions, and certain disclosures are required in certain jurisdictions, available here.
CoinList does not receive compensation for publishing, giving publicity to, or circulating notices or communications that describe securities.
Virtual currency is not legal tender, is not backed by the government, and accounts and value balances are not subject to Federal Deposit Insurance Corporation or Securities Investor Protection Corporation protections.