A Deep Dive Into Gods Unchained: The Trading Card Game That Pays To Play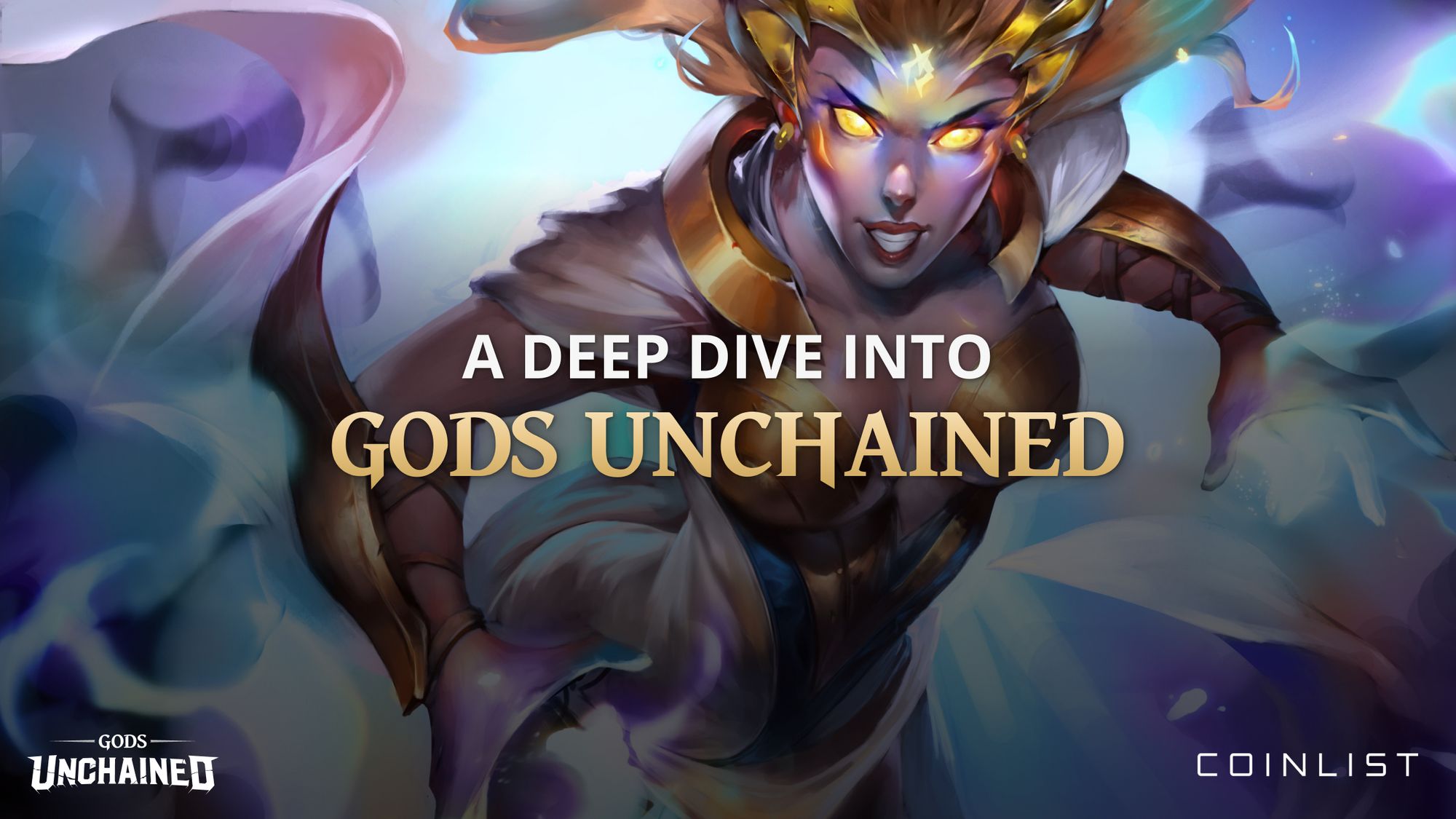 Last week, we announced the Gods Unchained Token Sale on Coinlist, starting October 13, 17:00 UTC.
Led by the former game director of Magic The Gathering: Arena, Gods Unchained is a free-to-play trading card game built on Ethereum. Designed for both casual and competitive play, players must strategically outsmart their opponents, earn cards and build decks to combat a wide variety of tactics. Unlike other games, players completely own their digital assets, giving them the freedom to trade, sell and use their cards any way they like – just like owning a real, tangible card.
This week, we sat down with the Gods Unchained team to learn more about what they are building, the GODS token, and recent traction. Let's dive in.
1. To begin, what is Gods Unchained and how does it utilize the blockchain?
Gods Unchained is a free-to-play trading card game where players compete in epic duels using fantasy cards. The game is built to fundamentally change how games work; using Ethereum technology to bring true digital ownership to players, as well as provide the means to earn items that actually matter. Gods Unchained provides real ownership over in-game items by turning them into ERC-721 tokens/NFTs. Players gain the right to sell their items for real money, use them in Gods Unchained, and even embed them in third-party games and tools. This separates Gods Unchained from what's offered in mainstream games.
2. Can you describe your target player(s)? What type of players and use cases are best suited to leverage Gods Unchained's economy and ecosystem?
Gods Unchained reaches a global gaming audience. By combining triple-A gameplay with leading edge blockchain technology, our vision is to carve a new path for trading card games and gaming as a whole. This means we will be appealing to all types of users, including but not limited to:
Traditional trading card gamers
Play to earn gamers
Digital TCG gamers
Collectors
General online gamers
Influencers
Creators
The trading card game (TCG) genre is a billion dollar industry ripe for disruption. The annual revenue of the digital trading card games market was $1.3 billion in 2017, and has only grown since then. Gods Unchained is set up and positioned to be this disrupting force.
3. Competition in the blockchain gaming space is heating up, with projects fighting for players. Who are Gods Unchained's competitors and what differentiates Gods Unchained from these games?
At Gods Unchained, we don't like to view other blockchain gaming projects as 'competitors' per se. There's a larger movement going on here, with the entire industry working towards shifting the current paradigm experienced by gamers, whereby they don't gain any inherent value from time spent playing.  What we believe will help us achieve this overarching mission is as follows:
Exciting gameplay: Helmed by Chris Clay, former game director of Magic: The Gathering Arena, Gods Unchained provides a dynamic and competitive experience with a strong focus on strategy. We have tens of thousands of players simply playing the game because it's a fun game with great gameplay and mechanism that rivals similar mainstream titles.
True digital ownership: Gods Unchained provides real ownership over in-game items by turning them into ERC-721 tokens/NFTs. Players gain the right to sell their items for real money, use them in Gods Unchained, and even embed them in third-party games and tools. This separates Gods Unchained from what's offered in mainstream games.
Play to Earn: To catalyze competitive play and stimulate engagement, players can earn meaningful currencies and items, including the ERC-20 $GODS token, by simply playing the game. The ability to earn tangible rewards serves as the key ingredient to supercharge our future growth.
An epic game economy: $GODS tokens are designed to exist at the heart of the economy, being used by players to purchase new card packs and chests, craft their own NFT cards, and earn staking rewards. By including $GODS in the key facets of the Gods Unchained experience, it creates a sustainable ecosystem where players have the economic freedom to earn from, and contribute to the economy.
Built to scale on Ethereum: Our integration with Immutable X allows for gas-free NFT minting and trading at scale with instant trade confirmation. This creates a massively improved user experience and enables the high volume trading of low cost assets, a key feature of Gods Unchained.
5. What is the inherent value and use case for Gods Unchained's native token, GODS?
$GODS tokens are ERC-20 tokens designed to become the core in-game currency for Gods Unchained. Similar to existing in-game currencies, $GODS tokens will be rewarded to users through play, however unlike existing currencies $GODS will be scarce and tradeable.
The four main use cases of the $GODS token:
Crafting new NFTs that are playable and tradable: Players are able to use $GODS tokens to craft new trading card NFTs that can be used in-game or traded on the marketplace.
Staking: Staking rewards will be distributed to all users who qualify as active stakers. These rewards will be distributed from the Staking Rewards Pool, which consists of GODS tokens captured in the Gods Unchained store, the marketplace, and the Forge (The system where players craft new NFTs) .
Purchasing Gods Unchained items: The GODS token can be used as partial payment for all purchases made in the Gods Unchained Store as well as for the marketplace fee. If the user opts not to use GODS for a payment or doesn't have enough tokens to cover the fee, the 20% fee will automatically be swapped on the open market.
Governance: Holding GODS enables users to participate in governance voting that relate to general Gods Unchained ecosystem development.
6. How will Immutable X enhance the player experience in Gods Unchained? How will it benefit the token-powered economy of the game?
As touched on before, Immutable X empowers Gods Unchained users to participate in gas-free minting and trading at scale, with instant trade confirmation. Since migrating the Gods Unchained to Immutable X in late June 2021, over 744,000 secondary NFT trades have been made between the community members, completely gas fee.
This creates a massively improved user experience, where any and all users can benefit from high volume trading of low cost assets, an option not possible before Immutable X's solution was readily available. To go mainstream, we need to remove as many possible hurdles into the blockchain environment as possible, and Immutable X's gas-free transactions help us achieve this goal.
7. Many crypto games have taken off thanks to their play to earn mechanics. How did your team go about creating your play to earn design and what user behavior are you trying to encourage?
With the introduction of the $GODS token, our teams are super excited about the future of play-to-earn for Gods Unchained.
As we are designing our upcoming play-to-earn system where players are able to earn $GODS from gameplay, there are a couple of key challenges that we are designing our system around:
Remain free to play: This is important to us as we believe that everyone regardless of who they are should be able to play our game and we know that many players are now playing Gods Unchained simply because they find the game super fun! Beyond this, we also are looking for ways to allow our free to play players to participate in our play to earn system.
Sustainability: Creating a sustainable play to earn game economy is challenging and there are important considerations to get it right. For us it is imperative that Gods Unchained provides a fun and engaging experience to players. It must never turn into a mindless click-frenzy game where players are performing a routine just to earn money. Our aim is to make a game that lasts for decades. Therefore we're designing with a diverse audience in mind: Play to earn grinders, players who play for pure fun and players who value competitive gameplay. Our goal is for the ecosystem to capture enough value and equitably distribute it among all types of players so that the economy remains balanced.
Competitive gameplay: As we scale our play to earn system, we will continue to introduce additional ways for players to earn $GODS. This includes seasoning rank reward and potentially having regular global tournaments where players are competing against each other for a large prize pool.

8. How do traditional TCGs in game economies differ from blockchain/NFT based in game economies? How do you make sure that the in game market runs freely while keeping the game affordable to play?
In traditional card-in-hand TCG in-game economies, players are constrained by things like geographical location and accessibility. In digital TCG in-game economies, players have no way to earn value from their time spent playing, as they're essentially just being granted permission to use the cards in-game by the game's company. At any point, digital TCGs could revoke a user's access to their cards, which is where the importance of the blockchain enabling true ownership comes in. Add on top of that that this lack of ownership means no digital TCG player can truly own their cards, and therefore can't go on to sell these to earn value.
In regards to Gods Unchained, we've focused on creating an in-game economy that is accessible to everyone. Through simply playing the game for free, a user will be able to earn $GODS, fuse NFTs and extract monetary value. This puts the power in their hands, choosing to go on to use that value to purchase additional cards, or trade with their peers. In terms of keeping things affordable, the price points of the marketplace are determined by the users. The accessibility of this is regulated by them, as it's in their collective best interest to make the game and its assets accessible to as many people as possible. The larger the community, the greater everyone's success.
9. What blockchain gaming trends are you most excited about for the rest of 2021?
We're particularly excited about what we're seeing in regards to scholarship programs that are run by different play-to-earn communities and looking forward to exploring different ways that we can introduce a similar system to Gods Unchained in the future.
A "Scholarship" program is when an individual that owns multiple in-game NFTs (manager) allows a free-to-play player (scholar) to access their in-game NFTs. This allows Scholar to have access to a wide variety of in-game NFT which they can use in-game to earn tokens. The incentive for the manager is that they will be able to take a cut of the token earned by the scholar.
We are very excited about this, as it creates a whole new way for players to be involved in the ecosystem for Gods Unchained. There are folks in Gods Unchained with thousands of Gods Unchained NFTs, with a scholarship program, an additional utility is introduced to the NFTs and it gives our community a stronger reason to continue to build out their collection of NFTs, whilst giving our free-to-play folks a new way to access our future play-to-earn system with a variety of NFT decks to choose from.

10. What is the best way for the community to get involved with Gods Unchained?
You can join our Discord community www.discord.com/godsunchained or alternatively, follow us on twitter: www.twitter.com/godsunchained
---
Legal Disclaimer
Not available for residents and citizens of the United States, China, Canada, Australia and FATF countries, as well as certain jurisdictions.
This post is being distributed by Amalgamated Token Services Inc., dba "CoinList," or one of its affiliates. Use of the CoinList website is subject to certain disclosures, restrictions and risks available here.
Nothing in this post shall constitute or be construed as an offering of securities or as investment advice, tax advice or investment recommendations (i.e., recommendations as to whether to enter or not to enter into any transaction involving any specific interest or interests) by CoinList or any of its affiliates.