Announcing the Gods Unchained (GODS) Token Sale on CoinList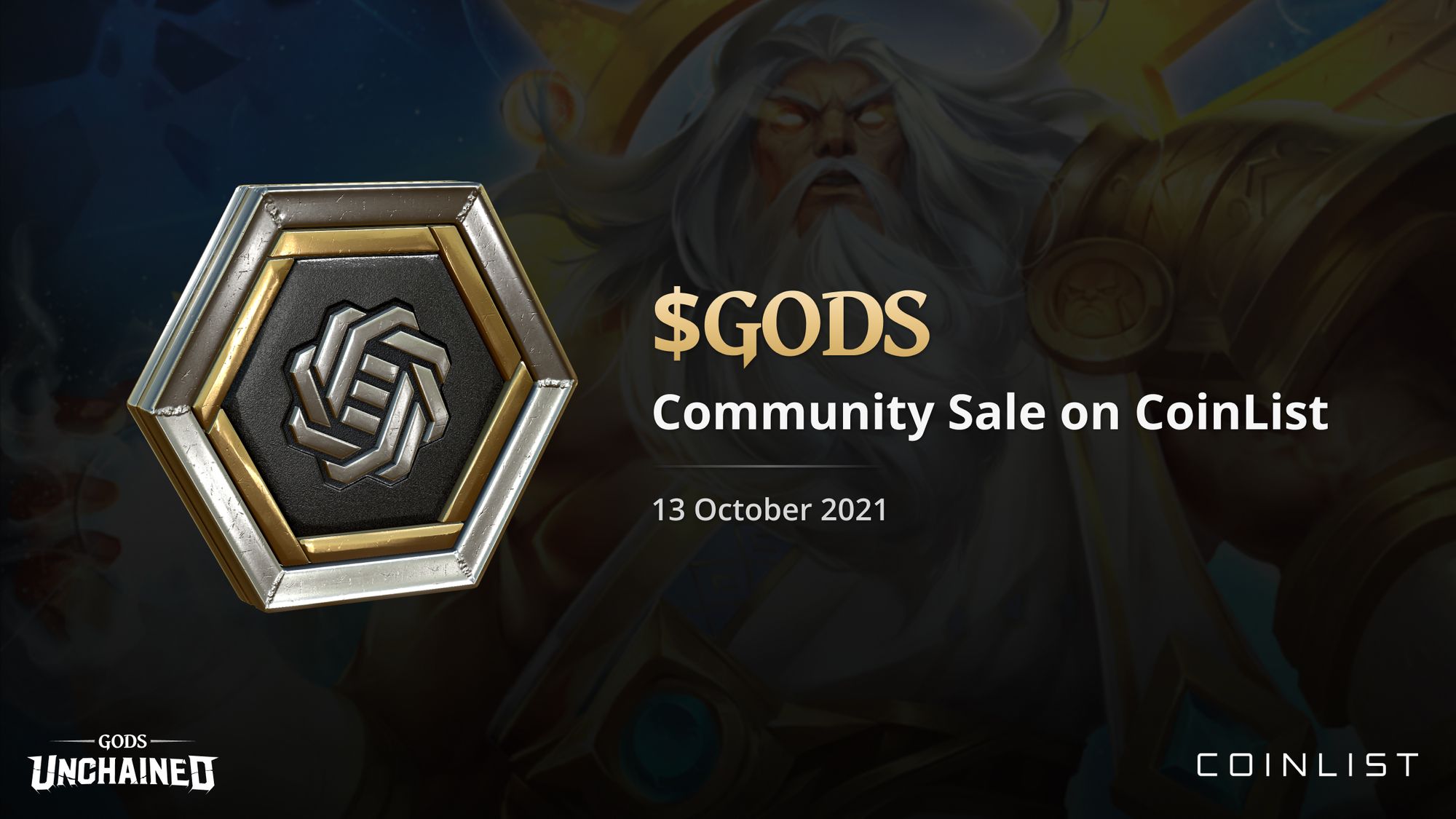 We're excited to announce that registrations for the Gods Unchained (GODS) token sale are now open. Gods Unchained is a play-to-earn trading card game that offers true ownership and freedom to its players.
The sale has two public options:
Option 1
When: October 13, 17:00 UTC
Supply: 20,000,000 tokens
Price: $0.336 per token
Lockup: 50% of tokens become freely transferable after a 90-day cliff (on or around January 11, 2022), and the remaining 50% unlock linearly over 12 months
Option 2
When: October 13, 23:00 UTC
Supply: 15,000,000 tokens
Price: $0.24 per token
Lockup: Tokens begin unlocking after a 90-day cliff (on or around January 11, 2022) and will unlock linearly over 12 months
The registration deadline is October 11 2021, 12:00 UTC.
True Ownership And Freedom For Players
Gods Unchained is a free-to-play trading card game where players compete in epic duels using fantasy cards. The game is built to fundamentally change how games work by using Ethereum technology to bring true digital ownership to players, as well as providing the means to earn items that actually matter.
The GODS token is designed to be the core currency of Gods Unchained, fueling the ecosystem that empowers players to earn and sell NFTs.
A few reasons that we're excited about Gods Unchained:
An epic game economy: Gods Unchained provides real ownership of in-game items by turning them into ERC-721 tokens/NFTs. The introduction of the GODS token heralds a new age of Play to Earn mechanics, giving players more avenues to earn meaningful assets. With GODS, players are able to purchase new card packs and chests, craft their own NFT cards, and earn staking rewards – engaging with Gods Unchained on a deeper level.
A titanic community: With over $34M worth of NFTs traded, Gods Unchained has a passionate community of evangelists. The game has over 450,000 registered players despite only being in beta. In the past 6 months, Gods Unchained doubled its player base, increasing the number of weekly active players by 5 times.
Built to scale on Ethereum: Gods Unchained digital assets live on Immutable X, Ethereum's first zero-knowledge rollup (zk-rollup) scaling protocol for gas-free NFT minting and trading. Zk-rollups allow for higher transaction speeds than Ethereum mainnet without compromising security for our users.
---
Legal Disclaimer
Not available for residents and citizens of the United States, China, Australia, Canada, and CoinList's unsupported jurisdictions.
This post is being distributed by Amalgamated Token Services Inc., dba "CoinList," or one of its subsidiaries. Use of the CoinList website is subject to certain disclosures, restrictions and risks available here.
Nothing in this post shall constitute or be construed as an offering of securities or as investment advice, tax advice or investment recommendations (i.e., recommendations as to whether to enter or not to enter into any transaction involving any specific interest or interests) by CoinList or any of its affiliates.