Announcing the Efinity Token Sale on CoinList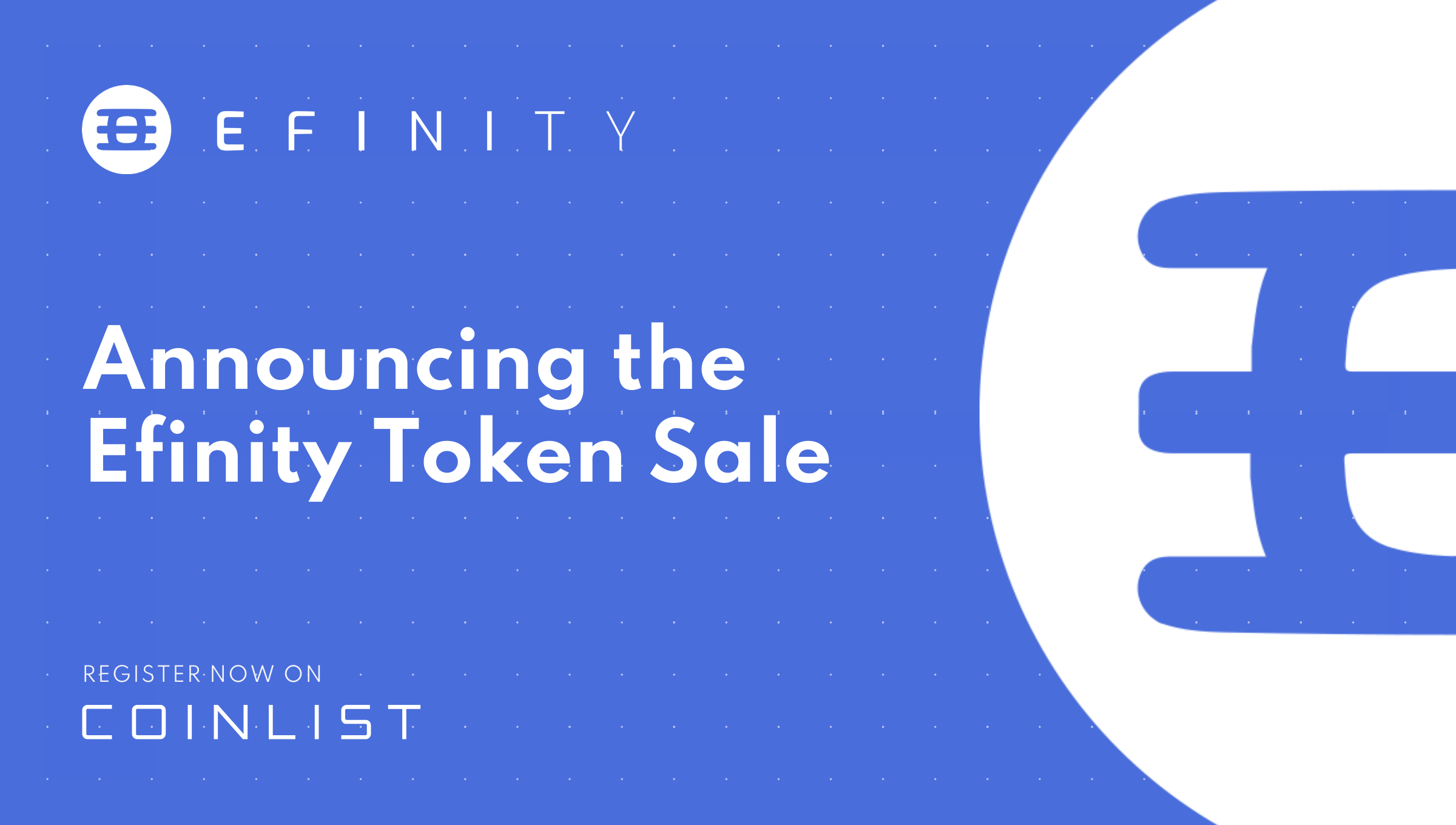 We're excited to announce that registrations for the Efinity Token Sale are now open. Efinity is the next generation blockchain for NFTs that is designed for simplicity. The team created the ERC-1155 NFT token standard that is now adopted widely across the NFT space. The sale begins on June 24, 17:00 UTC and has one public option:
Price: $0.20 per token
Min/max: $100 min, $500 max
Lockup: Tokens release linearly over 9 months starting on or around August 4, 2021
Supply: 100M tokens
The registration deadline for the Efinity sale is June 18, 2021, 00:00 UTC.
A Next Generation Blockchain for NFTs
Enjin, the team who pioneered the ERC-1155 NFT token standard, is behind Efinity. The Efinity blockchain is a cross-chain NFT network powered by the Efinity Token (EFI) and built on Polkadot. Efinity is environmentally friendly, scalable, and built to enable a future where NFTs are as widespread and easy to use as smartphones today.
A few reasons that we're excited about Efinity:
A network for every NFT: Efinity is built on Polkadot, allowing any NFT from any chain to be moved to the network, supercharging it with next-gen features, low fees, and fast transaction times.
Rewards for everyone: Efinity rewards network participants—not miners. Everyone from NFT creators and traders, to developers and early adopters, are rewarded with the EFI token, fueling Efinity's growth and development.
Designed for simplicity: Fees on Efinity are designed to stay in the background. End-users don't even need a blockchain wallet. Transactions are confirmed in 6 seconds.
---
Legal Disclaimer
Not available for residents and citizens of the United States, China, Canada, and certain jurisdictions.
This post is being distributed by Amalgamated Token Services Inc., dba "CoinList," or one of its subsidiaries. Use of the CoinList website is subject to certain disclosures, restrictions and risks available here.
Nothing in this post shall constitute or be construed as an offering of securities or as investment advice, tax advice or investment recommendations (i.e., recommendations as to whether to enter or not to enter into any transaction involving any specific interest or interests) by CoinList or any of its affiliates.