A Deep Dive into Biconomy: A Multichain Relayer Protocol for a Simple Web 3.0 Transaction Experience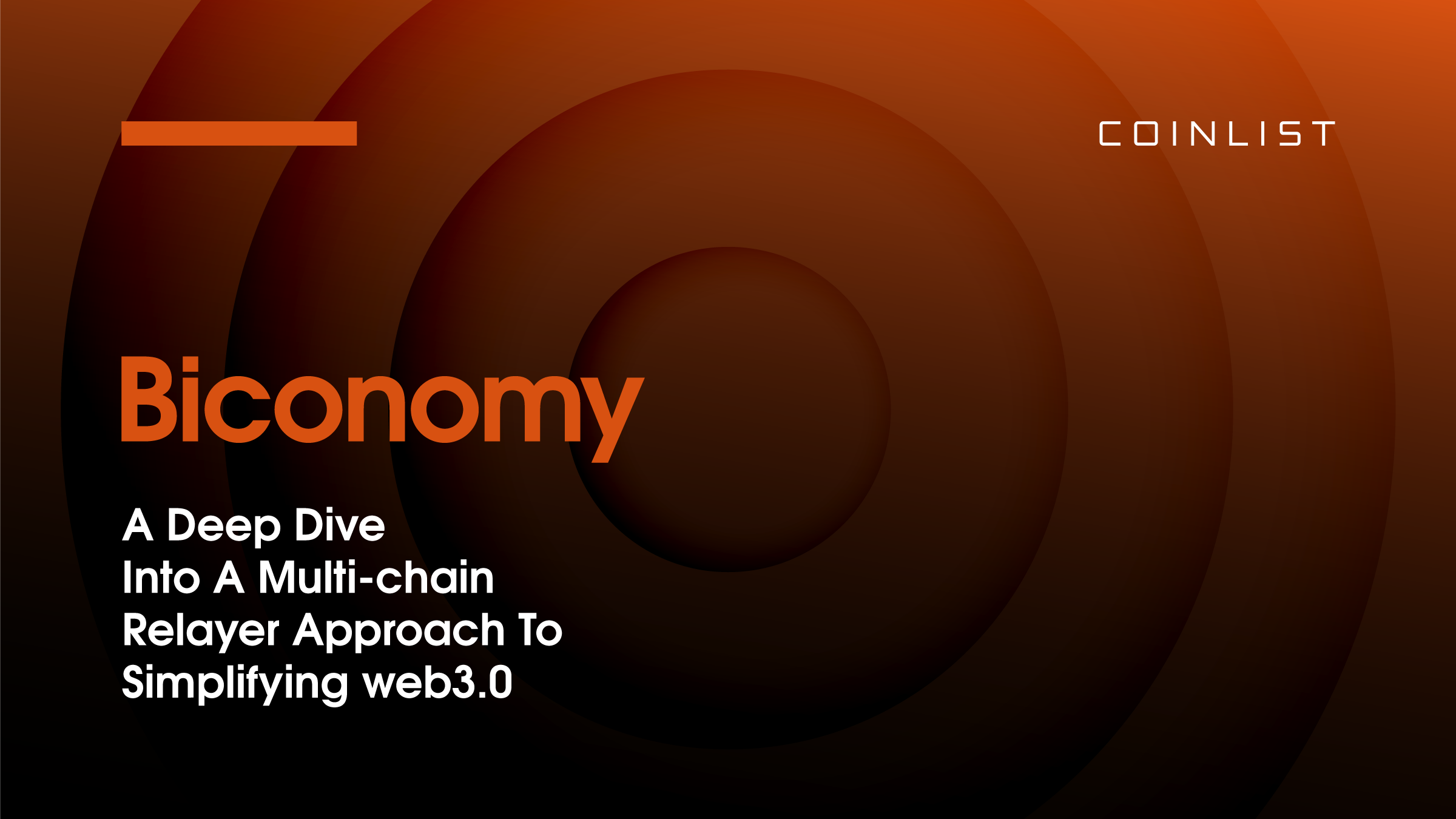 Last week, we announced the Biconomy Token Sale on CoinList, which starts October 14 at 17:00 UTC. Biconomy is the multichain transaction infrastructure for next-generation Web 3.0 applications. Through Biconomy's plug & play APIs, they allow decentralized apps (dApps) to become accessible to anyone regardless of their crypto knowledge and experience. By solving key pain points at the crypto transactional layer, Biconomy is on a mission to bring the familiarity of Web 2.0 to simplify Web 3.0 experiences that will drive mass adoption.
This week, we sat down with the Biconomy team to learn more about what they are building, the BICO token, and recent traction.
Let's dive in.
1. To begin, what is Biconomy and what problem does it solve?
Biconomy is a multichain relayer protocol that simplifies blockchain transactions for end users. Any dApp can use our plug-n-play APIs to make their application more user-friendly & frictionless.

The key usability issue with crypto currently is that blockchain transactions are complicated. Users have to be proficient with crypto wallets, deal with gas, actively manage each transaction, move funds across various chains and much more. Even then, they face a broken experience fraught with long wait times and failed transactions. This is especially daunting for crypto newbies who face a steep learning curve just to get started. What's more is that dApp teams have to spend time educating users about blockchain technicalities. The mainstream user doesn't want to deal with these blockchain headaches.
That's where Biconomy comes in. Biconomy provides a simple & quick way for dApps to abstract away these complexities from their users. We do this through our unique products, namely, Gasless, Forward and Hyphen which can be easily accessed through our APIs and SDKs.
2. What is your target audience and existing user base? What interactions do you expect your users will have with Biconomy?
Our target audience are dApps on any of our supported chains like Ethereum, Polygon, xDai, Moonriver etc. These dApps can leverage our APIs to delight both their crypto native as well as crypto newbie user base. Our current integrations are projects from the NFT, DeFi, gaming and payments space. We serve 70+ mainnet dApps and are onboarding a new integration partner almost every week.
Any Web 3.0 project can integrate Biconomy to enable a gasless experience for their users. So far we have processed more than 8 million transactions and are seeing more than 50k daily transactions being processed. Developers can also use Hyphen, our cross chain transfer product, to enable in-dApp instant cross-chain transfers so that the user can access their funds on the chain the dApp is on without leaving the dApp.
Hyphen can also be used by end users themselves as it comes with its own UI where they can instantly transfer their assets to any chain quickly and cost effectively.
Ultimately, we envision users will be able to move across chains quickly, securely and in a very cost effective manner. They would pay gas fees in the token they're transferring and when they reach the dApp they'd want to use, the whole interaction with the dApp is gasless. There are many other interesting use cases and transaction flows we want to enable.
3. What are the advantages you found in building a multichain protocol?
We believe in a multichain Web 3.0, and having more accessibility and visibility to dApp's across various chains really excites us. As the space evolves, we will have various applications, use cases, assets and users in different chains and layers. Some may prefer security, while others may go for speed or cheap gas. Some dApps may be best suited for layer 1s while others may be more usable on different layers or rollups. And all these ecosystems will be seamlessly connected through our multichain relayer infrastructure.

That's why we have always been clear we need a multichain strategy. A scalable usable Web 3.0 for mass adoption is one where dApps and smart contracts sit on multiple chains, while the user experiences the same seamless experience. The more the market moves to multichain, the bigger the need for removing friction for both developers and end users.
4. What is the inherent use case for Biconomy's native token, BICO?
$BICO is the native work and governance token of our multichain relayer infrastructure. It plays a key role in decentralizing the network by acting as the network fees, incentivizing all stakeholders to secure and maintain the network, and participating in the network's governance.
The node operators (Validators and Executors) stake $BICO to secure and participate in the network. They pay a transaction fee in BICO to add any information on the chain. They earn $BICO proportional to the work they perform on the network.
The Validator listens to relevant transactions on other chains and records them to the Biconomy chain.
The Executors see these transactions and take an action (be it a hyphen transaction or a gasless one).
Token holders can also stake their tokens as delegators and earn staking rewards.
Anybody can also add liquidity to our liquidity pools in various tokens to earn $BICO rewards.
Finally, token holders can participate in governance of the protocol in the future.
5. Biconomy has a growing ecosystem of dApps. What are some of the dApps using your protocol and what has their experience been?
We have a growing Bicosystem of 70+ dApps. Some dApps that leverage Biconomy include Zed Run, Perpetual Protocol, Dfyn exchange, Showtime, Idle Finance, Aavegotchi, Decentraland, and many more.
From our feedback, their experience has been great. Our partners are particularly happy with the awesome UX their dApp is able to offer their end users. Furthermore, on the development side, we receive great feedback on how easy and quick our solution is to integrate, how scalable our infrastructure is (we can easily handle loads exceeding 1,500 transactions per second), and how responsive and helpful our support is.
6. What crypto trends are you most excited about in the next six months?
There are several trends we're excited about currently:
Play to Earn & crypto gaming at large
Interactive and Intelligent NFTs
How the merge between DeFi and NFTs will bring new use cases
Seamless cross chain infra and UX
Evolvement of DAOs and their influence on the wider market
7. What is the best way for the community to get involved with Biconomy?
---
Legal Disclaimer
Not available for residents and citizens of the United States, China, Australia, Canada, Hong Kong, and CoinList's unsupported jurisdictions.
This post is being distributed by Amalgamated Token Services Inc., dba "CoinList," or one of its subsidiaries. Use of the CoinList website is subject to certain disclosures, restrictions and risks available here.
Nothing in this post shall constitute or be construed as an offering of securities or as investment advice, tax advice or investment recommendations (i.e., recommendations as to whether to enter or not to enter into any transaction involving any specific interest or interests) by CoinList or any of its affiliates.