Trade Solana (SOL) and Rally (RLY) on CoinList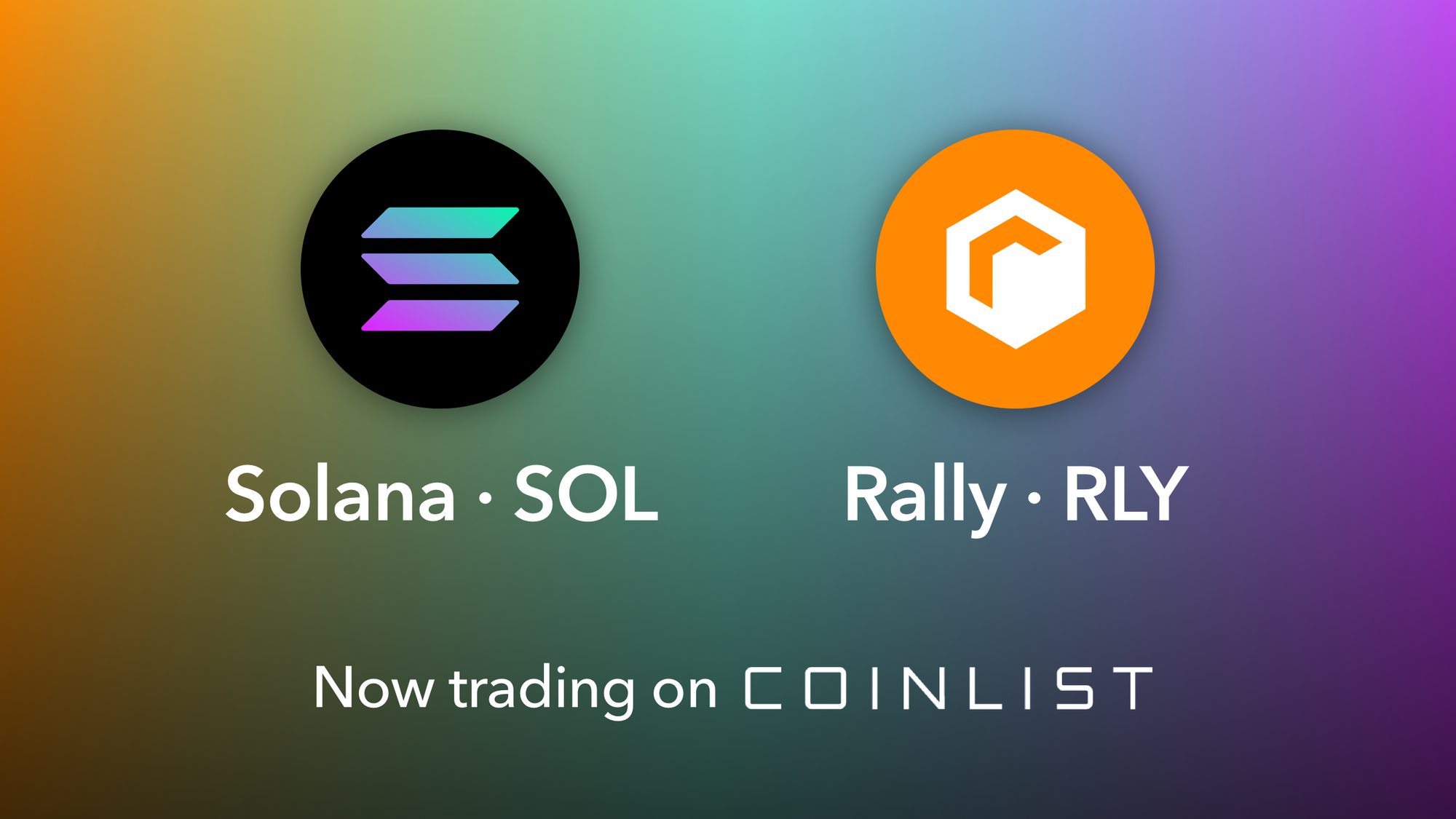 CoinList's mission is to help the world's most impactful crypto projects grow and succeed. We've worked with top projects to power their token sales, connect them to developers and validators, and provide them with a trustworthy market for trading.
After facilitating token sales for Solana (March, 2020) and Rally (March, 2021), we're excited to announce that the next assets available for trading on CoinList Pro, CoinList.co and the CoinList mobile app are SOL and RLY.
Solana (SOL)
Solana is a layer-one blockchain network focused on fast transactions and high throughput. It is specifically built to scale transaction throughput without sacrificing decentralization or security. Solana uses a unique method of ordering transactions to improve its speed. Users can pay their transaction fees and interact with smart contracts with SOL, the network's native cryptocurrency.  
Rally (RLY)
Rally is an open platform built on Ethereum that empowers creators, celebrities, and brands to launch their own social tokens, also known as Creator Coins. Fans can purchase Creator Coins to support their favorite creators and to access special benefits determined by the creator. Creators can grow their audience, reward fans, and build business models powered by their own custom social token. Rally is governed by its native token, RLY.
As Solana continues to build blockchain infrastructure allowing developers to build crypto apps that scale and as Rally continues to simplify crypto to empower creators and their communities, CoinList users now have a trustworthy trading solution to participate in these networks.
---
Legal Notice
This blog post is being distributed by Amalgamated Token Services Inc., dba "CoinList," or one of its subsidiaries. CoinList operates CoinList Markets LLC, a licensed money services business (NMLS #1785267), among other subsidiaries. CoinList does not provide—and this post shall not be construed as—investment, legal or tax advice. This blog post and use of the CoinList website is subject to certain disclosures, restrictions and risks, available here.