The State of Axelar: The "Stripe of Web3"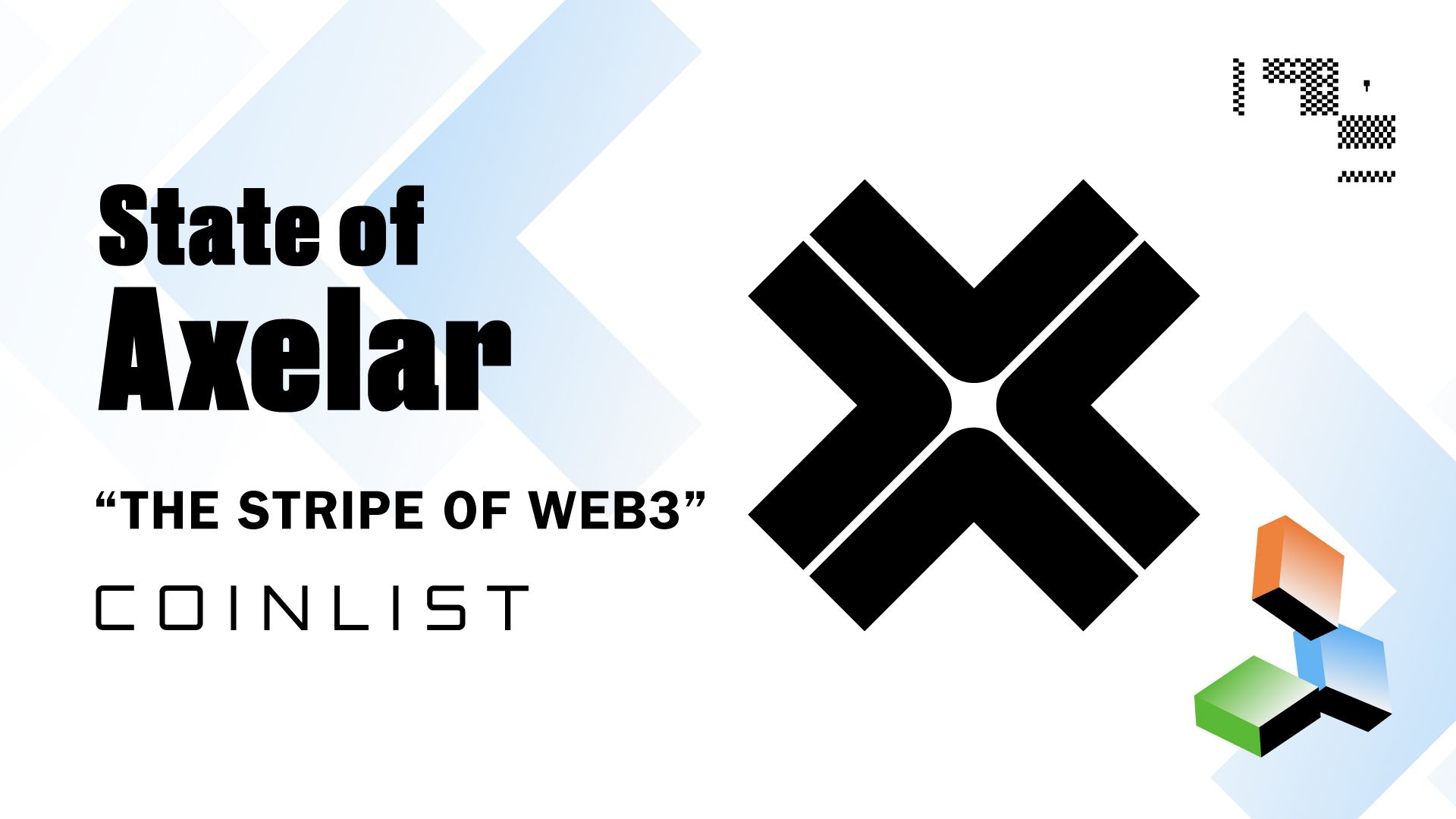 Earlier this year, the Axelar (AXL) token sale on CoinList added more than 44,000 new token holders to the Axelar community.
Since then, Axelar has been on a growth tear, connecting to 18 blockchain ecosystems to deliver cross-chain communication in Web3, and attracting 96 new dApps to build on the Axelar Network.
For those not familiar with the project, Axelar delivers secure cross-chain communication — like a Stripe for Web3. As a blockchain that connects other blockchains, Axelar enables dApp users to interact with any asset or application, on any chain, with one click. The network is secured using proof-of-stake consensus, and messages are routed and translated using permissionless protocols.
With Axelar's token launch around the corner, we take a look at the latest progress and developments in the Axelar ecosystem in 2022.
1) Series B financing: At the beginning of the year, Axelar raised its third round of financing, valuing the Axelar network at $1B. The Series B brought Axelar's total funding to date to $65M. Their backers include Binance, Coinbase, Dragonfly, Galaxy and Polychain. Watch co-founder Sergey Gorbunov discuss the funding news on CoinDesk TV. The full list of investors is available here.
2) The Axelar Grant Program: Axelar has successfully launched and concluded the first phase of its grant program. Initially, 18 teams joined the program. All told, 23 cross-chain dApp projects received funding, business development connections and marketing support. This cohort of early-stage startups has become a sought-after pipeline for VCs and accelerators interested in the cross-chain space. Stay tuned for the next phase of the Axelar Grant Program, to be announced soon.
3) 18 chains connected: Unlike bridges and other cross-chain networks, Axelar is a blockchain to connect blockchains. This means new chains instantly benefit from routing to all existing connected chains, and compounding network effects are immediate. This infrastructure is designed to scale to thousands of chains. The list of connected chains is visible on the block explorer, Axelarscan. Thanks to these integrations, Axelar has facilitated almost $1 billion in cumulative transfer volume as of August 2022.
4) 96 projects integrating Axelar: Since its mainnet launch in January, Axelar has been chosen by nearly 100 projects, including platforms, service providers, and dApp developers from the Avalanche, Cosmos, Ethereum, Near, Polkadot and other ecosystems. In many cases, Axelar has seen integrations with the largest dApps and most liquid decentralized exchanges in each ecosystem. For example, in April, Axelar was chosen by community vote as the canonical bridge infrastructure provider for Osmosis, the largest DEX on Cosmos. DApp developers are choosing Axelar for its security and for features it uniquely provides, like one-time deposit addresses that allow decentralized exchanges to onboard users as easily as centralized exchanges do.
5) General Message Passing: In their white paper in January 2021, Axelar's co-founders pioneered the idea of arbitrary messages, passed securely between chains. In the spring of 2022, months after mainnet launch, Axelar shipped General Message Passing, taking cross-chain beyond bridges, into Turing-complete computing by allowing any dApp to call any function, securely, on any connected chain. This functionality has already enabled pioneers in cross-chain NFT marketplaces, cross-chain collateralized lending and other use cases where legacy bridges fail.
For the remainder of 2022, the Axelar community is looking to build on the momentum and continue on its mission of bringing cross-chain communication for Web3. Stay tuned for more exciting announcements from Axelar this month as they approach token launch.
---
Legal Notice
Not available to residents and citizens of the United States, China, and Canada, as well as CoinList's other unsupported jurisdictions.
This blog post is being distributed by Amalgamated Token Services Inc., dba "CoinList," or one of its subsidiaries. This blog post and use of the CoinList website is subject to certain disclosures, restrictions and risks, available here. CoinList does not provide—and nothing herein shall be construed as—investment, legal or tax advice.