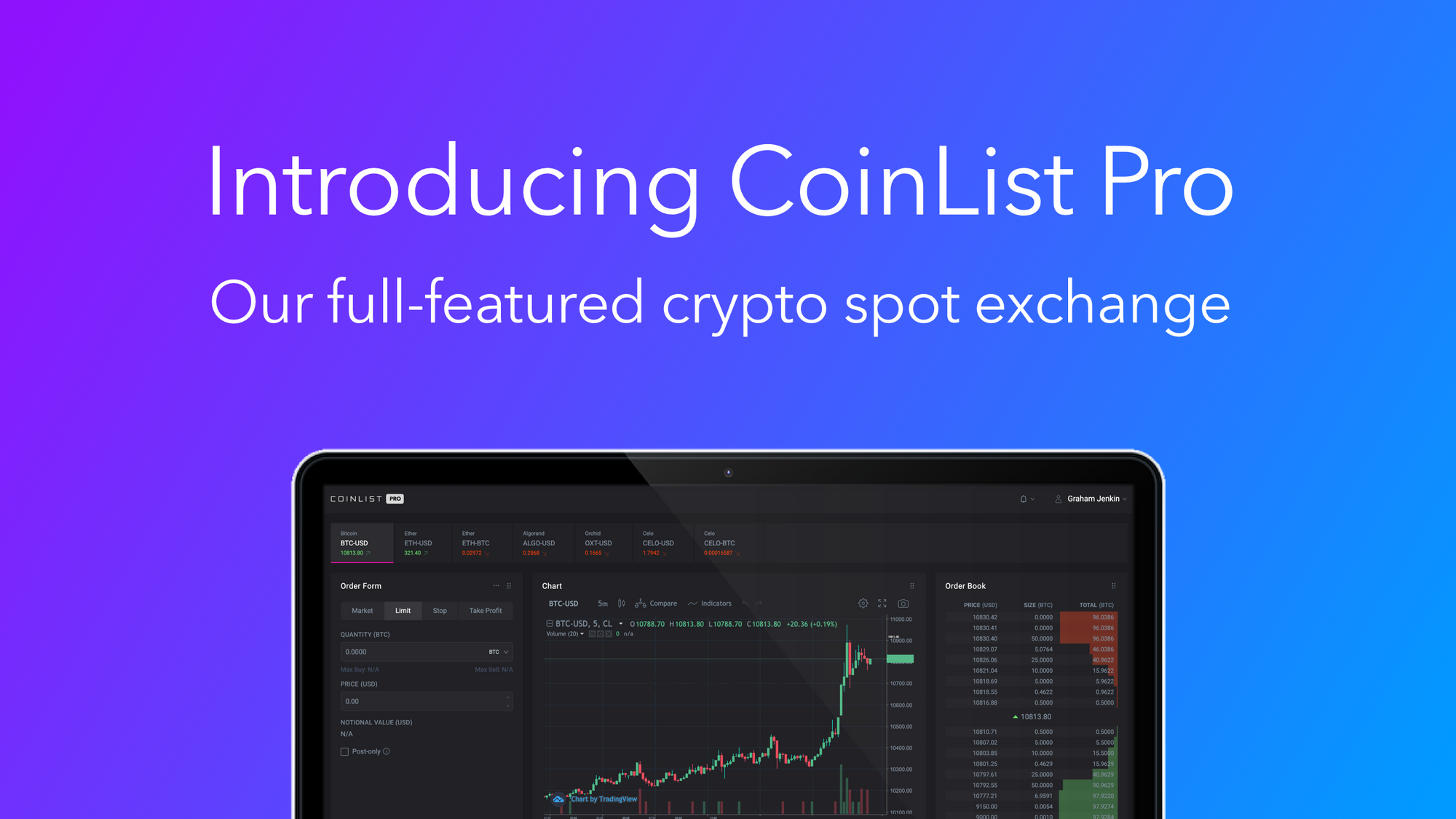 CoinList has always been the first place to buy the most promising new cryptoassets through their token sales. Now, CoinList Pro is also the first place to trade them.
CoinList Pro is a full-featured crypto spot exchange, built on trusted, compliant infrastructure and backed by some of the biggest names in the space.
In addition to announcing Pro, we're also excited to announce two listings.
Trading soon: Filecoin
Protocol Labs ran their $205 million token sale on CoinList in fall 2017, and later this summer, CoinList Pro may be the only exchange that can support Filecoin on day 1 of their mainnet launch. We'll provide Filecoin custody for free and enable your participation in the Filecoin ecosystem in every way possible.
Trading now: Celo
In May 2020, CoinList ran Celo's auction, which raised $10 million and sold out. Afterwards Celo purchasers received their CELO distributions directly into their CoinList wallets, where they started earning staking rewards. And now, CELO is listed on CoinList Pro, where those purchasers — and everyone else — can buy more CELO to stake or trade it for other assets.
Beyond those, we're aiming to add support for all projects that CoinList has worked with: Solana, Nervos, Algorand, Blockstack, and many more. We want to be the best place to hold, stake, lend, and trade all of them.
Deep Liquidity
We are also excited to announce that CoinList Pro will be supported by two of the biggest market-makers in the space, both of whom have invested in CoinList as part of this deal. GSR is a leading global algorithmic trader and market maker in digital assets, with a team coming from Goldman Sachs, Two Sigma, and Citadel. The other partner is the largest US-based crypto market-maker and has demonstrated a long track record of supporting new markets. These market makers will support Filecoin and Celo as well as a stable of core assets, including bitcoin, ether, and algorand.
Trusted Infrastructure
With CoinList Pro, you can rest assured that you're using seasoned infrastructure. Our trusted, secure, and compliant platform has supported nearly $1 billion in transactions. Pro itself is built on robust exchange systems with more than one-and-a-half years of live trading. And custody and staking systems are backed by best-in-class partners, including Anchorage, Bison Trails, Bitgo, and Gemini Custody.
---
Until today, participating in crypto has been a fragmented experience. You buy, trade, stake, lend, and hold your tokens in different places. Each time you move from one to the other, you risk total loss, create stress, and pay fees.
CoinList Pro is our answer to that. It's the exchange for early adopters.
Check it out now: pro.coinlist.co
---
Legal Notice
This blog post is being distributed by Amalgamated Token Services Inc., dba "CoinList," or one of its subsidiaries. This blog post and use of the CoinList website is subject to certain disclosures, restrictions and risks, available here.