How the Internet Computer Aims to Beat Out Big Tech's Monopoly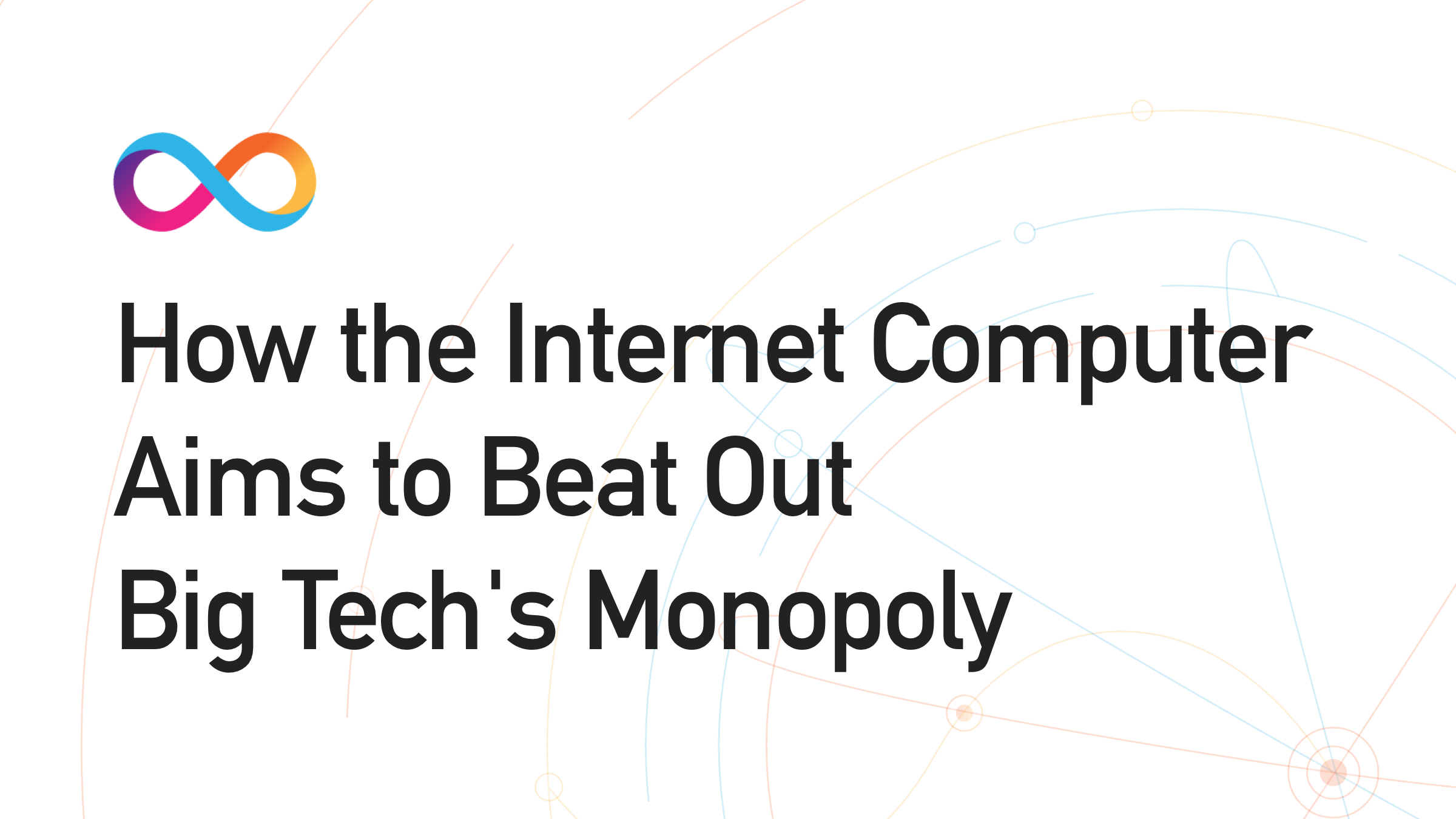 Competition is for losers. This has been the mantra for most tech companies and investors over the past few decades. Monopolies are highly sought after as they allow the strongest network effects to take hold, which oftentimes also means the best user experiences and products.
Most tech companies first build the best product available to attract users, then they expand into related services to retain users. Over time, the most successful companies capture vast user bases, own entire user experiences in one product, and make the user's cost of leaving prohibitively high.
The monopolization of the internet by Big Tech can have positive effects such as delivering high-quality consumer products and encouraging a proliferation of startups whose strategy is to get acquired by a tech giant. One can argue that the intention of such an approach is to promote competition and lead to the best consumer products. But can monopolization go too far? What happens when it does?
The Winner Takes All Internet
Big Tech's monopolization of the internet means user relationships are centralized. It is increasingly difficult to build new user bases as consumers have limited mindshare, most of which is occupied by services owned by Big Tech. This leaves startups with two choices: (1) try to compete with Big Tech for users, or (2) leverage Big Tech's existing user bases and APIs. The latter seems to be the obvious choice.
When startups become vulnerable to the whims of Big Tech-owned platforms, we observe what is known as "platform risk". For instance, Zynga, famous for its Facebook game Farmville, was severely impacted by Facebook's messaging policy change in 2010. The change significantly limited Zynga's player recruitment method. AppData estimated that Zynga's monthly active users dropped by over 25% in one quarter after the policy change, highlighting how vulnerable startups are to Big Tech's changes. Zynga's survival was dependent on Facebook, but Facebook didn't need Zynga. In fact, many VCs have stopped investing in startups that are reliant on Big Tech in fear of "platform risks."
More recently, firms like Google have fallen in the crosshairs of antitrust regulators. There are currently three separate antitrust cases against Google. The cases range from accusations that Google engages in anti-competitive practices by paying other companies over $12 billion to make Google the default search engine, to accusations that Google represents buyers and sellers in the digital ad market while running the marketplace itself, suggesting a conflict of interest.
Bringing the Internet Back to Its Free and Open Roots
Though regulators can crack down on Big Tech to stop anti-competitive monopolies, such a response may not address the root of the problem. Modern internet infrastructure encourages centralization as it requires "trusted" intermediaries to facilitate the exchange of information.
Centralized entities like Big Tech start off as benign intermediaries. But as they obtain more users and mindshare, they accumulate disproportionate amounts of power and sometimes abuse it through anti-competitive practices. Cryptonetworks, on the other hand, remove the middlemen, maintain network neutrality, and are owned and governed by their users and developers.
The Internet Computer was designed to bring the internet back to "a free market, where services could connect on equal terms." The DFINITY Foundation, a not-for-profit scientific research organization based in Zurich, is building the Internet Computer — a blockchain computer that runs at web speed with unbounded capacity. The Internet Computer is based on the Internet Computer Protocol (ICP), an advanced blockchain protocol that runs on a network of independent data centers around the world. It uses canisters — an evolution of smart contracts with higher scalability and additional functionalities — to create interoperable compute units designed for internet-scale services. The platform can serve user experiences directly to web browsers and smartphones, extending the functionality of the global internet so that it can natively host software, transforming it into a public compute platform.
Dominic Williams, DFINITY's founder and chief scientist, has assembled a team of some of the world's best cryptography, distributed systems, programming languages, and game theory engineers and researchers. It includes the likes of Jan Camenisch (inventor of Identity Mixer), Ben Lynn (co-creator of BLS Signatures), Andreas Rossberg (co-creator of WebAssembly), and Paul Liu (architect of Intel's Haskell Compiler).
The Network Nervous System (NNS) is the brain that controls the Internet Computer — an algorithmic governance system that onboards independent data centers to the network, monitors nodes for irregularities, and allows the broader internet community to vote on proposals to govern the network. The ICP utility token is the Internet Computer's native governance token. Users can submit proposals to the NNS, such as whether to expand the network. These proposals will be decided by ICP utility token holders who can vote on NNS proposals and earn voting rewards. With the NNS governance system, users and developers become the ones deciding how the network operates and evolves, effectively giving the internet back to the users instead of centralized entities while maintaining net neutrality and fairness.
Traction & Adoption
Developer teams have already started building on the Internet Computer. These include Origyn, a digital certification system for authenticating luxury products, and Fleek, a service that makes it easy to build websites and apps on the open web. Sample Internet Computer apps like the open social network LinkedUp and CanCan, a decentralized video-sharing app modeled on TikTok have also demonstrated what a decentralized internet may look like.
As new projects are developed on the network, capital is also being invested in Internet Computer-based ventures. The Beacon Fund invests in early teams that can launch and grow the future's decentralized financial systems and open internet services. The fund is managed and funded by Polychain Capital, Andreessen Horowitz, (both DFINITY backers) and the DFINITY Foundation.
The Internet Computer is now on a relatively short path to a final "Genesis" decentralization step. This will involve the NNS releasing ICP utility tokens to onboard over 50,000 voting holders to participate in network governance.
To be notified of when the NNS initiates Genesis, sign up for the DFINITY newsletter here »
---
Legal Notice
This blog post is being distributed by Amalgamated Token Services Inc., dba "CoinList," or one of its subsidiaries. This blog post and use of the CoinList website is subject to certain disclosures, restrictions and risks, available here.