Filecoin Weekly Update: Protocol Labs announces Mainnet Liftoff Date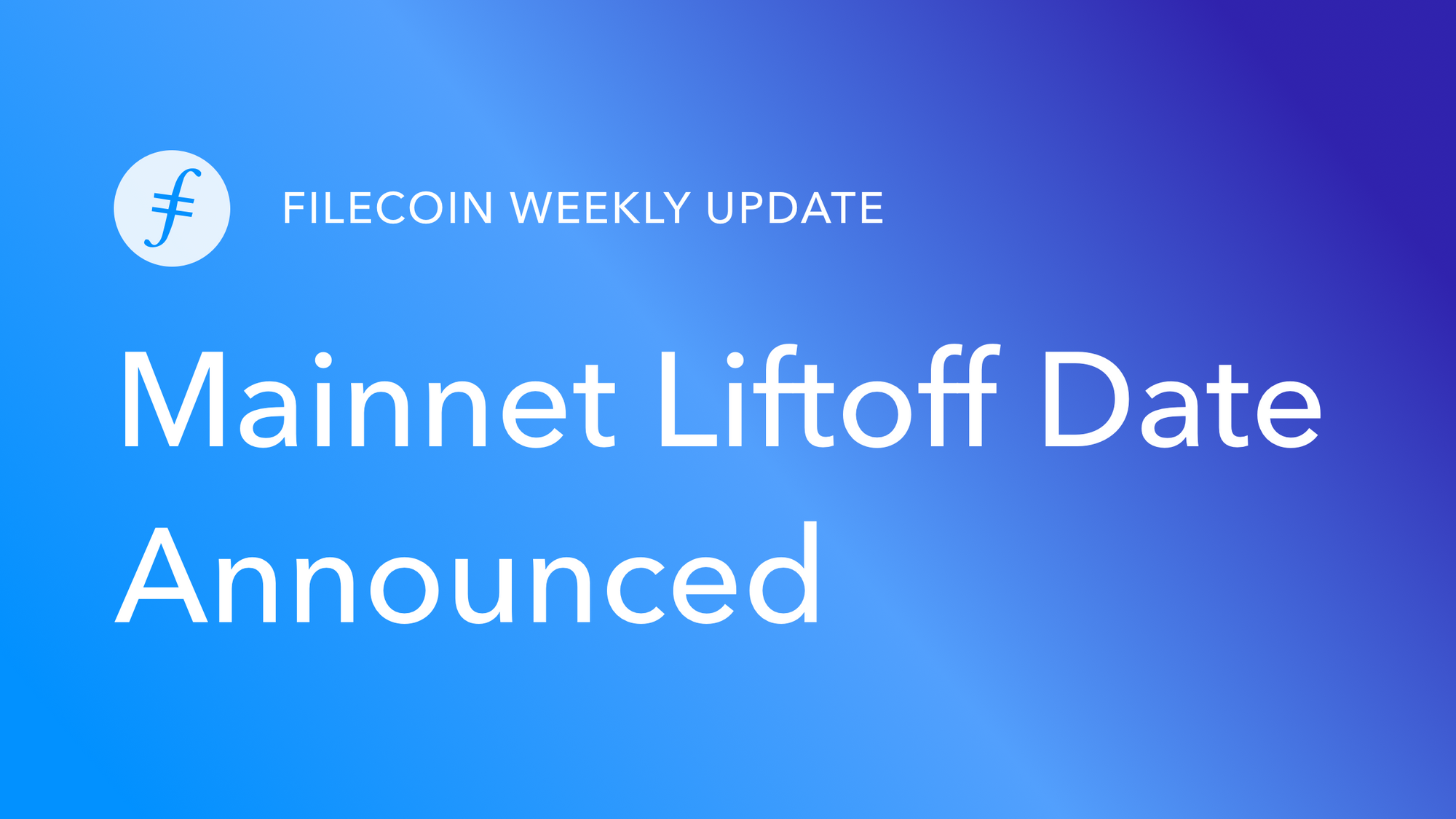 Yesterday, the Filecoin team updated their launch schedule with the big news that the Filecoin mainnet will be launching at block 148,888, which is expected to happen on October 15th.
Over the last few weeks, the Filecoin network has made immense progress. More than 600 miners have onboarded over 325 PiB of storage, 265 clients have made 40,000+ storage and retrieval deals, and collectively the community has thoroughly exercised and tested the network's functionality, security, and resilience.
CoinList intends to support FIL trading upon main launch across CoinList Pro, CoinList.co and the CoinList Mobile Apps. Stay tuned for more details soon.
Set up a CoinList account today and be the first to trade Filecoin »
Here's a recap of the progress this week as we enter the home stretch of Filecoin's highly anticipated mainnet launch, and concurrent FIL trading on CoinList.
Mainnet Ignition: We are currently entering Mainnet Ignition - Filecoin's onboarding phase to bring miners, clients, custodians, applications, and ecosystem partners onto the network - and get ready for Filecoin Mainnet Liftoff the week of October 19-23. Read more about Filecoin's transition to mainnet here.
Slingshot Week One Recap: It's been an exciting week with the kickoff of Filecoin Slingshot, a two-part competition for storage clients and developers to deploy their products to the testnet. Phase One of this competition ("Onboard"), which started on September 23, 2020 and runs through October 14, aims to onboard 1PiB of real, useful data to the Filecoin network. Phase Two ("Scale") aims to onboard 10PiB of data. Between the two phases, participants have a chance at getting a share of a prize pool of up to 500,000 FIL based on their network storage commitments. Register now.
Live AMA with the Filecoin Team: As a part of the Space Race events program, the Filecoin team hosted another live AMA with the Filecoin community, answering questions on Space Race, cryptoeconomics, and Filecoin mining. The engineering team also helped miners troubleshoot some common issues. Check out the recap of the Q&A here.
Filecoin Bug Bounty Program: The Filecoin Bounty Program provides bounties for bugs. Help identify bugs and improve the Filecoin network. The most prolific contributors can earn a prestigious Filecoin Security Research Fellowship. Submit a vulnerability.
SAFT Holders: We've been working closely with the Protocol Team to make sure that FIL distribution happens seamlessly. All FIL purchasers are now set up to receive their tokens in CoinList Wallets, a third-party custodian, or self-custody. We'll be reaching out with more information closer to mainnet launch.
---
Legal Notice
This blog post is being distributed by Amalgamated Token Services Inc., dba "CoinList," or one of its subsidiaries. This blog post and use of the CoinList website is subject to certain disclosures, restrictions and risks, available here.