Casper Token Sale Update: Option 1 Sold Out in 2.5 Hours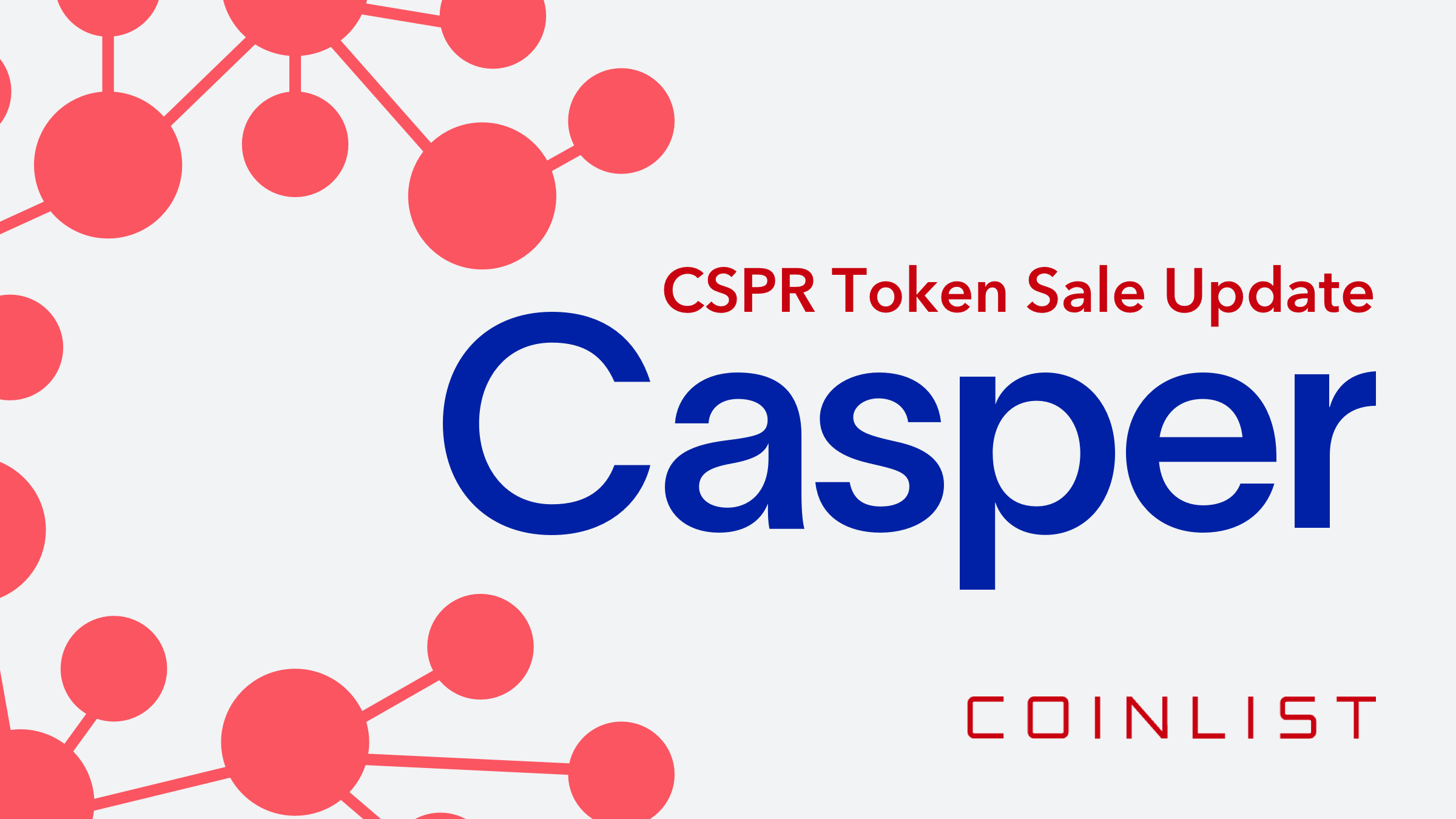 Yesterday, the Casper Association completed the first phase of a historic token sale on CoinList, one week before Casper's highly anticipated mainnet launch.
Option 1 of the CSPR token sale sold out in 2.5 hours. More than 15,000 participants purchased 800,000,000 CSPR tokens for a total of $12,000,000 during this phase.
The CSPR token sale has driven unprecedented demand — as of the start of yesterday's sale, we had more than 230,000 unique registrants. We are excited and humbled by the size and commitment of support from the Casper community.
As a reminder, the Option 2 and Option 3 CSPR sales begin on March 25 and March 26, respectively.
We recognize that there are qualified individuals who wanted to participate in the Option 1 sale, but were unable to do so due to the tremendous demand for the token. The sale was more than 10x oversubscribed, and the sale allocation was raised from 10% to 16% prior to Option 1 to accommodate. We are proud to continue supporting the CSPR sale with Options 2 and 3.
Given the unprecedented demand for the sale, securing an allocation with Options 2 and 3 will also be highly competitive. To help ensure fair access, CoinList is using a queue-based system.
How the queue system works:
All users arriving at the site up to 60 minutes before the start of the sale will be placed in a waiting room.
When the sale starts, users in the waiting room are assigned a random place in line.
Users arriving after the sale starts get a first-come, first-served place in line after those in the waiting room.
When it is your turn, you will have 10 minutes to enter.
As a reminder, we prohibit the use of bots. Anyone using bots to purchase tokens will have their account terminated (including irreversible loss of funds) and have all their purchases canceled.
Finally, please beware of phishing attacks and fake social media accounts impersonating CoinList.  Please note that CoinList does NOT have a Telegram channel and the ONLY place to participate in the Casper sale is https://coinlist.co/casper.
Stay tuned for more updates on our official Twitter channel.
Thank you,
CoinList
---
Legal Disclaimer
*Not available to residents of the United States, China, and Canada and other certain jurisdictions.
This post is being distributed by Amalgamated Token Services Inc., dba "CoinList," or one of its subsidiaries. Use of the CoinList website is subject to certain disclosures, restrictions and risks available here.
Nothing in this post shall constitute or be construed as an offering of securities or as investment advice, tax advice or investment recommendations (i.e., recommendations as to whether to enter or not to enter into any transaction involving any specific interest or interests) by CoinList or any of its affiliates.