Braintrust Token Sale Drives Over 22,500 New Token Holders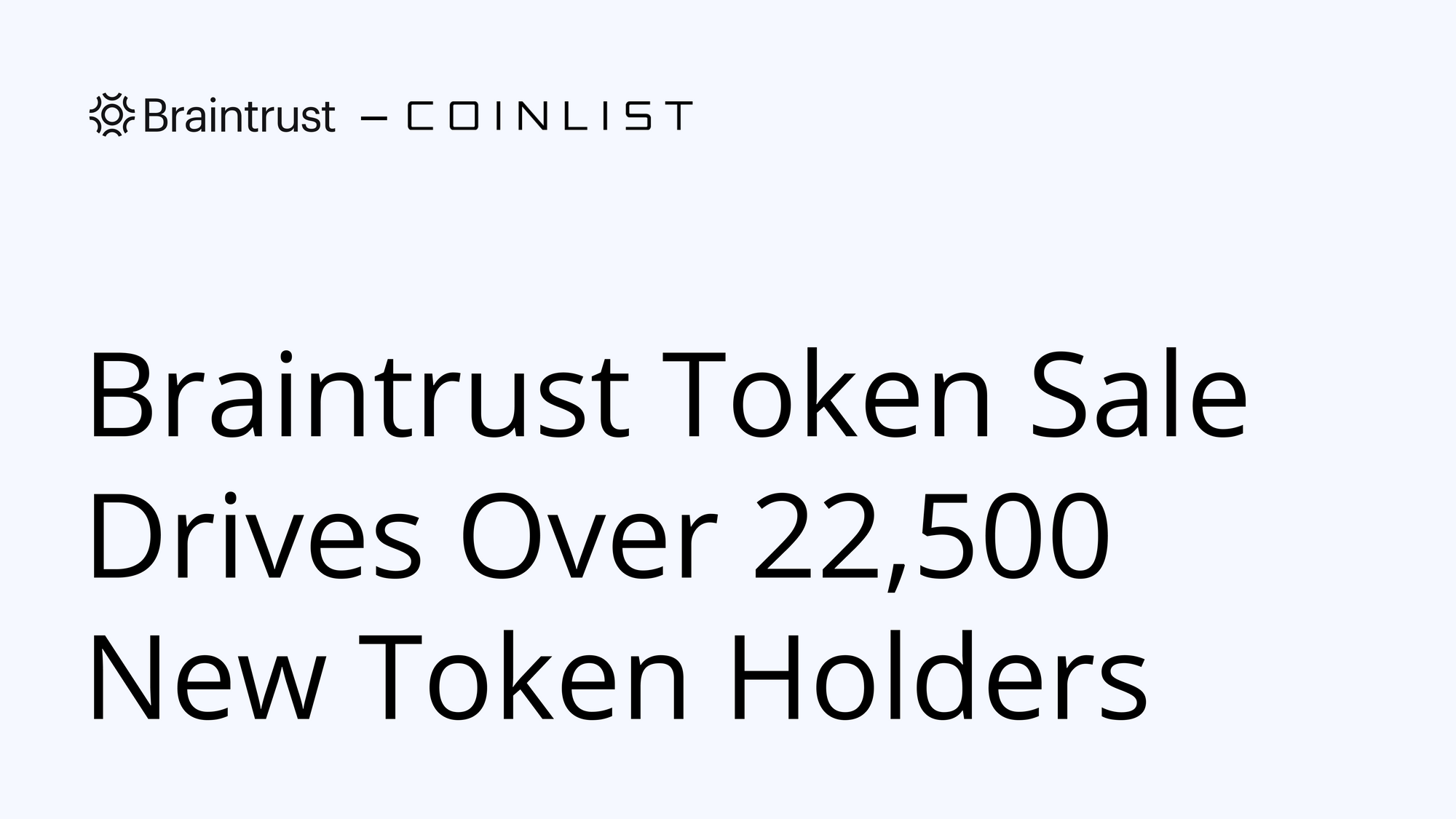 We're excited to announce that the Braintrust Token Sale on CoinList has added more than 22,500 new token holders from 122 different countries to the Braintrust community, with more than $11M in BTRST tokens purchased throughout the course of the sale.
The event drew impressive demand on CoinList, with over 600,000 total unique registrants for Options 1 and 2 of the sale. The Braintrust community demonstrated tremendous commitment to the project and its vision of creating the first ever decentralized talent network.
As we pointed out in a recent story on the future of Web 3.0 and the token economy, decentralized software is challenging its centralized counterparts, and we are witnessing an ever increasing explosion of startups that build decentralized versions of Web 2.0 platforms and services. Braintrust is a perfect example of that.
In a world where corporations grow richer and richer by sharing less and less of the value their workers help to create, Braintrust is the first decentralized talent network enabled by a blockchain token that aligns the interests of both talent and enterprises. The community that relies on Braintrust to find work are the same people who maintain and build it, ensuring the network always serves the needs of its users, instead of a centrally-controlled corporation. Unlike other marketplaces that take 20% to 40% of talent earnings, Braintrust allows talent to keep 100% of earnings and enables clients to make their budgets go further by cutting out unnecessary middle men.
We are excited by the size and commitment of support from the Braintrust community and are proud to help make BTRST available to the broader crypto ecosystem.
In case you missed out on the sale, there are still a number of ways you can earn BTRST tokens.
---
Legal notice
Not available for residents and citizens of the United States, Canada, China, and certain other jurisdictions.
This post is being distributed by Amalgamated Token Services Inc., dba "CoinList," or one of its subsidiaries. Use of the CoinList website is subject to certain disclosures, restrictions and risks available here.
Nothing in this post shall constitute or be construed as an offering of securities or as investment advice, tax advice or investment recommendations (i.e., recommendations as to whether to enter or not to enter into any transaction involving any specific interest or interests) by CoinList or any of its affiliates.