Axie Infinity (AXS) and Enjin Coin (ENJ) now trading on CoinList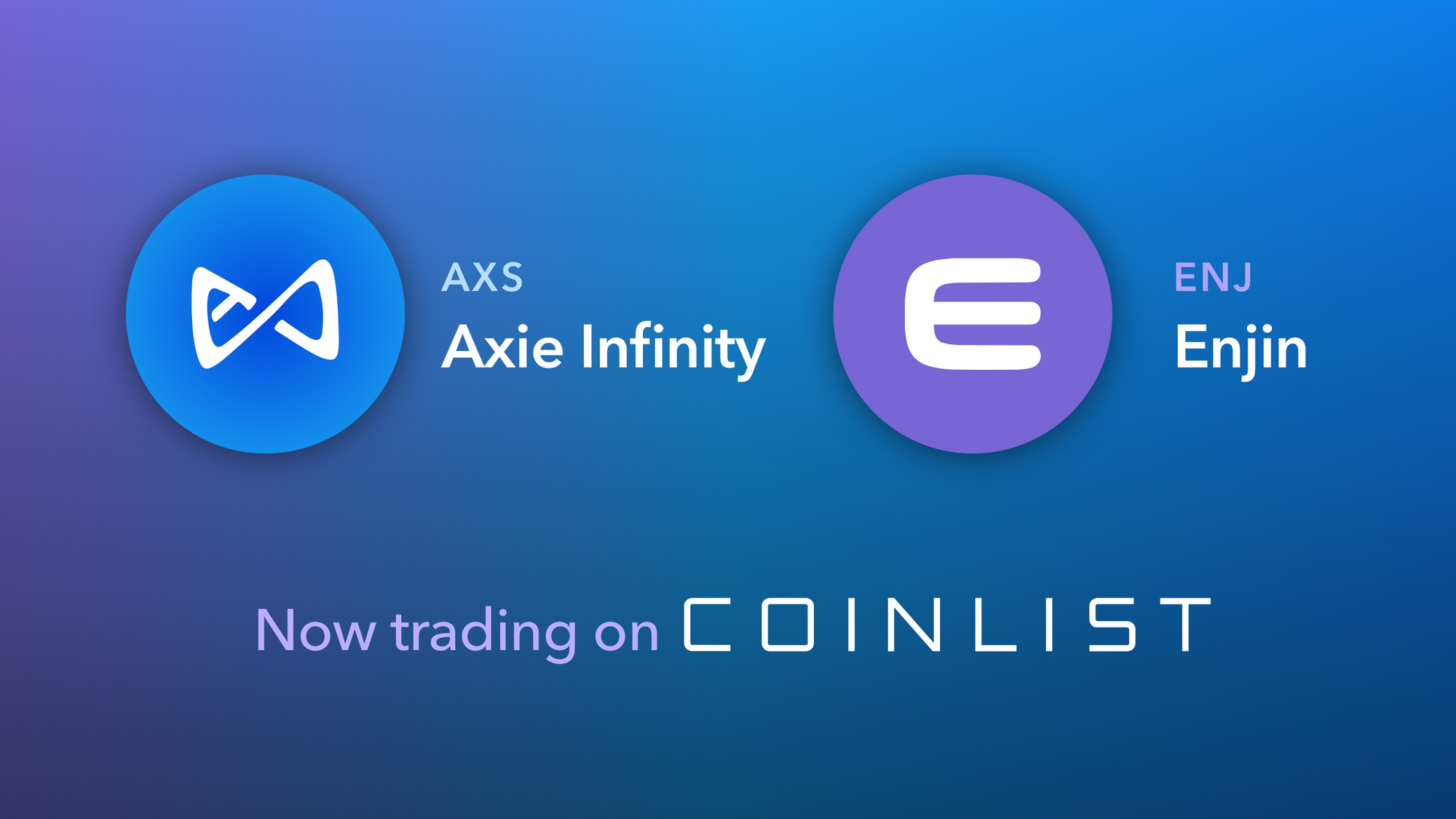 CoinList's mission is to accelerate the advancement and adoption of crypto. We've worked with top projects to power their token sales, connect them to developers and validators, and provide them with a trustworthy market for trading.
One of the most common requests we receive from our community is to provide trading and wallet support for more high quality assets. Today, we are excited to announce the next two assets available for trading on CoinList Pro: Axie Infinity (AXS) and Enjin Coin (ENJ)
Axie Infinity (AXS)
Axie Infinity is a blockchain-based trading and battling game that is partially owned and operated by its players. Inspired by popular games like Pokémon and Tamagotchi, Axie Infinity allows players to collect, breed, raise, battle and trade token-based creatures known as Axies. Each Axie is a non-fungible token (NFT) with different attributes and strengths and can be entered into 3v3 battles, with the winning team earning more experience (exp) points that are used to level up an Axie's stats or evolve their body parts. These Axies can be bred together to produce new and unique offspring, which can be used or sold on the Axie marketplace.
The Axie Infinity ecosystem also has its own unique governance token, known as Axie Infinity Shards (AXS). These tokens are used to participate in key governance votes and will give holders a say in how funds in the Axie Community Treasury are spent. AXS holders can claim rewards for staking their tokens, playing the game, and participating in key governance votes.
Trade on Pro » | Trade on CoinList.co »
Enjin Coin (ENJ)
Enjin Coin is a project of Enjin, a company that provides an ecosystem of interconnected, blockchain-based gaming products. Enjin's flagship offering is the Enjin Network, a social gaming platform that aims to make it easy for individuals and businesses to use non-fungible tokens (NFTs). Enjin allows game developers to tokenize in-game items on the Ethereum blockchain. It uses Enjin Coin (ENJ), an ERC-20 token, to back the digital assets (NFTs) issued within the Enjin ecosystem, meaning that items can be bought, sold and traded with real-world value. Enjin Coin has a fixed maximum supply of 1 billion tokens. However, as the ecosystem grows and more ENJ is locked into in-game digital assets, the number of coins actually circulating will decrease, thus making ENJ more scarce.
Trade on Pro » | Trade on CoinList.co »
As the token economies of these industry leading projects continue to grow, CoinList users now have a full-featured and trustworthy trading solution to participate in these networks.
---
Legal Notice
This blog post is being distributed by Amalgamated Token Services Inc., dba "CoinList," or one of its subsidiaries. CoinList operates CoinList Markets LLC, a licensed money services business (NMLS #1785267), among other subsidiaries. CoinList does not provide—and this post shall not be construed as—investment, legal or tax advice. This blog post and use of the CoinList website is subject to certain disclosures, restrictions and risks, available here.