Announcing the Umee (UMEE) Token Sale on CoinList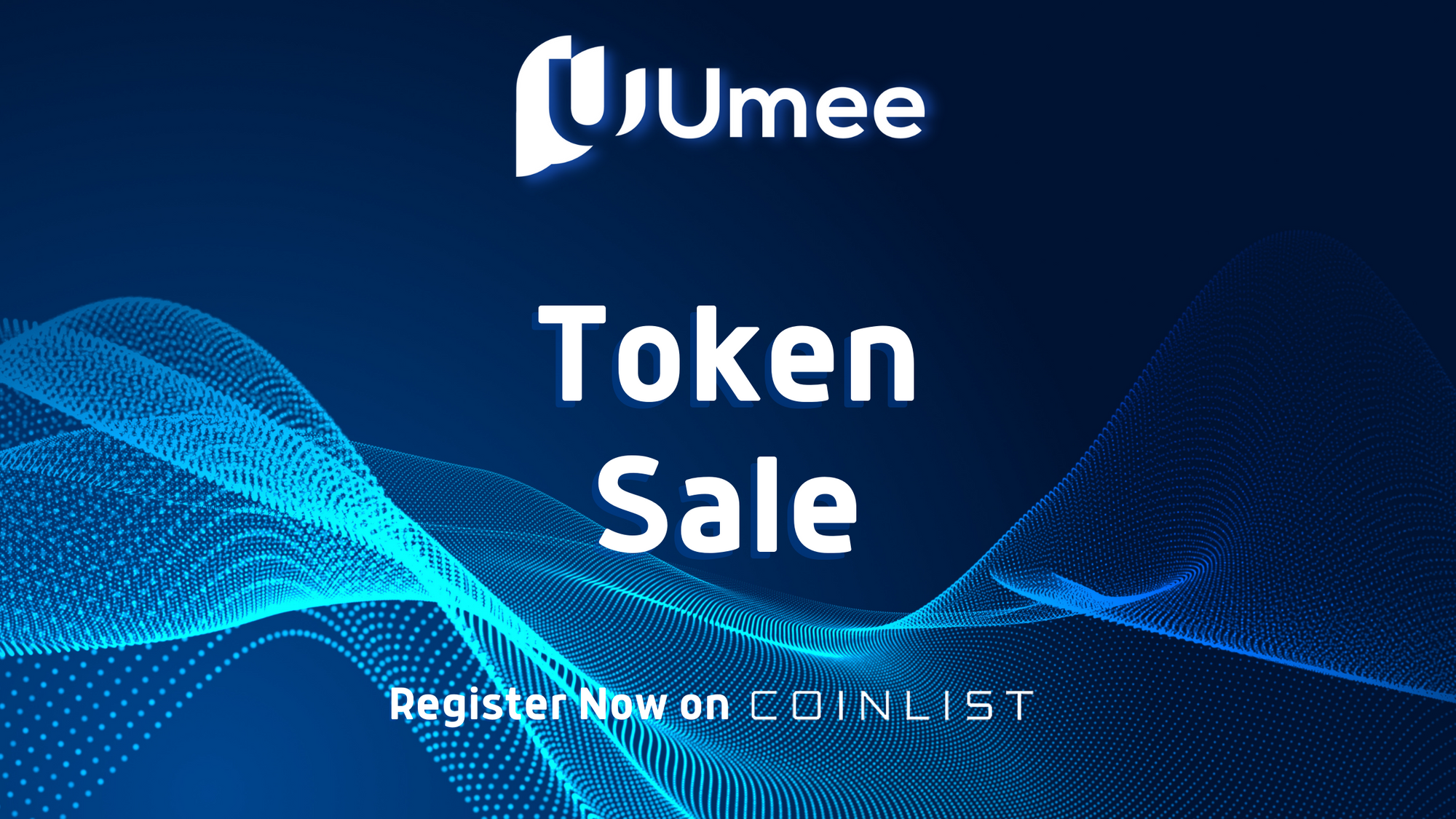 We're excited to announce that registrations for the Umee (UMEE) token sale on CoinList are now open.
Umee is the decentralized infrastructure for cross chain interactions between networks. Umee connects users to create lending and borrowing positions, move capital across chains, discover new yield opportunities and explore DeFi applications in a seamless and trustless manner.
The sale begins on December 1, 17:00 UTC and has two public options:
Option 1
Supply: 300,000,000
Price: $0.06
Lockup & release: 2-month cliff followed by a 10-month linear vesting schedule, with tokens released on or around February 15, 2022
Option 2
Supply: 200,000,000
Price: $0.07
Lockup & release: 2-month cliff followed by an 8-month linear vesting schedule, with tokens released on or around February 15, 2022
The Umee Blockchain - The Cross Chain DeFi Hub
Umee is a cross chain DeFi hub that interconnects between blockchains. As a base layer DeFi protocol, an ecosystem of applications can be built on top of Umee. The Umee Blockchain facilitates instant interoperability using the Tendermint Proof of Stake consensus protocol with the Cosmos ecosystem, Ethereum network, side chain architectures, layer 2 scaling solutions, and alternative base layer protocols.
A few reasons why we're excited about Umee:
A Base Layer DeFi Hub - The Umee Blockchain is built on the Cosmos SDK and Ethereum Virtual Machine for interconnecting between DeFi and lending specific use cases. Umee offers a flexible mix of speed and efficiency for blockchain transactions using a fast finality consensus protocol based on Tendermint Proof of Stake.
Proof of Stake Meets the Global Debt Markets - The initial product built on top of Umee will be cross chain borrowing and lending as well as the building blocks for onboarding global debt into DeFi. By creating tools for allowing new leverage components and interest rates, Umee is onboarding new markets and ecosystems into crypto and becoming the leverage facility for the blockchain world.
Cross Chain Interoperability - The vision of Umee is to spearhead the development of a multi-chain world and serve as a cornerstone to the overall blockchain ecosystem. Umee uses IBC (Inter-Blockchain Communication) which is the flagship Cosmos protocol for cross chain communication.
---
Legal Disclaimer
Not available for residents and citizens of the United States, China, Canada, Australia, Hong Kong, and certain jurisdictions.
This post is being distributed by Amalgamated Token Services Inc., dba "CoinList," or one of its subsidiaries. Use of the CoinList website is subject to certain disclosures, restrictions and risks available here.
Nothing in this post shall constitute or be construed as an offering of securities or as investment advice, tax advice or investment recommendations (i.e., recommendations as to whether to enter or not to enter into any transaction involving any specific interest or interests) by CoinList or any of its affiliates.