Announcing the NuCypher WorkLock on CoinList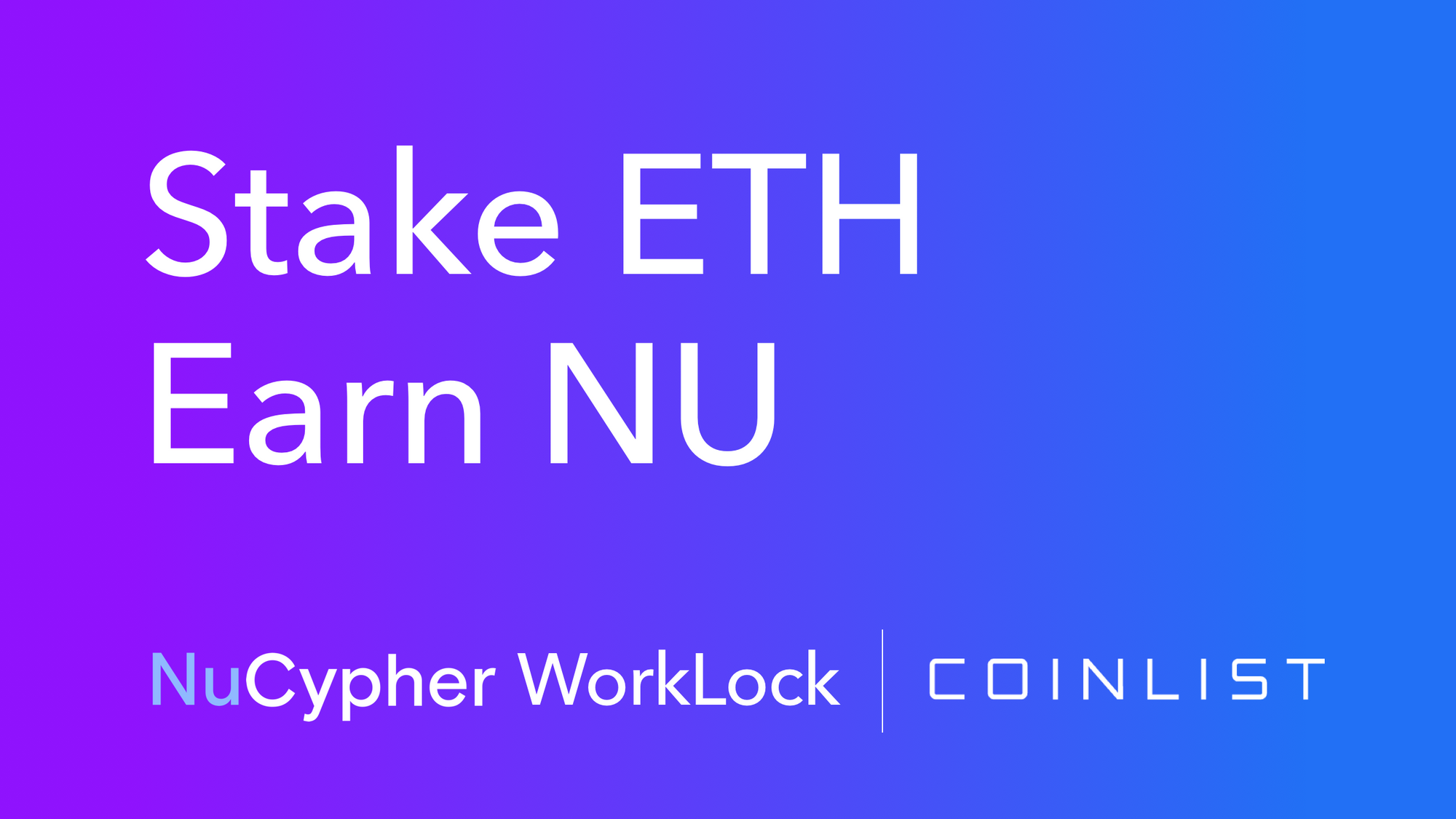 Participate and earn NU
From September 1, 00:00 UTC - September 28, 23:59 UTC, CoinList users will be able to participate in the NuCypher WorkLock on CoinList. Register for the worklock here.

WorkLock is NuCypher's network node setup mechanism. Participants stake ETH, run nodes, and earn NU (NuCypher's native token). CoinList is enabling users to seamlessly participate in the WorkLock and assisting them with running nodes. Users can stake ETH and receive NU tokens, all using CoinList.

Register for the WorkLock here.
Cryptographic Infrastructure for Privacy-Preserving Applications
NuCypher is a privacy layer for blockchains. It enables end-to-end encrypted data sharing on public blockchains (e.g. Ethereum) and decentralized storage solutions (e.g. IPFS). The protocol is useful for apps that need to transfer sensitive data but also want to leverage the trustless and censorship-resistant nature of public blockchains.

A few of reasons that we're excited about NuCypher:

Public Blockchains Need a Privacy Layer: Public blockchains enable trustlessness and transparency but limit privacy. Thus, users cannot safely transfer sensitive information. Today's web apps rely on protocols like SSL to ensure data privacy and integrity - public blockchains will need a decentralized privacy and encryption layer like NuCypher.

Strong Backers and Staker Ecosystem: NuCypher has previously raised over $10M from leading funds including Polychain, CoinFund, and Notation Capital. The team has also built a strong base of node providers, via their Come and Stake It (CASI) Incentivized Testnet and University Staking Program. The WorkLock network node setup model is further testimony to the team's commitment to distributing NU to long-term stakers for network node use.

Decentralized Governance: NuCypher will be fully decentralized, with stakers governing the smart contracts via the NuCypher DAO (e.g. submit proposals to the DAO and validate changes that affect the network). A successful privacy layer for public blockchains should be built, controlled, and governed by users.

Registration for the WorkLock is open now.


Legal Disclaimer

This post is being distributed by Amalgamated Token Services Inc., dba "CoinList," or one of its subsidiaries. Use of the CoinList website is subject to certain disclosures, restrictions and risks available here.

Nothing in this post shall constitute or be construed as an offering of securities or as investment advice, tax advice or investment recommendations (i.e., recommendations as to whether to enter or not to enter into any transaction involving any specific interest or interests) by CoinList or any of its affiliates.