Announcing the Immutable X (IMX) Token Sale on CoinList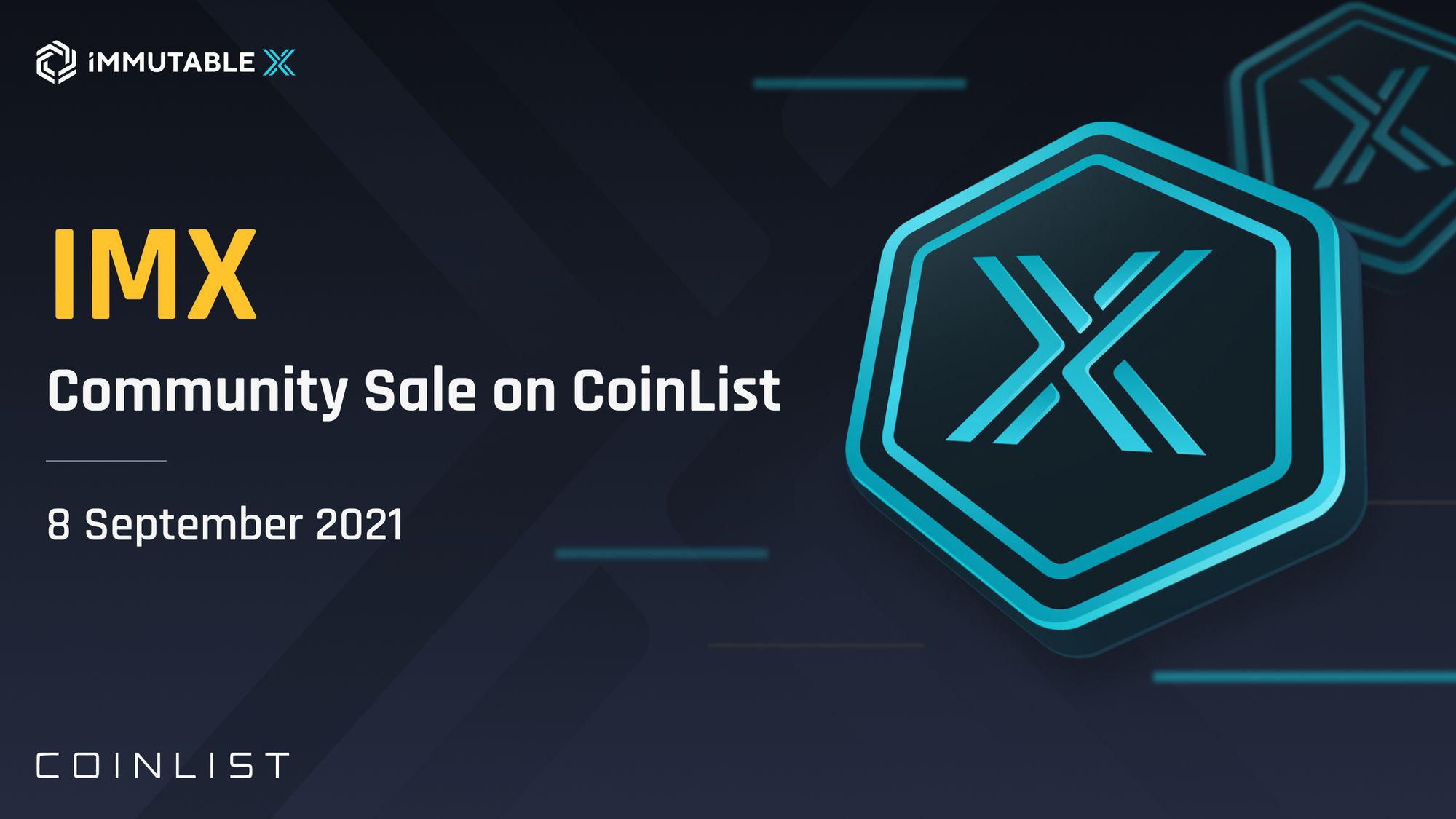 We're excited to announce that registrations for the Immutable X (IMX) token sale are now open.
Immutable X is the first Layer-2 for NFTs on Ethereum. NFTs are only as valuable as the security and popularity of the blockchain they are built on, and Immutable X is built to leverage Ethereum's security and network effects so more people can access world-class NFTs.
The sale has two public options:
Option 1
When: September 8, 17:00 UTC
Supply: Up to 400,000 tokens
Price: $10 per token
Lockup: 6 month linear release starting on or around Oct. 19, 2021
Option 2
When: September 8, 23:00 UTC
Supply: Up to 600,000 tokens
Price: $15 per token
Lockup: 3 month linear release starting on or around Oct. 19, 2021
---
The First Layer-2 for NFTs on Ethereum
Immutable X is the first Layer-2 scaling solution for NFTs on Ethereum, with instant trade confirmation, high transaction throughput (9,000+ TPS) and zero gas fees - without compromising user custody. On Immutable X, developers can build their own next-generation NFT marketplaces and experiences, with the leading underlying scaling technology from StarkWare, simple developer APIs and SDKs, a NFT-native wallet experience, and liquidity primitives to enhance NFT trading.
A few reasons we're excited about Immutable X:
Fast & Secure — The Immutable X protocol can achieve high transaction throughputs (9,000+ TPS) - speeds unparalleled on Ethereum. The protocol is non-custodial, meaning you'll have full control of your assets, secured by the Ethereum blockchain.
Zero Gas Fees — Fluctuating and high gas prices have limited creators and buyers from developing and accessing the world's best NFTs. Immutable X is developed on top of StarkWare's bleeding edge zk-rollup technology to allow you to instantly mint and trade NFTs with zero gas fees.
Build Instantly — Immutable X makes Ethereum easy to use at a mainstream scale so that you don't have to choose between user experience and the leading underlying technology. Immutable X's APIs lower the barrier to entry for developers getting started on their blockchain journey so they can build projects on Ethereum instantly.
---
Not available for residents and citizens of the United States, Canada, Australia, China, Hong Kong, and certain jurisdictions.
This post is being distributed by Amalgamated Token Services Inc., dba "CoinList," or one of its subsidiaries. Use of the CoinList website is subject to certain disclosures, restrictions and risks available here.
Nothing in this post shall constitute or be construed as an offering of securities or as investment advice, tax advice or investment recommendations (i.e., recommendations as to whether to enter or not to enter into any transaction involving any specific interest or interests) by CoinList or any of its affiliates.