Announcing the HUMAN Token Sale on CoinList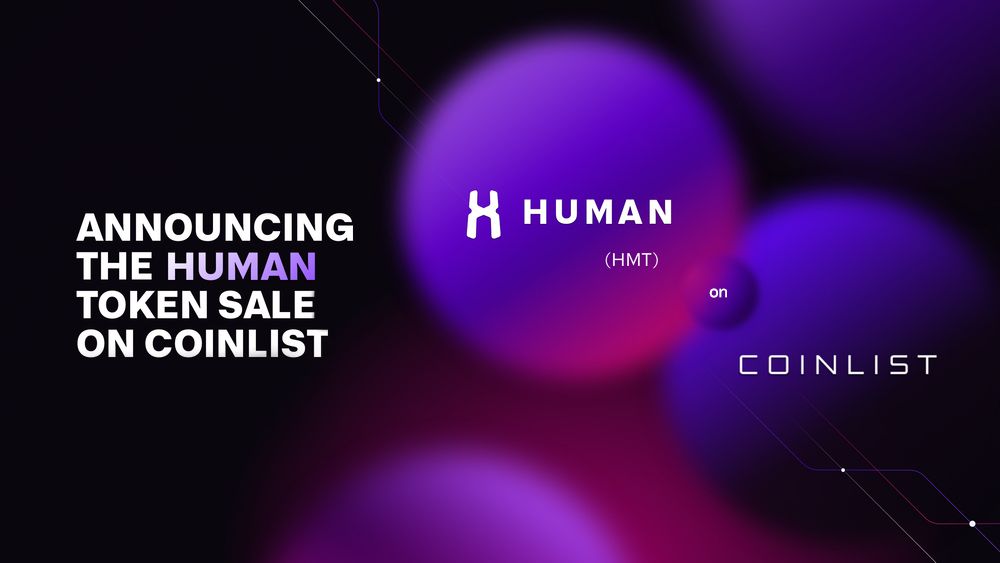 We're proud to announce registrations for the HUMAN Token Sale on CoinList are now open. The HUMAN Protocol enables automated job markets where human workers work on interesting jobs and repetitive tasks are handled by machines. Network participants use HMT to pay for labor via smart bounties and reward validators who provide services to the network. The registration deadline for the sale is Monday, June 15, 2021 14:00 UTC.
The sale has two public options with different terms:
Option 1:
Price: $0.50 per token
Max: $2,000
Lockup: 1 year lockup followed by 1 year linear release
Supply: 100M
Option 2:
Price: $0.75 per token
Max: $1,000
Lockup: Tokens unlock on or around August 10, 2021
Supply: 20M
Please note: Option 1 and Option 2 have separate token pools. Eligible users may participate in both sales.
Unlocking the World's Workforce
HUMAN Protocol is a new way for people and machines to work together. It provides a way for machines to ask questions they cannot answer without human help. For example, when an AI learns how to suggest shoes, it first needs to know which shoes people think are similar. HUMAN lets you ask a question, provide the data, and pay people who help.
HUMAN enables automated job markets where human workers work on interesting jobs and repetitive tasks are handled by machines. Through HUMAN, companies gain new options to create the datasets that power artificial intelligence.
A few reasons that we're excited about HUMAN:
Proven application: HUMAN-powered apps are already used by hundreds of millions of people each month. Uses include labeling data, protecting against bots, and more. HUMAN is network-agnostic and supports options like Ethereum, Polkadot, Solana, letting users choose platforms based on their needs.
Empowers workforces: HUMAN Protocol tokenizes and makes fungible tasks of any size and requirement to help both companies and individual workers — independent of any entity — maximize their time and resources.
Supports global job markets: Supports the creation of decentralized job markets in which entities on both sides can trade in a safe, trustless way, without the need for intermediaries; on HUMAN Protocol, software enforces the rules.
---
Legal Disclaimer
Not available for residents and citizens of the United States, Canada, China, Democratic People's Republic of Korea, Cuba, Syria, Iran, Republic of Crimea, and CoinList's unsupported jurisdictions.
This post is being distributed by Amalgamated Token Services Inc., dba "CoinList," or one of its subsidiaries. Use of the CoinList website is subject to certain disclosures, restrictions and risks available here.
Nothing in this post shall constitute or be construed as an offering of securities or as investment advice, tax advice or investment recommendations (i.e., recommendations as to whether to enter or not to enter into any transaction involving any specific interest or interests) by CoinList or any of its affiliates.