Announcing the Covalent Token Sale on CoinList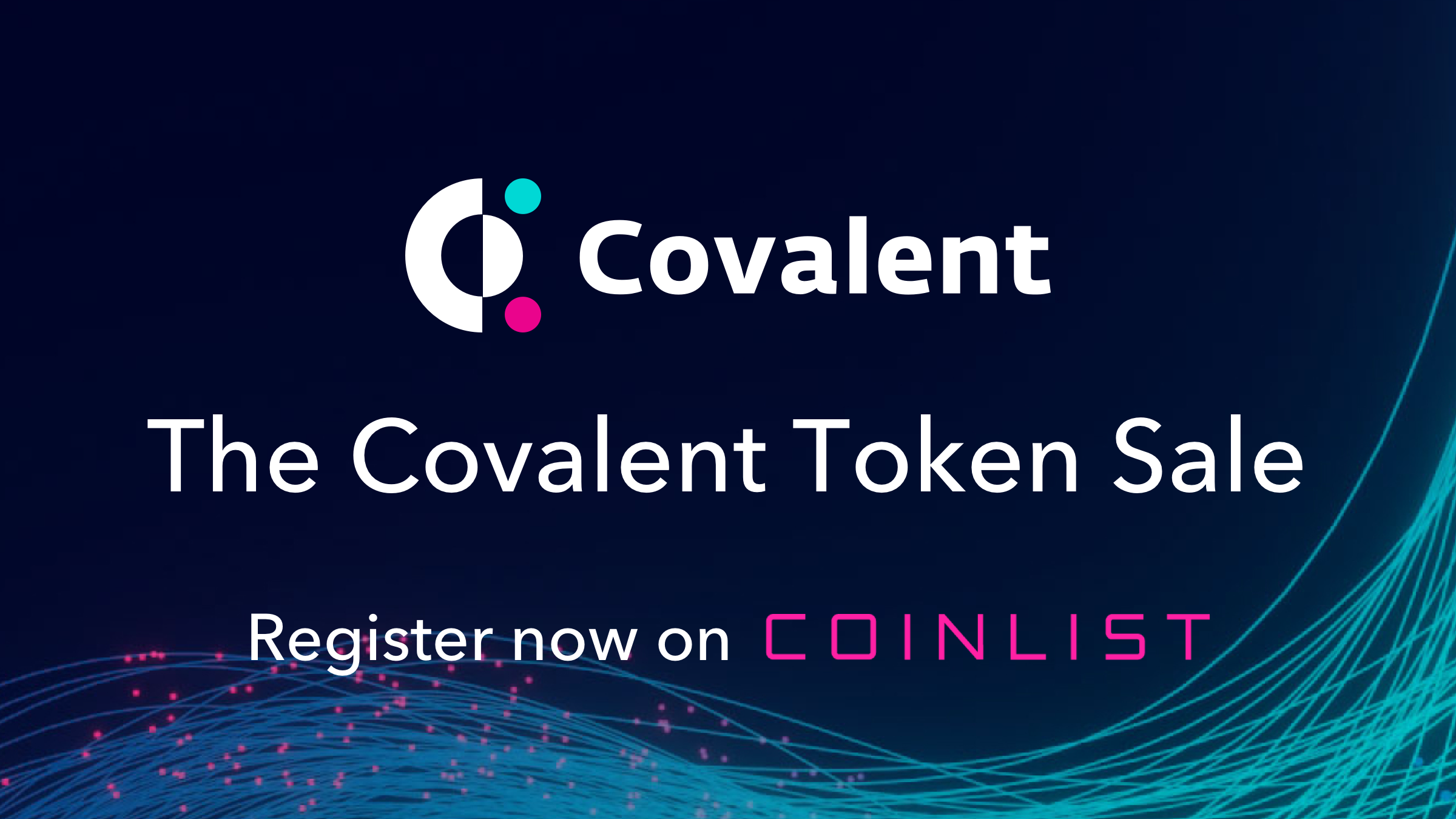 We're proud to announce that starting on April 29, eligible CoinList users will be able to participate in the Covalent (CQT) token sale on CoinList.
Covalent is unique in that it provides a unified API that brings visibility to billions of blockchain data points and provides transparency to assets across all blockchain networks.
The sale will take place on April 29th at 00:00 UTC, and will have three price tiers with different terms available to all eligible* participants:
Tier 1: $0.35 per token, no lockup, $1,000 maximum
Tier 2: $0.3 per token, 12 month linear release, $2,000 maximum
Tier 3: $0.25 per token, 24 month linear release, $3,000 maximum

A unified API bringing visibility to billions of blockchain data points
Covalent leverages big-data technology to create meaning from hundreds of billions of data points, delivering actionable insights to investors and allowing developers to allocate resources to higher-utility goals within their organization.
Instead of pain-stakingly sourcing data from a small handful of chains, Covalent aggregates information from across dozens of sources including nodes, chains and data feeds. The Covalent API then sources end users with individualized data by wallet, including current and historical investment performance across all types of digital assets. Most importantly, Covalent returns this data in a rapid and consistent manner, incorporating all relevant data within one API interface.
Covalent Query Token (CQT),the native token of the Covalent Network. CQT is 1) a governance token, whereby token holders vote on proposals to change the system parameters such as new data sources, specific geolocations and data modelling requirements, and 2) is a staking asset that rewards validators for answering queries.
A few reasons why we're excited about Covalent:
A one stop shop for the most granular blockchain data — Covalent has indexed and decoded entire blockchains, including every single smart contract, user balance and position, and more, allowing easy access via a unified API.
Multiple blockchains available with a no-code solution — Covalent believes in a multi-chain future, and provides not only the richest data for the Ethereum blockchain, but also for Binance Smart Chain, Avalanche, Fantom, and Polygon (formerly Matic). Covalent is committed to indexing all relevant blockchains, and new blockchain support is added on a regular basis. The Covalent API is the easiest way for a developer to access on-chain data from different chains - simply change the chainId in the API endpoint.
Over 100 projects building with the Covalent API — There are over 100 projects building with the Covalent API, including leading projects in the crypto space such as Consensys, Zerion, 0x, NFTX, and more. Covalent is the multi-chain data provider of choice for developers that are looking for a hassle-free, no-code solution to power the UI of their dApps. Covalent offers a full suite of indexing-querying solutions that can address any sophisticated need.
---
Legal Disclaimer
*Not available for United States, China, and Canada residents and certain jurisdictions.
This post is being distributed by Amalgamated Token Services Inc., dba "CoinList," or one of its subsidiaries. Use of the CoinList website is subject to certain disclosures, restrictions and risks available here.
Nothing in this post shall constitute or be construed as an offering of securities or as investment advice, tax advice or investment recommendations (i.e., recommendations as to whether to enter or not to enter into any transaction involving any specific interest or interests) by CoinList or any of its affiliates.