Announcing the Centrifuge Token Sale on CoinList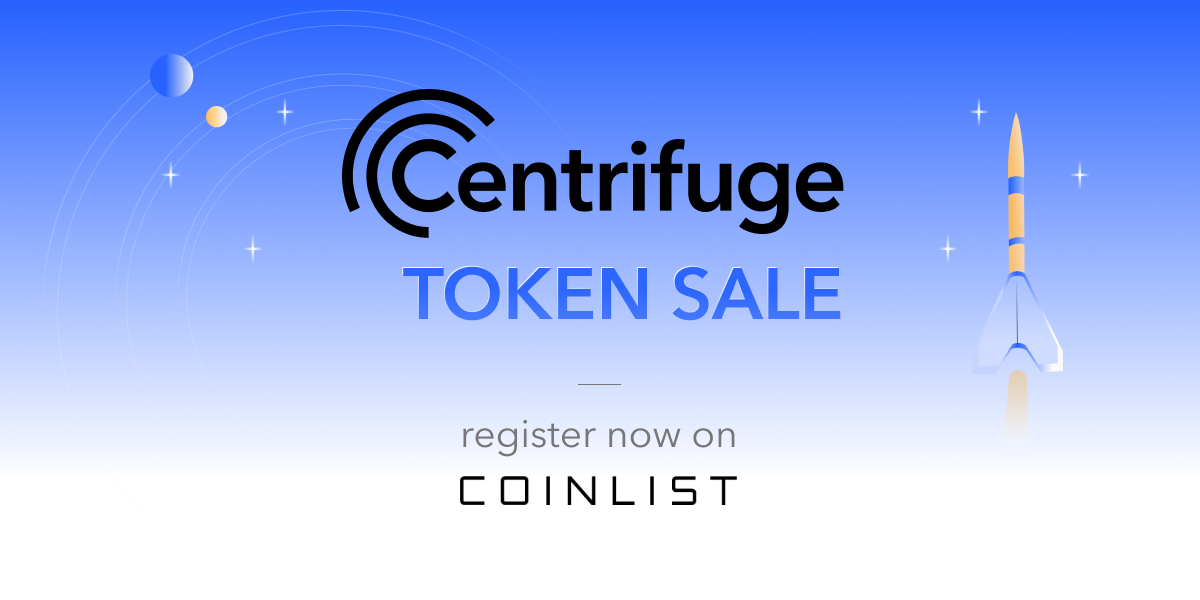 We're proud to announce that registrations for the Centrifuge sale on CoinList are now open.
The sale has two options with different terms:
Option 1 will run from May 26 2021, 17:00 UTC to May 31 2021, 14:00 UTC
Option 2 will run from May 26 2021, 23:00 UTC to May 31 2021, 14:00 UTC

The registration deadline for the Centrifuge sale is May 21 2021, 23:59 UTC.
Additionally, Centrifuge is offering Tinlake users access to a whitelisted, invite-only option at $0.38 per token with a 2 year unlock schedule. Invitations to that option will be emailed directly to eligible participants.
Financing Real World Assets in DeFi
Centrifuge is one of the first protocols to connect DeFi to the real-world as it brings the untapped, multi-trillion market of real-world assets (RWA) on-chain. Businesses are using Centrifuge today to access the liquidity that DeFi offers.
A few reasons that we're excited about Centrifuge:
1. TVL Doubling Every Month
Centrifuge has entered a new category of Total Value Locked (TVL) growth: real-world asset (RWA) TVL. The protocol tokenizes real-world assets by converting them into NFTs on the Centrifuge Chain.
2. Breaking Ground in Polkadot
Centrifuge chain is built on Polkadot for speed and low fees, while its financing Dapp, Tinlake, is built to access the massive liquidity on Ethereum. The native token CFG has its own bridge to Ethereum.
3. Integrated with DeFi Industry Leaders
Directly integrating into other DeFi protocols such as MakerDAO and Aave allows Centrifuge users to get instant liquidity and makes DeFi protocols more secure against destabilizing events by adding uncorrelated collateral.
---
Legal Disclaimer
Not available for residents and citizens of the United States, China, Canada, Switzerland, South Korea, British Virgin Islands, and certain jurisdictions.
This post is being distributed by Amalgamated Token Services Inc., dba "CoinList," or one of its subsidiaries. Use of the CoinList website is subject to certain disclosures, restrictions and risks available here.
Nothing in this post shall constitute or be construed as an offering of securities or as investment advice, tax advice or investment recommendations (i.e., recommendations as to whether to enter or not to enter into any transaction involving any specific interest or interests) by CoinList or any of its affiliates.