Announcing CoinList's First Liquid Token Sale and Distribution: $RLY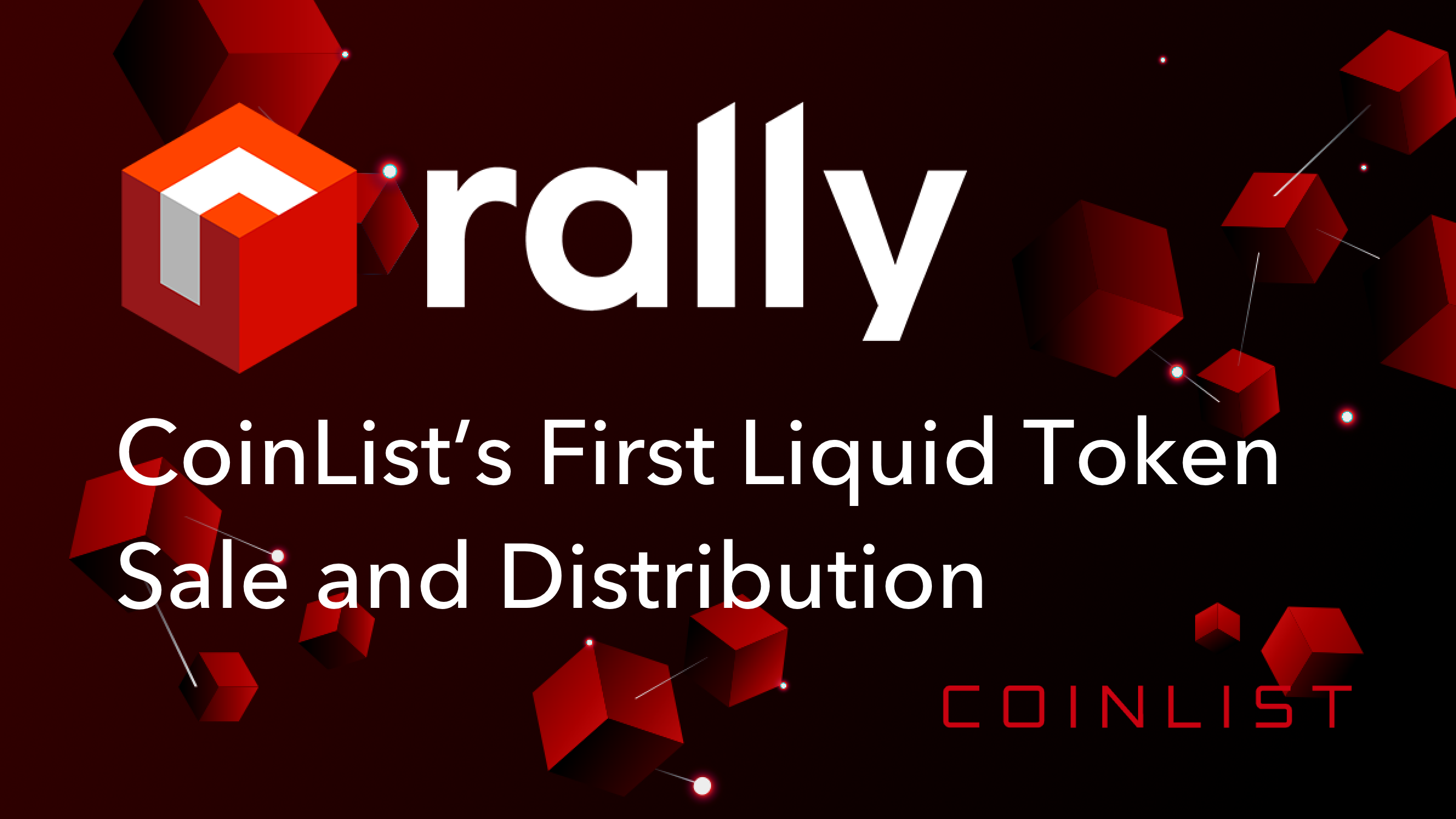 We are proud to announce that starting on April 1, 2021, eligible CoinList users will be able to participate in the $RLY sale and distribution on CoinList.
CoinList was born from the idea of democratizing access to tokens that were once only available to institutional investors. Teams and communities with liquid tokens often sell large quantities of tokens from their company-held allocations to fund grants, pay salaries, and more. However, these sales have gated access and are usually done over the counter, available only to large institutions. In addition, the proceeds from these sales often flow to a central organization, rather than the protocol's community.
CoinList is partnering with the Rally community directly to offer the first liquid token sale and distribution on CoinList. The Rally community proposed, voted, and approved the terms of this $RLY token sale and distribution and CoinList's facilitation. Proceeds will flow directly to the Rally community treasury, which the Rally community governs and spends on behalf of the Rally Network.
We are excited to help democratize access to liquid token sales and further $RLY token distribution on behalf of the Rally community.
The Open Platform for Creators to Launch Independent Economies with Their Communities
Rally is an Ethereum-based open platform that allows influencers, artists, musicians, brands and content creators to launch social tokens, also known as Creator Coins. Fans can purchase their favorite creators' social tokens to access special benefits (ex. exclusive content, chat rooms and event access) determined by creators. With Rally, creators can grow their audience, reward fans, and build their own digital economies powered by blockchain technology and their own self-branded crypto token, and share an economy directly with their fans. Rally is governed by its native token, $RLY.
A few reasons why we're excited about Rally:
No-Code Token Platform for Easy Adoption - What Wordpress did to make HTML usable for website creators, Rally does to make crypto usable for all creators and fans. Rally aims to bring the next 100 million users to crypto.
Native Token Design with Built-In Network Effects - $RLY is the governance token for the network on top of which creators can mint unique Creator Coins. The growth of $RLY and Creator Coins create network effects and build on each other.
Live Community With 10,000+ Users and 80+ Creators - The $RLY token is a live ERC-20 token currently traded on the Ethereum blockchain, and the Rally Network has an existing, engaged community that actively participates in governance.
---
Legal Disclaimer
Not available for United States, China, and Canada residents and certain jurisdictions.
This post is being distributed by Amalgamated Token Services Inc., dba "CoinList," or one of its subsidiaries. Use of the CoinList website is subject to certain disclosures, restrictions and risks available here.
Nothing in this post shall constitute or be construed as an offering of securities or as investment advice, tax advice or investment recommendations (i.e., recommendations as to whether to enter or not to enter into any transaction involving any specific interest or interests) by CoinList or any of its affiliates.