Announcing Casper's Community Members Token Sale on CoinList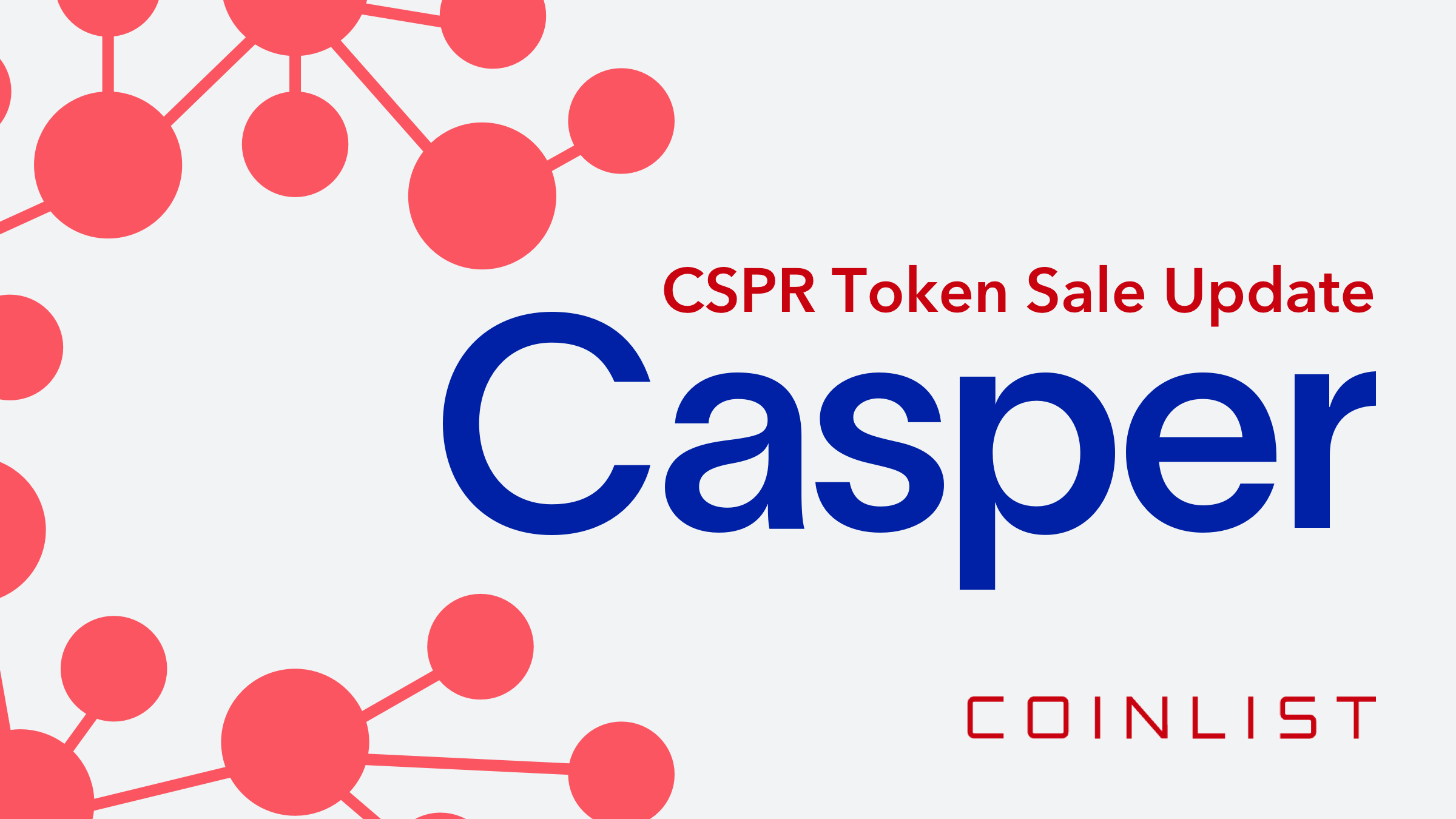 Last week, the Casper Association completed three phases of the Casper Token Sale on CoinList. Options 1, 2, and 3 of the Casper Token Sale had over 20,000 unique participants and sold 16% of the total CSPR supply to the community.
While the results of the sale have been incredible, we recognize that demand vastly exceeded supply, which presented onboarding challenges and caused many people to miss out. We apologize if you were unable to secure any tokens.  
In the spirit of that, and the Casper Association's continued march towards decentralization, the Casper Association has decided to launch the Community Members Sale (Option 4) on April 7, that will allow an additional 15,000 community members to purchase CSPR.
Sale terms:
Starting Sale Date: April 7, 00:00 UTC
Number of Tokens: 100M CSPR
Price per Token: $0.015
% of Genesis Block Supply: 1%
Lockup: 12-month lockup
Release: 6-month post-lockup release
Purchase Limit: $100
Eligibility:
Option 4 will be available only to individuals/entities that 1) registered for the Casper sale prior to the sale launch on March 23; 2) have been KYC verified; and 3) were unable to successfully participate in Options 1, 2, or 3.
Sale Mechanics:
Option 4 will be a whitelist-only "first come, first served" sale. No more than 15,000 additional community members will be able to participate in the sale. Priority will be determined based on the time at which users registered for the Casper sale.
The first 15,000 users that registered Options 1, 2, or 3 of the Casper sale and successfully passed KYC requirements will be able to participate, beginning on April 7. After that, additional slots will open up each day until all tokens are sold. Users who are eligible will receive an email with the sale flow link and an invitation to participate.
Thank you again for your continued support during these unprecedented times.
---
Legal Disclaimer
Not available for United States, China, and Canada residents and certain jurisdictions.
This post is being distributed by Amalgamated Token Services Inc., dba "CoinList," or one of its subsidiaries. Use of the CoinList website is subject to certain disclosures, restrictions and risks available here.
Nothing in this post shall constitute or be construed as an offering of securities or as investment advice, tax advice or investment recommendations (i.e., recommendations as to whether to enter or not to enter into any transaction involving any specific interest or interests) by CoinList or any of its affiliates.