A Deep Dive into Braintrust: The First Decentralized Talent Network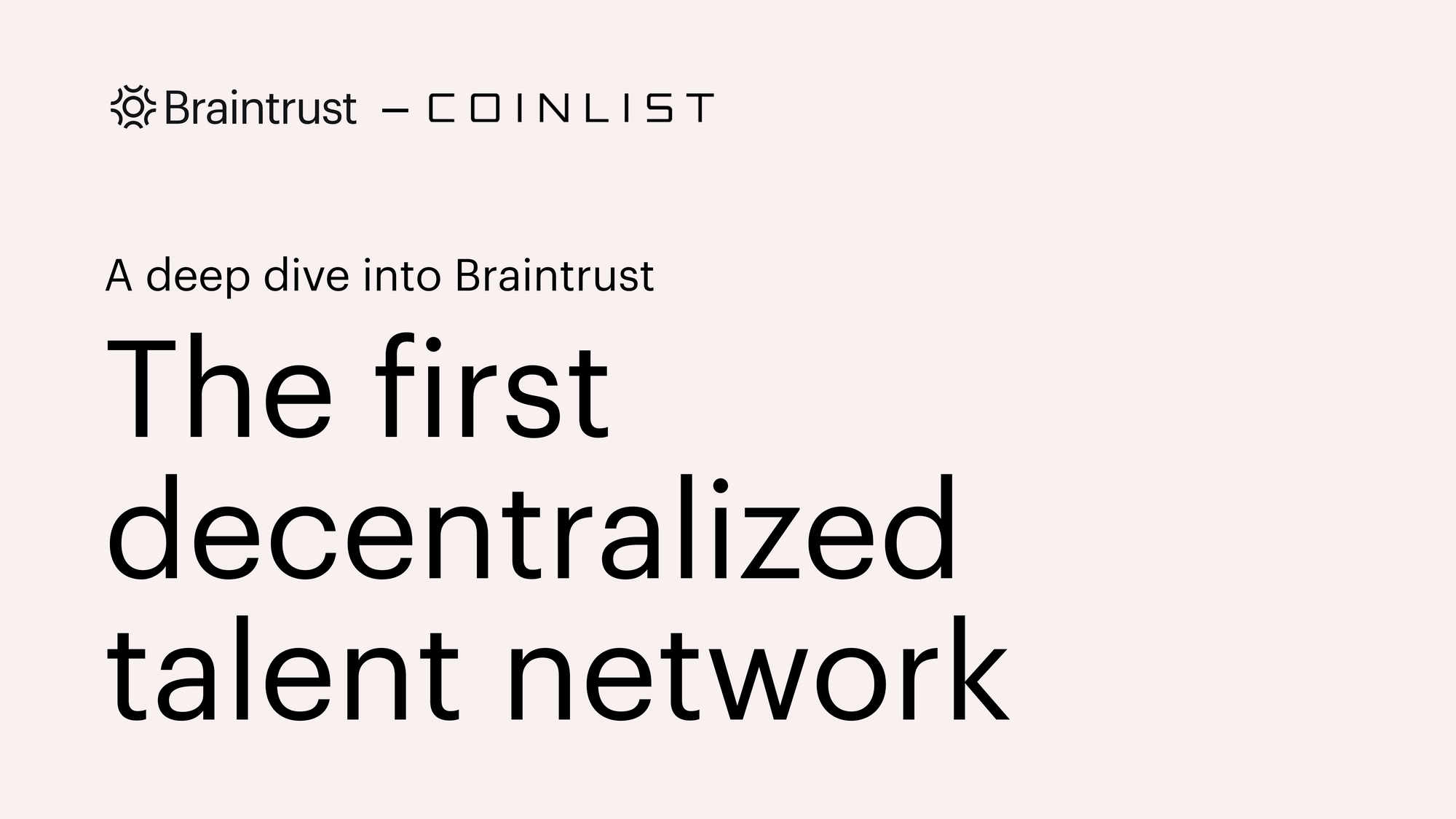 Last week, we announced the Braintrust Token Sale on CoinList, starting September 9, 2021 at 17:00 UTC. Braintrust is the first decentralized talent network that connects highly skilled tech freelancers with the world's most reputable brands, aligning the interests of both talent and enterprises. This week, we sat down with the Braintrust team to discuss what they are building, its use cases, recent traction, and their thoughts on Web 3.0 more broadly.
1. To begin, what is Braintrust and what problem does it solve?
Braintrust is the first decentralized talent network that connects highly skilled technical freelancers with the world's most reputable brands like Nestle, Porsche, Atlassian, Goldman Sachs and Nike. Braintrust's unique business model allows talent to retain 100% of their earnings and enables organizations to spin up flexible, skilled teams on-demand at a fraction of the cost of traditional staffing firms. This new business model that limits fee extraction and enables community ownership is uniquely enabled by a blockchain token.
Since coming out of stealth in June 2020, Braintrust has grown gross services volume (GSV) from $3.5 million in 2020 to a $31 million GSV run rate in 2021, growing over 34% on average each month. Braintrust's community has scaled its use, adoption and talent earnings, with 215% growth in the talent community and individual hourly rates for talent on the network averaging nearly $100 per hour--all without any fee extraction.
2. Are there certain industries that your marketplace focuses on?
Braintrust's talent community primarily focuses on large, complex technology and design projects spanning software, machine learning, data analytics, and related functions. Examples might include creating a health insurance shopping platform for a major insurance carrier, or the staffing of five full-stack engineers for a transportation company.
Braintrust attracts top tech talent from companies like Apple, Facebook, Google, Amazon, and more—and it's currently focused on four core categories involved in agile software development and IT:
Designers (Graphical + UI/UX)
Engineers / Architects
Product and Project Managers
Quality Assurance
Currently, approximately 50% of the talent on Braintrust is based in the U.S., with the other 50% based in 100+ different countries around the globe.
3. There are many marketplaces out there for global talent. Why use blockchain? Why is decentralization important?
What makes Braintrust unique is its model: the marketplace is decentralized and user-controlled. Other platforms like Toptal, Upwork, Gigster, etc., take 20-40% of what the talent makes on the platform and ownership is highly concentrated among a few people and investors. Braintrust takes 0% of what the talent makes, and it's controlled by its token governance community. This approach enables Braintrust to attract and retain higher-quality talent. Blockchain technology is what enables Braintrust to cut out the middlemen and keep incentives aligned. This dramatically reduces costs for clients and increases the earnings of talent by eliminating hefty fee extraction, and therefore attracts the best people in the world who keep 100% of what they earn on the Braintrust platform.
Braintrust's blockchain-powered model aligns the incentives of the network itself with the people building it. This is made possible by awarding control and user ownership through BTRST tokens based on contributions to the network. The token powers the entire decentralized network's governance, incentivizing the community to build the network through referring clients and inviting and vetting new talent. It has a fixed supply of 250 million tokens, meaning the total number of tokens in circulation can never surpass that amount. This blockchain approach is in stark contrast to Web 2.0 models, where a centralized platform would extract disproportionate value in the form of high fees paid by its knowledge workers.
Not only does this put more control in the hands of the community, it has the potential to help grow the network rapidly.
4. What has been your acquisition strategy for top talent and how do you incentivize them to refer other qualified candidates?
Braintrust's user-ownership structure has enabled a strong talent acquisition model built on BTRST, driving down talent acquisition costs to nearly zero while scaling demand rapidly. Today, almost 50% of Braintrust's new client acquisition and talent acquisition is driven by referral programs based on BTRST tokens. These referral programs are called Connectors. Anyone can sign up, get a unique code and start adding their network to Braintrust. When those connector-introduced users start transacting, the Braintrust network pays out rewards programmatically to the connectors as a percentage of the transactions — or Gross Services Value (GSV) — they produce. Connectors earn tokens for each successfully paid invoice, giving them more network ownership for helping drive talent and value to the network.
The combination of platform growth and community growth illustrates how Braintrust's unique tokenization model aligns the incentives of freelancers with the marketplace itself.
5. What are some of the brands hiring on Braintrust? What have you learned from those early adopters?
Braintrust's highly skilled, vetted talent attracts enterprises and organizations across the business spectrum. Since June of 2020, Braintrust's client community including Pacific Life, Nestle, and Stanley Black & Decker has more than tripled in size, while the average project size has grown to $57,000, with some as large as $300,000. In addition to project size, jobs on the platform have more than tripled in 2021.


6. Traditional marketplaces tax their users with fees. How does Braintrust make money?
Braintrust charges a flat 10% success fee to the client (employer). Braintrust is a "public good" not-for-profit, and the project's goal is to fulfill its mission of creating a decentralized talent marketplace, and make the network more useful for everyone that controls it and runs their business on it.
7. What are the primary use cases for your native token, BTRST?
The BTRST token has a number of uses, including:
Governance: BTRST token holders can discuss ideas for improvements, propose changes, and vote on governance proposals. Because each token represents one vote, users who hold more tokens have greater say on how the network develops.
Bid Staking: In a competitive market, talent may stake tokens to stand out, offering their tokens as collateral, which they would lose if they fail to deliver on the contract (based on community-based adjudication). Clients can also stake tokens, which go to qualified applicants if the clients don't go forward with the job — encouraging talent to apply knowing they will be compensated for the time they spend crafting a proposal. Token bid staking helps "un-stick," or reduce friction, in the marketplace, keeping it more transparent by addressing mismatches of supply and demand.
Career Benefits: The tokens are also expected to be redeemable for special perks offered by other community participants exclusive to the Braintrust community, including free and discounted software, products, and career resources. Users can also earn tokens by taking courses on Braintrust Academy, a community-run organization, which teaches talent valuable skills to help them earn more on the network.
Note: BTRST tokens do NOT represent equity, debt, a claim on profits, or dividends and do not constitute any financial instrument of any business or organization.
8. What crypto trends are you most excited about in the next six months?
There have been a number of major technological shifts in the last 20 years that have reset the technological landscape, whether that be the rise of mobile computing or of cloud computing. New tech giants have risen out of these macro shifts in how we use technology in our daily lives, and have basically cornered the market on innovation.
Web 3.0 is another one of these major tectonic shifts, and we're beginning to see it move beyond the experimental phase and to very real, very tangible use cases. Because of the decentralized nature of this particular new model, these new use cases are growing adoption and usefulness at a clip that's never been seen before. That's because Web 3.0 isn't about amassing swollen organizations with tens of thousands of employees; instead, it's all being driven by large numbers of people engaging and taking part as contributors and beneficiaries.
In that way, it's really two trends converging to create something incredibly powerful. The first is the continued maturity of Web 3.0 tech and its open nature that gives anyone the opportunity to build cool, useful things. The second is that enough people are understanding that the old way — centralized institutions that call the shots and make the rules — is not beneficial to them as users.
Together, this ownership economy and the rise of Web 3.0 are going to spark some incredibly cool projects that bring more and more people into crypto, not just as curious onlookers or speculators, but as users of protocols and tools that are enhancing their lives.
9. What is the best way for the community to get involved with Braintrust?
Stay connected to us on Discord, Twitter and Telegram to hear the latest — and start earning tokens as a community member by helping build the Braintrust network.
---
Legal notice
Not available for residents and citizens of the United States, Canada, China, and certain other jurisdictions.
This post is being distributed by Amalgamated Token Services Inc., dba "CoinList," or one of its subsidiaries. Use of the CoinList website is subject to certain disclosures, restrictions and risks available here.
Nothing in this post shall constitute or be construed as an offering of securities or as investment advice, tax advice or investment recommendations (i.e., recommendations as to whether to enter or not to enter into any transaction involving any specific interest or interests) by CoinList or any of its affiliates.