Stake NuCypher (NU) on CoinList and earn up to 32% APY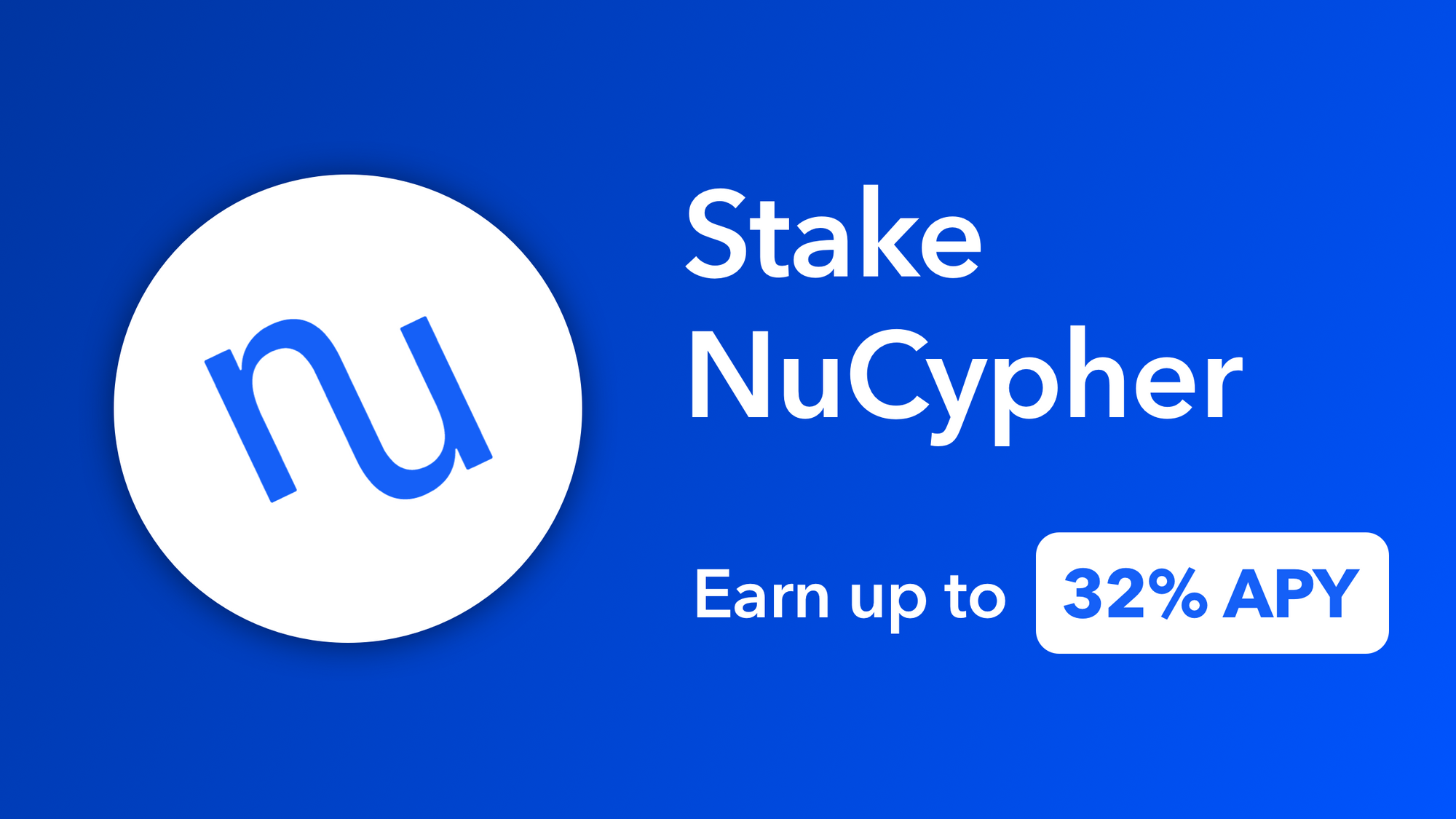 Our users are always asking for more ways to participate in network rewards with their holdings at CoinList, and we have been listening.
Last October, CoinList users locked more than $54 million in the NuCypher WorkLock on CoinList. In December, we launched NU trading on CoinList.co, CoinList Pro, and CoinList mobile apps. Today, we are proud to announce that you can now earn up to an estimated 32% per year in NuCypher staking rewards directly through CoinList.
---
FAQ
1. What is NuCypher (NU) staking?
NU is the native utility token for the NuCypher blockchain network. Each "staker" partners with a "worker" to contribute to the NuCypher network. Workers carry out threshold cryptography operations and act as active network participants. Stakers provide the NU collateral to ensure the staker and the worker have skin in the game and are honest. CoinList will facilitate staking for users, and Bison Trails will be acting as the delegated worker for NU staking on CoinList. CoinList users that stake their NU receive rewards for their contributions.
2. How do I earn staking rewards on CoinList?
To earn NuCypher staking rewards, you must first deposit (or purchase) NU into your CoinList Wallet. Subsequently you must lock NU tokens for staking. Locking can be done at any time and you will begin to earn rewards at the start of the next staking  period. Staking periods last 35 days each. Unless you choose to unlock your NU, your initial NU deposit and NU rewards will be automatically re-staked for the next rewards period.
3. How much are NU staking rewards?
The NuCypher Network currently has an estimated 32% annual rate of return (2.65% monthly) for users that are locking their NU. Please note that this estimated APY is not guaranteed, is subject to change, and does not take into account the 15% CoinList commission.
4. When will I receive my NuCypher staking rewards?
Every 35 days, CoinList will distribute rewards to users pro-rata of their average staked balance over that time period. We will notify you via email once your staking rewards have been distributed.
5. Will my staking rewards be automatically re-staked? Are NU rewards compounding?
Yes, your NU staking rewards are automatically re-staked and will earn  additional rewards until you unlock or trade them. NU rewards compound daily, but are only distributed once per month. You are only able to trade or withdraw unlocked NU.
6. Do I have to buy my NU on CoinList to earn staking rewards?
No. You may deposit NU into your CoinList Wallet and lock your NU to begin earning staking rewards.
7. When will I be able to withdraw my NU staking rewards?
You can only withdraw or trade unlocked NU. Any NU that is currently being staked cannot be withdrawn or traded. You must initiate an unlock prior to the end of the staking rewards period. At the end of the reward period, unlocked NU will then be distributed to your NU wallet where you can trade or withdraw.
8. Who is eligible to earn NU staking rewards on CoinList?
Anyone who is able to open up a wallet on CoinList and deposits NU into their account is eligible for NuCypher staking rewards on CoinList. CoinList Wallets are not available in all jurisdictions, please visit this page to see our list of approved jurisdictions.
9. What are NU staking rewards paid out in?
NU staking rewards on CoinList are paid out in NU. You will not earn any additional fees in ETH or any other currency.
On CoinList, it's never been easier to put your crypto to work. Stake your NU tokens today and earn up to 32% a year in rewards.
---
Legal Notice
This blog post is being distributed by Amalgamated Token Services Inc., dba "CoinList," or one of its subsidiaries. This blog post and use of the CoinList website is subject to certain disclosures, restrictions and risks, available here.