Introducing the CoinList Referral Competition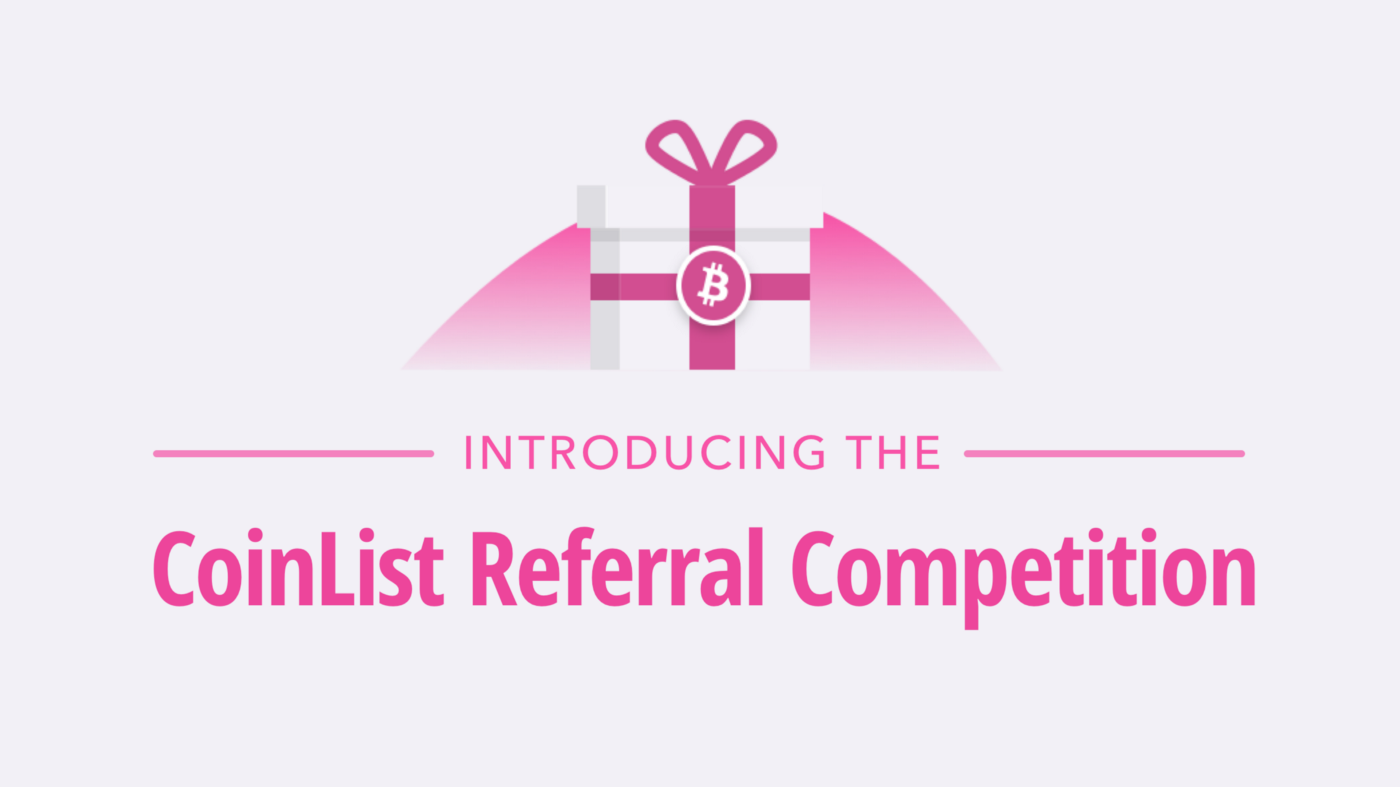 Program highlights:  
Both you and your friend get $10 in free bitcoin when your friend completes KYC and buys or sells $100 of crypto on CoinList.
For each referral, both you and your friend also get 1 ticket for a chance to win 1 free bitcoin. The more tickets you earn, the more chances you have to win.
Each user can earn multiple referral bonuses and tickets.
The winner will be selected once 10,000 referral tickets have been awarded.
The winner of the program will be announced shortly thereafter via Twitter and notified via email.
---
Rules & FAQ
Overview
If you refer a friend to CoinList Trade and your friend visits coinlist.co/trade and initiates a buy or sell order (or aggregate orders) of $100 USD or more (or 100 USD equivalent of any cryptocurrency) before the end of the referral period, you each will receive a 0.0015 BTC (~$10 USD) deposited into your CoinList wallet as a referral bonus when the trade is completed. In addition you will each receive one referral ticket. You can receive multiple referrals and tickets during the period.
At the end of the referral period, CoinList will randomly select one referral ticket from the pool of all referral tickets. An individual user may earn unlimited referral tickets during the period. The owner of the winning referral ticket will receive 1 BTC, which will be automatically deposited into his or her account.
Eligibility
In order to be eligible for the referral bonus, both users must be in one of CoinList Market's approved jurisdictions. Please see coinlist.co/legal for more details on approved jurisdictions. Additionally:
Each user must sign up and complete KYC.
Each user must deposit and make a buy or sell order (or orders in aggregate) of $100 (or cryptocurrency equivalent) before the end of the period.
Only one entity per user is eligible.
CoinList reserves the right to not award rewards for any reason at its sole discretion.
Competition Period
The referral period will end on April 30th, 11:59:59 UTC. Any referrals made after this date will not credit either the referring user or their friend with either the referral bonus or the ticket.
Reward Distribution
For each eligible referral, users will receive 0.0015 BTC, which shall be deposited into such user's CoinList wallet subject to eligibility, on a periodic basis through the competition period.
The owner of the winning ticket in the competition which shall take place on or after April 30th at 11:59:59 UTC will receive 1 BTC, subject to eligibility, which shall be deposited into such user's CoinList wallet.
The winner of the competition will be announced shortly following the end referral via email. The winner of the competition agrees to have their name used in additional CoinList marketing materials in association with this competition.
Additional Terms & Conditions
You agree to be bound by these Rules and the CoinList Terms and Conditions by participating in the Referral Competition. CoinList Markets does not guarantee any payment pursuant to the Rules. There are a maximum of 4,000 referral bonuses (6 BTC) and 10,000 referral tickets available during the period. CoinList Markets reserves the right to change the Rules or cancel the Referral Competition at any time in its sole and absolute discretion.
---
Join the conversation
---
Legal Notice
* Fees are subject to change at any time, for more details on fees please visit coinlist.co/legal
This post is being distributed by Amalgamated Token Services Inc., dba "CoinList." CoinList operates CoinList Markets LLC ("CLM"), a licensed money services business (NMLS #1785867) and CoinList Services LLC ("CLS"), a technology company that offers compliance and technology infrastructure solutions for token issuers. Neither CoinList, CLS nor CLM make investment recommendations, or provides legal, investment, banking, broker-dealer or tax advice or conducts investment diligence on token issuers or any tokens or token-based securities mentioned in this post, and no communication, through the CoinList website or in any other medium, should be construed as a recommendation to enter into any transaction or investment strategy in connection with any token or security offered on or off any Coinlist platform. The listing of tokens and token-based securities on the CoinList website does not suggest the future or expected value of any token or explicitly or implicitly recommend or suggest an investment strategy of any kind. These types of investments involve a high degree of risk (including risk of total loss) and potential investors should consult with their own advisors. CoinList does not receive compensation for publishing, giving publicity to, or circulating notices or communications that describe securities. Potential investors must conduct their own due diligence of any issuer, cryptocurrency, token or token-based security. Investing in cryptocurrencies, tokens and token-based securities is highly risky and may lead to total loss of investment. Use of the CoinList website is subject to certain risks, including but not limited to those listed here.
Certain services may be limited to residents of certain jurisdictions, and certain disclosures are required in certain jurisdictions, available here.
Virtual currency is not legal tender, is not backed by the government, and accounts and value balances are not subject to Federal Deposit Insurance Corporation or Securities Investor Protection Corporation protections. CoinList does not receive compensation for publishing, giving publicity to, or circulating notices or communications that describe securities.
This post contains external links to third-party content (content hosted on sites unaffiliated with CoinList). While CoinList uses reasonable efforts to obtain information from token issuers which it believes to be reliable, CoinList makes no representation that the information or opinions contained in this post, or any third-party content/sites that may be accessible directly or indirectly from this post, are accurate, reliable or complete. Linking to third-party sites in no way implies an endorsement or affiliation of any kind between CoinList and any third party. The information and opinions contained in this post are subject to change without notice, and this post is subject to the terms available here.