Immutable X Token Sale Sets Registration Record on CoinList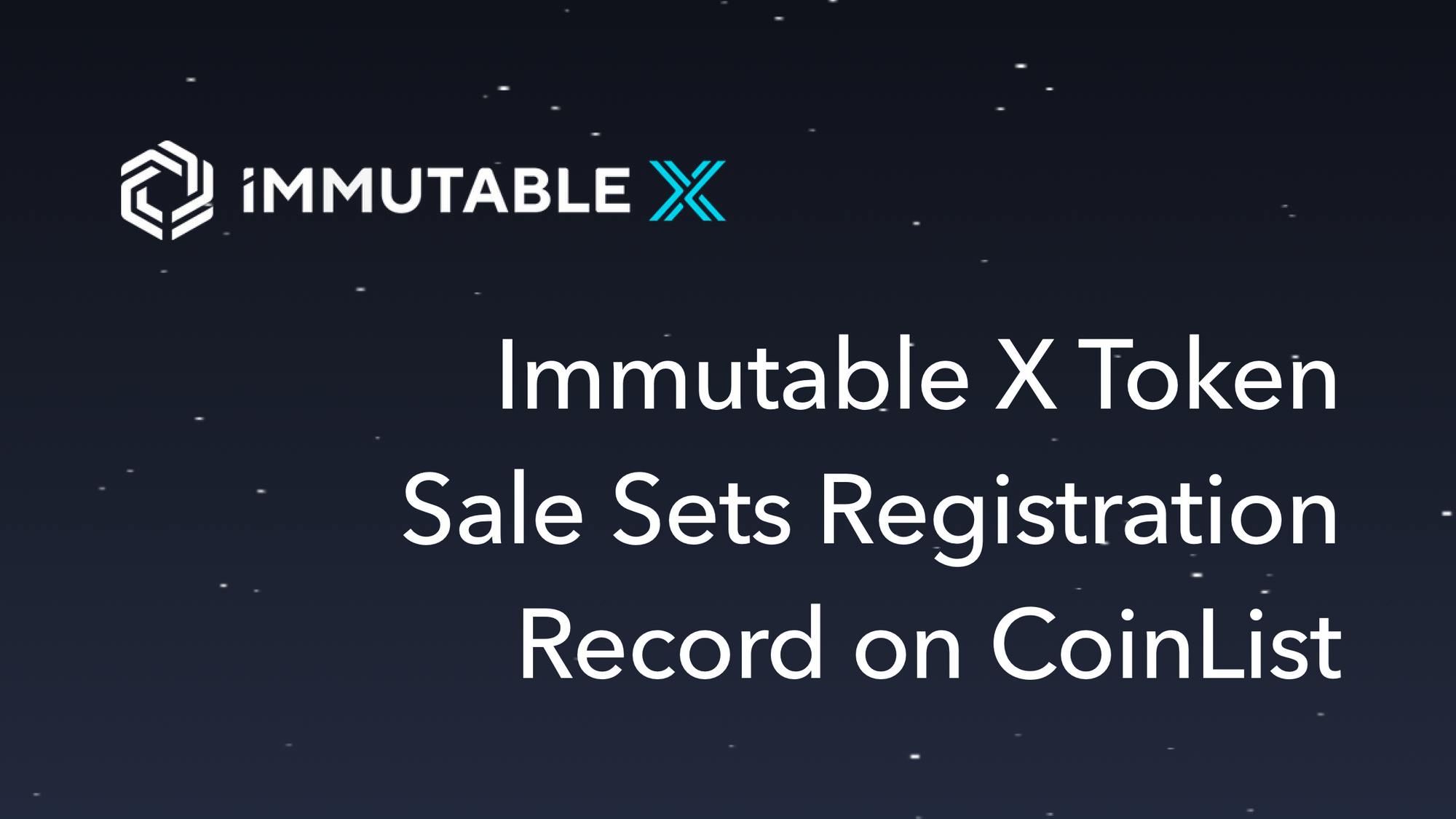 We're excited to announce that the Immutable X Token Sale on CoinList has added more than 25,000 new token holders to the Immutable X community, with more than $12.5M in IMX tokens purchased throughout the course of the sale.
The event drew record demand on CoinList, with over 720,00 unique registrants for Options 1 and 2 of the sale. The IMX community demonstrated tremendous commitment to the project, and the Immutable X team successfully engaged with the community.
Immutable X is the first Layer-2 scaling solution for NFTs on Ethereum. NFTs are only as valuable as the security and popularity of the blockchain they are built on, and Immutable X is built to leverage Ethereum's (where the vast majority of NFTs are traded) security and network effects so more people can access world-class NFTs. By tackling barriers like high gas fees, low scalability, and a slow developer experience, Immutable X provides a Layer 2 protocol that allows any developer to create next generation NFT projects on Ethereum in hours, not weeks.
The Immutable X protocol is supported by IMX, an ERC-20 utility token built for the purposes of accelerating the growth of Immutable X by rewarding pro-network activities such as trading, liquidity provision, and building applications. The token aligns incentives between traders, creators, and marketplaces so that everyone benefits from protocol activity.
We are excited and humbled by the size and commitment of support and are proud to help make IMX available to the broader crypto ecosystem.
Congratulations to the entire Immutable X community on their mainnet launch!
---
Legal notice
Not available for residents and citizens of the United States, Canada, Australia, China, Hong Kong, and certain jurisdictions.
This post is being distributed by Amalgamated Token Services Inc., dba "CoinList," or one of its subsidiaries. Use of the CoinList website is subject to certain disclosures, restrictions and risks available here.
Nothing in this post shall constitute or be construed as an offering of securities or as investment advice, tax advice or investment recommendations (i.e., recommendations as to whether to enter or not to enter into any transaction involving any specific interest or interests) by CoinList or any of its affiliates.