A Deep Dive into Guild of Guardians: Turn Your Gaming Passion Into NFTs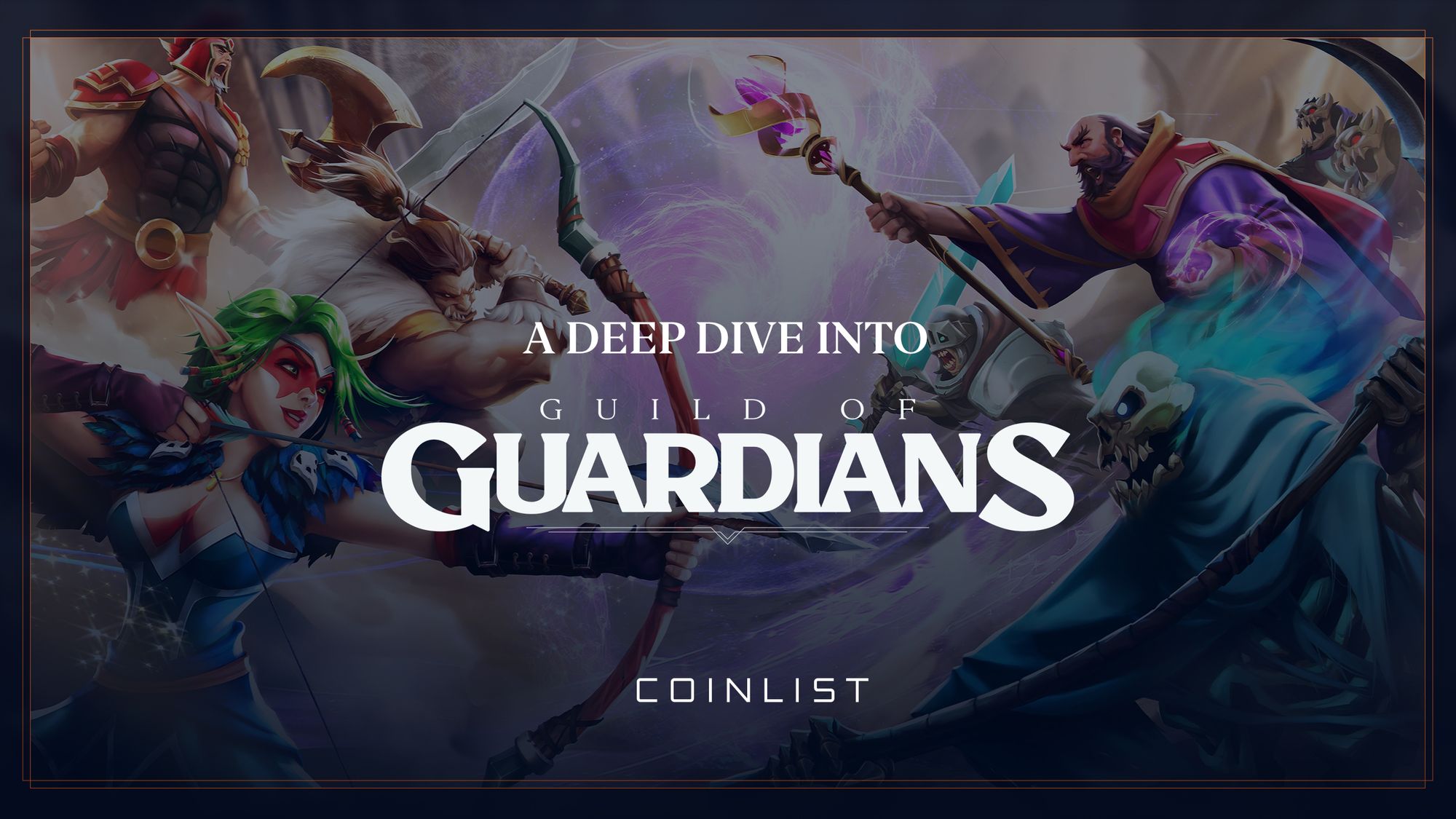 Last week, we announced the Guild of Guardians Token Sale on CoinList, starting November 10, 18:00 UTC. Guild of Guardians is a multiplayer, fantasy, action RPG where players build their dream team of Guardians and compete in a guild to earn epic rewards. We sat down with several contributors to Guild of Guardians to break down what they are building and how GOG, the game's native token, is used to enhance its core gameplay loop.
1. To begin, what is Guild of Guardians and how does it utilize the blockchain?
Guild of Guardians is a mobile RPG where players take teams of heroes through challenging dungeons to collect resources. These resources are used to create NFT items and heroes which can be sold for real money. Players will work together to create the best squad of Guardians, contribute to their Guild, and strategize to complete the most challenging content in the game.
There will be a deep and sustainable economy within Guild of Guardians where players can play for free and earn both NFTs and tokens. Just like the real world economy, you can choose how you want to specialize or play within the Guild of Guardians Economy. We utilize the gas free powers of Immutable X as the marketplace where users can go and trade and exchange assets.
2. Can you describe your target player(s)? What type of players and use cases are best suited to leverage the Guild of Guardian's economy and ecosystem?
Guild of Guardian is targeting a global gaming audience. Our vision is to build a giant economy with many different participants, meaning we will cater to all types of players including:
Traditional free-to-play mobile gamers
Play-to-earn gamers
Creators
Influencers
3rd party developers
Guilds and DAOs
And many more
Anyone will be able to play and build in the Guild of Guardians metaverse, and that is extremely important to us.
3. What are Guilds and how do they promote social cooperation in Guild of Guardians?
We are big believers that games are more fun with friends. Therefore Guilds play an important role within the game economy, as it is the only way to craft items as well the only way to access Guild-only game modes. Ownership of a Guild requires a player to own a "Guild Token" which was sold during the Founder Sale. The focus around Guilds and social cooperation is critical to the games long-term success, and we believe will make the playing experience more enjoyable over the long-term.

To be more specific, Guilds offer players access to Game Modes that are only accessible to members. These game modes will provide players with avenues to show off their best heroes, fight the strongest enemies in the game, and earn unique and rare rewards. Social cooperation is, naturally, vitally important as a result to the long term progression of a Guild and its members.
A Guild is only as strong as its weakest member…  
4. Competition in the blockchain gaming space is heating up, with projects fighting for players. Who are Guild of Guardians' competitors and what differentiates Guild of Guardians from these games?
Our vision is to completely disrupt the gaming industry and to create a mobile RPG which is play and earn. While there are many blockchain games in the space, we do not see ourselves as competitors to any of them. The opportunity for disruption and the industry opportunities is so large, such that we are fully focused on ourselves rather than being concerned about competition. Ultimately we believe that there are several things that will lead to our success:
Core gameplay is extremely compelling and fun - gamers would play without blockchain
The NFTs and blockchain component are used in a way that makes the game 10x better than without it
Game economy is long-term sustainable and resistant to attacks
We leverage unique play-and-earn, community and other distribution incentives to massively accelerate growth
5. What is the inherent value and use case for Guild of Guardians's native token, GOG?
GOG (also called Gems) is an ERC-20 token for the game used when players want to perform "premium" actions that involve creating new blockchain assets. Its use cases will be:
For minting gaming NFTs
To buy assets from a primary sale or trading on secondary market
Distributed back to players via an "Active Staking" Rewards Pool
Used for Governance and Voting
We believe that the implementation of Gems are essential to the long-term sustainability of the game and its community. We are excited to be dedicating more than 60% of the total GOG supply pool to community rewards. This ensures that incentives are aligned, and that our economy is regulated.
6. How will Immutable X enhance the player experience in Guild of Guardians? How will it benefit the token-powered economy of the game?
Our goal is to go mainstream. To do this, we need a blockchain experience that rivals traditional gaming UX, meaning instant transactions and no gas fees. Immutable X is the perfect solution for this in providing a good user experience while still being as secure as being on Ethereum. Being on Ethereum without having gas fees will allow the token to benefit from all the network effects of Ethereum, while being able to appeal to a mainstream audience.

We envision a future where asset exchange is seamless, simple, quick, and most importantly, not cost prohibitive. Immutable, the parent company of Immutable X, recently closed a $60M USD series B raise, and they have just passed 1M trades done on their marketplace.
We think that we are backing the right long term scaling solution here.
7. What blockchain gaming trends are you most excited about for the rest of 2021?
As more games such as Guild of Guardians come online we will see a convergence away from "play-TO-earn" and towards "play-AND-earn."Instead of gamers playing to make money (making it sound like a job), we're excited to see quality game content which players enjoy and happen to make money.
The truth of the matter is that we are all, in one way or another, connected, and united in our desire to build and grow this space together. For game developers, marketers, and dreamers alike - the ability to build a project that brings clever minds, hungry communities, and unique earning potential all together in one content creator ecosystem is really, really exciting.
We are grateful for the overwhelming support we have received so far on our journey, and we are consistently blown away with how quickly we are growing.
We cannot wait to see the entire space continue to mature and evolve, and we are excited to have GOG leading the charge on the Mobile Gaming front.
8. What is the best way for the community to get involved with Guild of Guardians?
Definitely join our Discord community and follow us on Twitter!  which is growing everyday!
---
Legal Disclaimer
Not available for residents and citizens of the United States, China, Canada, and Australia, as well as certain jurisdictions.
This post is being distributed by Amalgamated Token Services Inc., dba "CoinList," or one of its affiliates. Use of the CoinList website is subject to certain disclosures, restrictions and risks available here.
Nothing in this post shall constitute or be construed as an offering of securities or as investment advice, tax advice or investment recommendations (i.e., recommendations as to whether to enter or not to enter into any transaction involving any specific interest or interests) by CoinList or any of its affiliates.